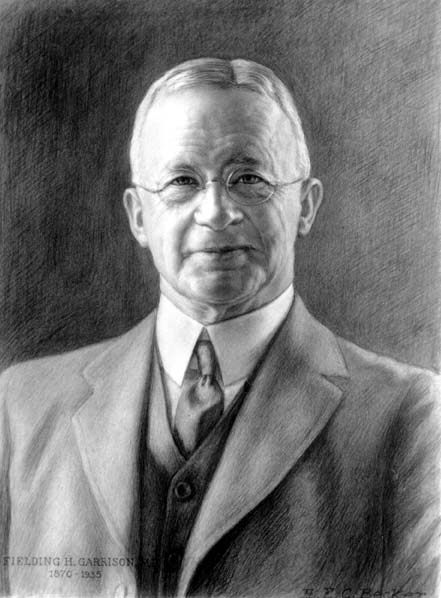 DATES:
1870-1935
---
WORKED AT:
Amry Medical Library
---
OTHER INFORMATION:
Garrison worked at the Army Medical Library: Clerk 1891-1899; Assistant Librarian 1899-1912; Principal Assistant Librarian 1912-1917; Officers Reserve Corps: Major 1917-1918; Lieutenant Colonel 1918-1920; Colonel, Medical Corps 1920-1930; Librarian, William H. Welch Medical Library, John Hopkins University 1930-1935; Also served as Director of the Institute of Medical History as well as resident lecturer in the history of medicine.
At the Army Medical Library, Garrison was assigned to index medical literature. He worked closely with John Shaw Billings on this project. He helped create and compile the Index-Catalogue of the Library of the Surgeon General's Office. His editorial experience includes: Index Medicus: Associate Editor 1903-1912; Editor 1912-1927; Associate Editor, Quarterly Cumulative Index Medicus 1927-1929.
He wrote the first comprehensive treatise on the history of medicine and "gained recognition as the foremost American authority on the subject" (Dict. of American Biography). Garrison prepared plans and collected material for the history of the U.S. Medical Department during World War I. In 1925, he was appointed consulting librarian to the New York Academy of Medicine.
---
AWARDS:
Fellow of the American College of Surgeons
---
OFFICES:
American Association for the History of Medicine, Pres.; Medical Library Association, Pres.
---
PAPERS AT:
LOCATION #1
National Library of Medicine, Bethesda, MD.
PAPERS DATES:
1913-1946
SIZE:
ca. 3 feet
INCLUDES:
The papers of Robinson, Victor, 1886-1947, medical historian. His papers include correspondence and drafts of articles by Fielding H. Garrison.
FINDING AID:
NUCMC, MS66-1491, p. 190.
---
PAPERS AT:
LOCATION #2
University of Michigan, Department of Rare Books and Special Collections, Ann Arbor, MI.
PAPERS DATES:
1931-1934
SIZE:
10 items
INCLUDES:
Look under Garrison, Fielding Hudson, 1870-1935, Letter, 1931-1934. Physician, librarian, editor. Letters to William Gordon Shules (1874-1947), written during summer vacations while librarian of Welch Memorial Library, Baltimore, MD, concerning library administration matters, Garrison's bibliographical work, and personal news. Gift of Dr. F. A. Coller, 1949.
FINDING AID:
NUCMC, MS 82-958.
---
PAPERS AT:
LOCATION #3
INCLUDES:
Additional papers can be found at NLM. Garrison is mentioned as a correspondent in the following NUCMC entries: MS69-2062, MS76-945, MS82-1331.
SOURCE:
NUCMC