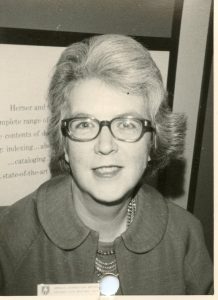 DATES:
1937-1997
---
WORKED AT:
Herner & Co.
---
OTHER INFORMATION:
Herner came to the United States in 1953. She worked at: Technical assistant science attache, British Embassy 1953-58; Executive Vice-Pres., Herner & Co. 1958-?
The following brief obituary appeared in the ASIS Bulletin in 1997:
Mary Herner, who served as treasurer of ASIS in the late 60s and early 70s, passed away on March 9 in Fairfax, Virginia.
With her husband Saul, in 1958 she founded Herner and Company, a specialized business in the fields of information systems, clearinghouses and databases. She retired as president of Herner in 1996. Over the years she supervised the company's abstracting, indexing and database projects and became an authority on nuclear medicine.
Born in Scotland, Mrs. Herner was a physics honors graduate and was proficient in French, German, Spanish, Russian and Japanese and studied Latin and ancient Greek. She was the author of 15 works published in technical journals.
---
PAPERS AT:
No information. In 1995 Saul Herner said he still had her papers; however, at the time of his death in 2002 no decision had been made on their disposition (or on the papers of Saul Herner and their joint company, Herner & Company).