83rd Annual Meeting of the Association for Information Science and Technology
Information for a Sustainable World: Addressing Society's Grand Challenges
22 OCTOBER - 1 NOVEMBER, 2020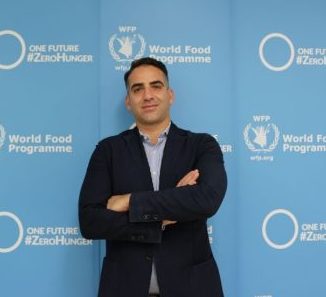 Houman Haddad
Houman Haddad is the Head of Emerging Technologies at the United Nations World Food Program (WFP) which has just won the 2020 Nobel Peace Prize. Houman is the founder of WFP's "Building Blocks" (BB) project, which seeks to harness the power of blockchain to foster interagency collaboration and create efficiencies.
Building Blocks is the world's largest implementation of blockchain technology for humanitarian assistance, currently serving 700,000 Syrian and Rohingya refugees in Jordan and Bangladesh. Blockchain technology also has the potential to empower the vulnerable through financial inclusion and digital identities. Houman joined WFP in 2010 and, prior to WFP, worked in Canada's banking sector.
Couldn't attend the 2020 Annual Meeting? Register now for On-Demand Access!
The 83rd ASIS&T Annual Meeting is Now Virtual!
This year is unlike any other due to the COVID-19 pandemic, which has called on us to be resilient and open to working and living in new ways. While there are many unknowns and uncertainties about what the future holds, we are happy to announce that one thing is certain. There will be an ASIS&T 83rd Annual Meeting.
The meeting will be held virtually rather than face-to-face in order to ensure the health and safety of our members, staff, and the public. We hope this decision will assist all in moving forward in planning and participating in our exciting and enriching information science and technology conference on the theme: "Information for a Sustainable World: Addressing Society's Grand Challenges".
ASIS&T staff, the Annual Meeting Program Committee and the Board will be working in the weeks ahead to provide information on the questions you may have about our new opportunities for engagement. Details about dates, times, platform, cost, etc. will be forthcoming on our website. The Proceedings will be published as planned.
Information for a Sustainable World: Addressing Society's Grand Challenges
In its 83rd year, the ASIS&T Annual Meeting is the premier education and networking event for the
information science and technology community.  The Annual Meeting of the Association for Information Science
and Technology is the premier international conference dedicated to the study of information, people,
and technology in contemporary society.
ASIS&T's Vision "Establish a new information professionalism in a world where information is of central importance
to personal, social, political, and economic progress," is a call to action for the information professional
community (researchers, practitioners, educators, students, stakeholders) to respond to the United Nations
2030 Agenda.  "Transforming our World: the 2030 Agenda for Sustainable Development" that is an ambitious plan
of action for sustainable, universal development.