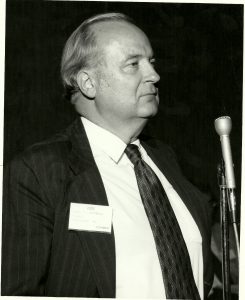 DATES:
1921-1993
---
WORKED AT:
CAS; NRC; FASEB
---
OTHER INFORMATION:
Heuman worked at: Chemist, Technical Information Section, Minnesota Mining and Manufacturing Co. 1950-52; Director of the Chemical-Biological Coordination Center, National Research Council 1952-55; Researcher, Chemical Abstracts (ACS), 1955-59; Director Office of Documentation, NAS 1959-66; FASEB: Assistant Executive Editor 1966-67; Executive Editor 1967-68; Director of Editorial and Information Services 1968-71; Director of Official Publication 1971-85.
His interests include research dealing with catalytic hydrogenations, furans, quinone diamines, scientific literature, chemical structure and biological activity, punched cards, mechanical aids in literature searching, international documentation, and scientific editing.
---
AWARDS:
1985 Award for Excellence in Science Communication(Council of Biology Editors)
---
OFFICES:
ASIS Pres. 1959; ACS, Division of Chemical Information Chairman 1960; International Federation of Documentation Vice Pres. 1961-64; Council of Biology Editors: Secretary 1969-74; Chairman 1976.
---
PAPERS AT:
No Information