SIG AH Digital Newsletter, January 2020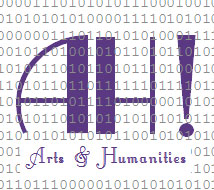 2019-2020 Officers
Chair: Julie Carmen, Central Washington University
Past Chair: Christian James, Catholic University of America
Community Liaison & Social Media : Ana Roeschley, University of North Texas
Webmaster/Newsletter Editor: Arjun Sabharwal, The University of Toledo
Member-at-large: Ann Graf, Simmons University


Message from the Chair
The Special Interest Group of Arts & Humanities for the 2019-2020 year is well on its way. We have some re-elected officers, some in new positions, and welcome new officers as well. We are open to ASIST members who would like to be more involved with us, train for an officer position, or just volunteer with our events. We look forward to a year of great programming and community engagement!
I am pleased to announce the following officers to the SIG AH Board:
Julie Carmen, Chair
Ana Roeschley, Community Liaison & Social Media
Arjun Sabharwal, Digital Archivist, Newsletter Editor & Webmaster
Look for future announcements about Student Scholarships, Annual Online Conference, and sponsored webinars.
Julie Carmen
SIG AH Chair
Report on 2019 Pacific Northwest Library Association (PNLA) Conference.
By Julie Carmen, Research Librarian, Central Washington University Brooks Library
I attended the PNLA 2019 Conference on August 7-9, at the Centennial Hotel, Spokane, Washington. I was delighted to see glass pump units installed in the showers for shower gel, shampoo, and conditioner in this hotel, giving me a positive feeling of less plastic waste.
Peter Bloomberg, Executive Director of the Salt Lake City Library, gave an inspiring opening Keynote. He set the tone of the conference by focusing on positive energy and open communication. He is a board member of EveryLibrary and his books and talks are often about mindfulness.
Stephanie Oakes, author and school librarian, gave a luncheon keynote. Her recent books include: The Sacred Lies of Minnow Bly, released from Dial/Penguin in 2015 and The Arsonist released from Dial/Penguin in 2017. Her talk included speaking with Spokane City Council about the recent loss of school librarian positions. She recently taught and managed a combined elementary and middle school library in Spokane, Washington, giving us a unique perspective of a school librarian losing a job in the workforce due to poor funding.
Aaron LaFromboise, another luncheon keynote, gave a fantastic presentation about the programs and community outreach at her library. She is an enrolled member of the Blackfeet Tribe of Northern Montana, lives in Browning, Montana and works as Director of Library Services for the Medicine Spring Library at Blackfeet Community College. Her library is not only an academic library but also a community library and the official Blackfeet Tribal Archive. The library serves the reservation, outlying rural communities and researchers from around the world. She reported most homes in her community have few books with the only access to information often being smart phones. She reminded attendees that anyone can join the American Indian Library Association, https://ailanet.org, which has a listserv provided by the College Association of Indian Libraries. Memberships are only $20 for individual and $40 for an institution, and she urged all to consider joining as one way to increase the understanding of indigenous cultures in the United States.
One of the Lighting talks presented the first night was: "Outreach to Immigrant Populations via TV Whitespace Wireless Networks" by Kristen Rebmann from San Jose State University. She presented, along with others, how to access free internet by using TV Whitespace. As specified in this 2017 online article:
Like WiFi, TVWS units use free open spectrum, requiring no third-party carriers, ongoing fees, licenses or other permissions for use as wide area intra-facility networks. But unlike WiFi, TVWS has long range and penetrative capabilities that can support broadband connections over miles and around or through obstructions like trees and buildings. Doing this type of project for remote fixed and portable library access points at new locations in their communities, will not incur local monthly charges.

(McCann, 2017)
Without extra funding or grant support, expense upfront can cost some libraries between $10,000 – $25,000 for antenna and radio setup (Landgraf, 2019). After the initial setup there are no recurring monthly charges for access.
The session, "Building Digital Collections with Minimal Infrastructure: Hands-on with Collection Builder for Teaching and Exhibits" by Devin Becker – University of Idaho and Olivia Wikle, showcased the dynamic tools offered by this open source software. Attendees learned about using Collection Builder as a tool to design digital collections within a repository and how to create an account on GitHub to upload photos as a collection. We used the URL – Collection Builder to create our own accounts. See this site: https://collectionbuilder.github.io/. Collection Builder features educational tools for special collections which include: skins, standalone platforms, and teaching 1-on-1. The software is data/metadata driven with minimal infrastructure and optimized for GLAMs (Galleries, Libraries, Archives, and Museums).
Features include:
Minimal infrastructure; modern static web stack, basic infrastructure requiring less IT, and fewer barriers to development.
Rich machine-driven markup where collections are the data; Open Source – collaborative development, having full control over content and data, to leverage skills and values of GLAM professionals.
User-focused on creating clean data; offers engaging design, visualizations for context, interaction, and discovery, developing usable and sharable data.
Once I created my free account I found it easy to upload digital images or collections in order to create metadata. Another tip offered was that Google Forms seem to be more successful on Collection Builder rather than Excel. What was compelling about this software is that it can provide a quick way to promote a collection by providing a few images about the collection with catalog-type metadata to get people interested in the collection. While a collection is being cataloged and processed, which can take quite a while for a large collection, it would be gratifying to be able to get some images about the collection on the Internet to be browsed and searched. He also showed us how easy it is to build small exhibits with the skins, and how these partial collections can offer needed content for educational classes as needed.
The session, "Framework Friendly Assessment: Learning How Students Construct Authority" by James W. Rosenzweig, Mary Thill and Frank Lambert offered more food for thought. This session provided insight into the data extraction they processed to understand how current students are searching for resources. The biggest takeaway was librarians' preference for faculty to assign other resources other than three scholarly articles for their course assignments. Three scholarly articles are not always appropriate for specific subjects such as Anthropology or researching Indigenous cultures that use oral traditions. Also, librarians find working closely with faculty will ultimately result in better collaboration for course design to support students in success in the classroom (Rosenzweig, 2019).
I also presented at this conference about my research about the ancient embroidery technique, laid work, using digital images to create new fiber art. I had 21 attendees and did a small survey of their knowledge, with 30% of attendees aware of The Bayeux Tapestry, and only 15% of attendees had heard of laid work. The technique I teach was new to most attendees, and I had some attendees contact me after the session stating they are interested in creating a program to produce a similar training in their Maker Spaces. After the conference, I created a tutorial for more people to learn about laid work: https://sway.office.com/lLBdJmT2xvDearZw?ref=Link
Images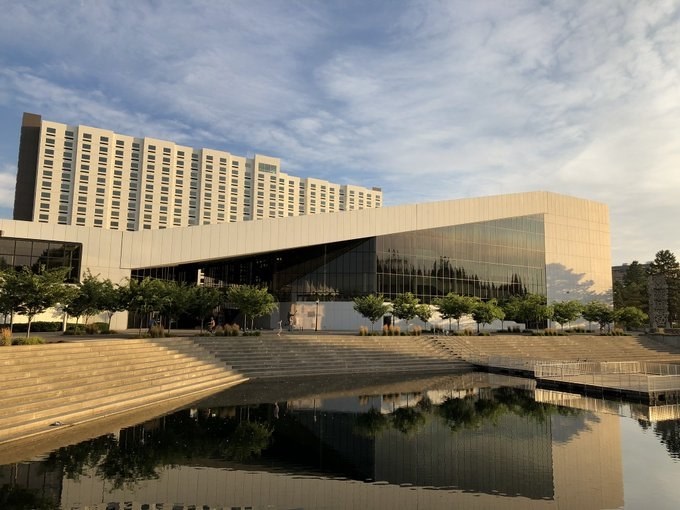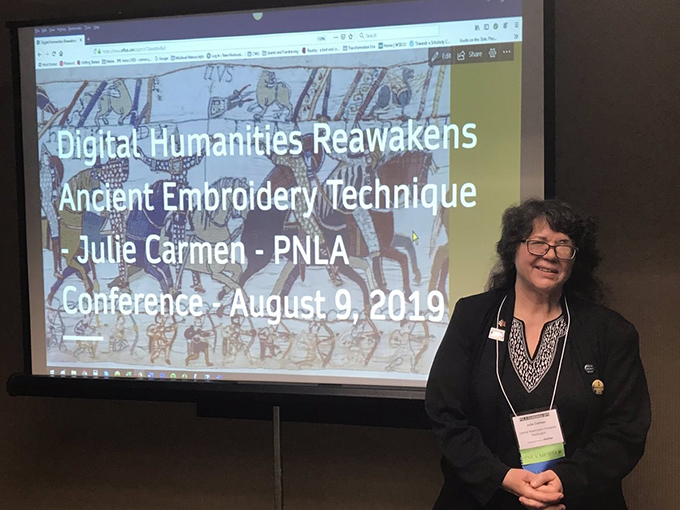 Cited References
Landgraf, G. (2019). Wi-Fi in the "White Space:" Unused TV Spectrum Offers Libraries Potential for Rural Broadband. In american libraries. Retrieved from https://americanlibrariesmagazine.org/2019/05/01/wi-fi-digital-white-space-libraries/
McCann, B. (2017, May 10). TV Whitespace Broadband Expands Through Libraries. In CivSource. Retrieved from https://civsourceonline.com/2017/05/10/tv-white-space-broadband-expands-through-libraries/
Rosenzweig, J., Thill, M., & Lambert, F. (2019). Student Constructions of Authority in the Framework Era: A Bibliometric Pilot Study Using a Faceted Taxonomy. College & Research Libraries, 80(3), 401-420. Retrieved from https://crl.acrl.org/index.php/crl/article/view/17400/19178


Presenting at ACH 2019 in Pittsburgh
By Arjun Sabharwal, Associate Professor/Digital Initiatives Librarian, The University of Toledo
The Association for Computers and the Humanities (ACH) held its inaugural conference at the Pittsburgh Marriott City Center on July 23-26, 2019. The conference theme focused on "social justice through the use of computers and related technologies in the study of humanistic subjects" with particular interest in proposals related to "anti-racist, queer, postcolonial and decolonial, indigenous, Black studies, cultural and critical ethnic studies, and intersectional feminist interventions in digital studies." (source: ACH 2019, Call for Participation)
Areas of engagement include but are not limited to (source: ACH 2019, Call for Participation): Digital media, art, literature, history, music, film, and games; Digital librarianship; Digital humanities tools and infrastructures; Humanistic research on digital objects and cultures; Knowledge infrastructures; Physical computing; Resource creation, curation, and engagement; and Use of digital technologies to write, publish, and review scholarship.
Having deep-rooted interests and background in the Humanities (as well as Digital Humanities), Social Sciences (Cultural Anthropology), Archives, and Digital Librarianship has motivated me to submit by proposal to present at this very promising conference. Having attended and participated in several Great Lakes THATCamp events and presented at several Network Detroit conferences gave me that feeling that I must not miss this opportunity. Prior to this conference, I had published and presented on the relationship of archives, digital curation, and the digital humanities. Therefore, I felt that my presentation ("Digital Curation for Social Justice: Strategic Approaches to Metadata as Nexus for Collaboration between Archives and Digital Humanists") was a good fit for the conference theme. The exhibitions at the Ward M. Canaday Center (where I work) had consistently focused on social justice—particularly disability history, labor history, and woman's suffrage—and it has been my job to develop digital collections and virtual exhibitions that featured our archival collections and exhibitions. It is here that I recognize the true nexus of archives and the digital humanities, but I have also realized that this relationship varies by institutional goals, curricular objectives, and collecting scopes. A snippet from my proposal:
Social justice and public history have presented a fertile ground for collaboration between archives, historians, and scholars in other disciplines of the humanities. Archives have heavily invested funds, time, and staffing into preserving the historical records of organizations focused on social justice and welfare related to labor movements, woman's suffrage, disability history, and ethnic, racial, and gender groups that were and underrepresented and marginalized. Public history has not only motivated the use of public archives for research but has also focused on communicating knowledge with the public.
During the 1960s, the expansion of computing into the humanities including social history has opened new territories for research with data readily available in archives. Text encoding projects of the late 1980s have paved the way for both historians and especially literary scholars to explore emerging technologies for advancing the humanities. Large digitization projects such as American Memory and the Colorado Digitization Project have expanded the possibilities of using digital technology in public history and other areas of the humanities. These early decades have also elevated the awareness of and conversation on metadata as data shared across institutional computing networks. Large-scale regional and international projects like Europeana and the Digital Public Library of America clearly demonstrate the extraordinary scale at which the sharing of data has come to facilitate research, teaching, and transdisciplinary collaboration involving cross-over practices.
From the early days of library cards and print archival finding aids to computerized library catalogs, research databases, discovery layers, and digital finding aid discovery tools, metadata has gained much greater visibility and utility among researchers as well as digital curators in libraries and archives. Metadata has become vital to collaboration among digital humanists and curators working on digital preservation, thematic research collections, virtual exhibitions, and visualization projects. Crossover practices have begun to include public historians and other humanities scholars building digital archives while archivists researching and publishing in scholarly journals. Surprising results may include web archives of digitized text and media that follow historiographical logic or other hermeneutical purpose as well as deep scholarship by archivists building on the very personal tacit knowledge acquired during the accession and processing of unique archival records and artifacts.
In my presentation, I dwelled quite a bit on cross-over (interdisciplinary) practices between the archival and DH communities, following the four archival paradigms that Terry Cook had identified in his 2013 article titled "Evidence, memory, identity, and community: four shifting archival paradigms" and have referenced a number of important projects (as time allowed) related to social justice (Black Metropolis Research Consortium, Labor Studies and Radical History, Votes for Women: A Portrait of Persistence, Chicana Por Mi Raza – Digital Memory Collective, and Mapping Police Violence), but many more social justice DH projects (compiled by Dr. Roopika Risam) are accessible here: https://criticaldh.roopikarisam.com/social-justice-digital-humanities-projects/. A panel discussion followed the individual presentations [Image 1], which appeared to be the culmination of everything transpiring in that room for that session.
As for Pittsburgh, it is totally worth the time whether you fly, drive, ride a bus or ship, or row if that gets you excited. Its unique topography provides photographers unique angles to take scenic photographs from Grandview Overlook or other top spots on the other side of the Monongahela River and in Point State Park where the Ohio, Allegheny and Monongahela Rivers meet. [images 2 and 3] I even found this quintessential historical marker in Downtown [image 4]
Images