KBYAV  |  Know Before You Attend Virtually
We are looking forward to having you participate virtually at the 2021 ASIS&T Annual Meeting, October 29-November 2. The ASIS&T staff has compiled all the information you'll need to make your 2021 Annual Meeting experience a success!
Download the ASIS&T Mobile App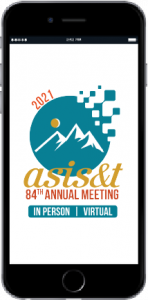 Step 1: Go to your app store and download the app on the device you're going to use during the meeting. Search for keywords "assn for info science & tech"
Important for desktop users: If you will be participating in the meeting through a desktop or laptop computer,  skip Step 1 and go straight to Step 2 to verify your account and use the mobile web version of the app.
Step 2: Verify Your Account: Then, come back using the same device from Step 1 and click Verify Account to unlock all of the app's advanced features.
If you already have the 2019 app on your device: Tap on Verify account which should take you to the new event directly. If you are on the 2019 event, tap on three lines on the top left and then tap on the switch event which will take you to the event directory page where you will see the 2021 event pre-loaded.
Important:  Only meeting registrants will be able to download the app. Get the most up-to-date, real-time information to help you navigate and plan your participation with your own personalized schedule, speaker and session information, attendee directory, notifications, and more... all at your fingertips!
Zoom Information
All virtual sessions will be held on the Zoom platform. Zoom links will be shared in advance of the meeting and the password for the day will be shared via email to those people registered for that day on the day before.
For the best experience, we recommend that you download the latest version of Zoom. To do this, open the Zoom app, click on your photo in the upper right corner, then click on "Check for Updates."
Thanks to Our Partners!
We couldn't make this important meeting happen without the support of our sponsors and exhibitors. When you see our sponsors and exhibitors onsite, please give them your support.
As always, if we can be of assistance in any way, please don't hesitate to contact us at (301) 495-0900, or via email at meetings@asist.org.