ASIS&T 84th Annual Meeting Registration
ASIS&T is happy to be able to offer the 2021 Annual Meeting in a hybrid format to allow attendance and presentations both virtually and in person. To register, please click on the appropriate link below. 
Click below to attend Annual Meeting in person.
Click below to attend the Annual Meeting virtually.
IN-PERSON REGISTRATION RATES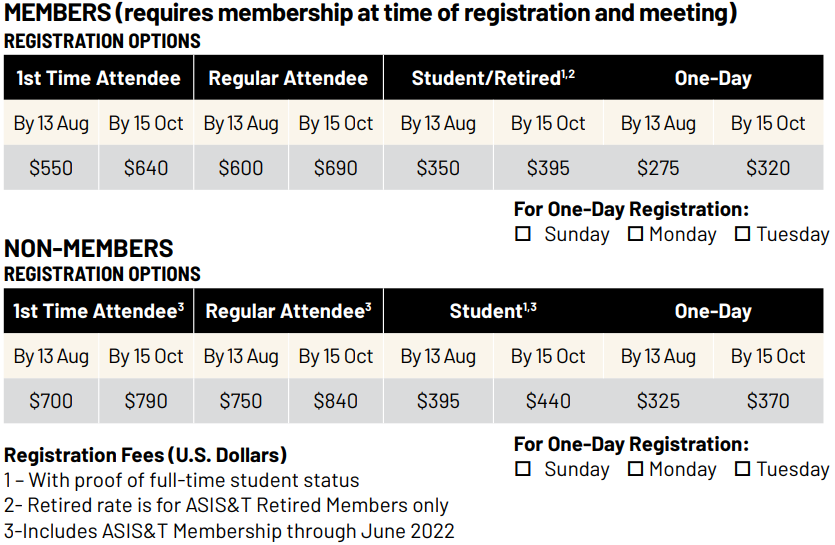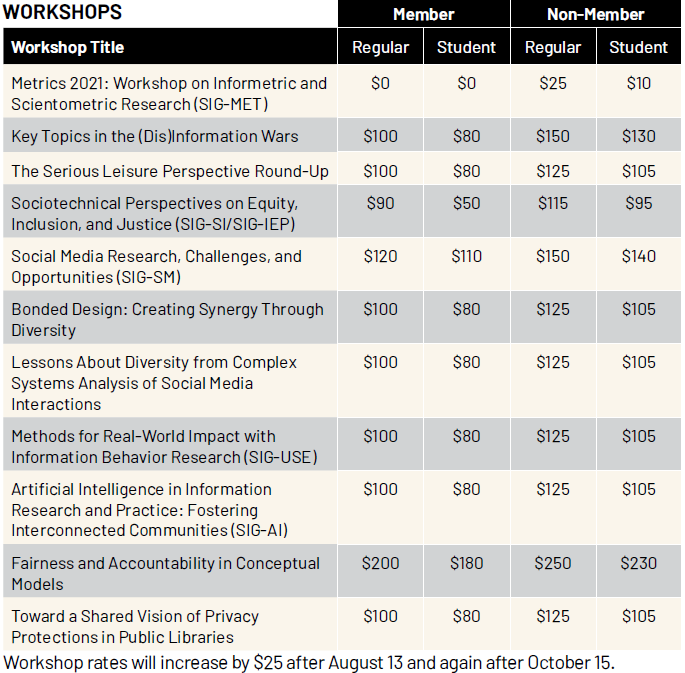 Please note: All in-person registrants are urged to bring a laptop to the event in order to attend the virtual poster session and participate in some sessions which will utilize Zoom breakout rooms.
VIRTUAL REGISTRATION RATES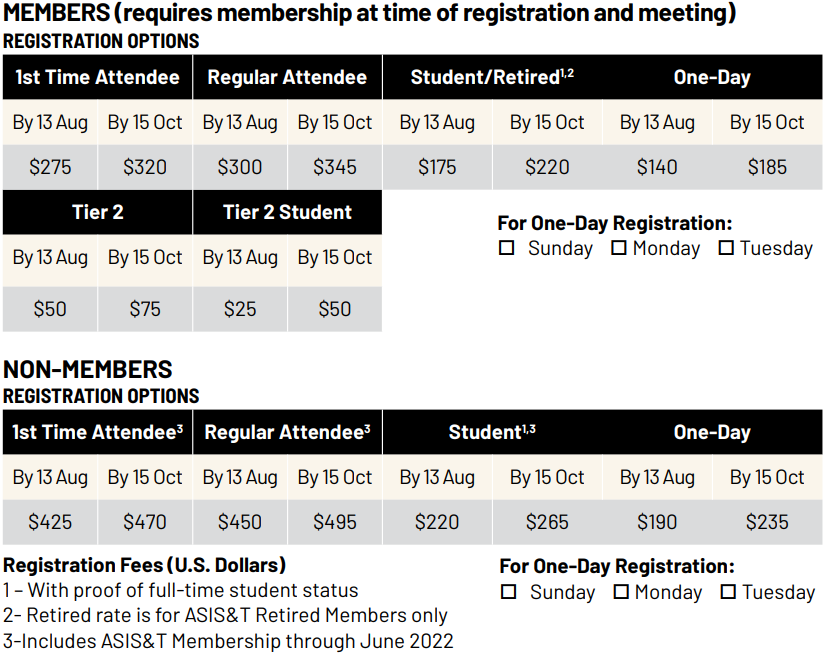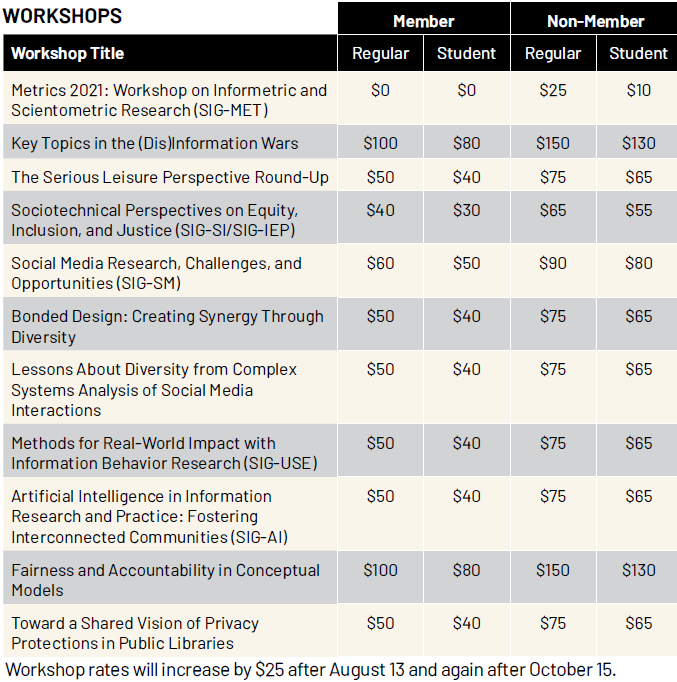 Meeting registration includes access to:
Over 100 educational sessions, including Paper Sessions and Panel Presentations
Posters
Exhibitors
Industry Leader Sessions
President's Reception
SIG-Rush
ASIS&T Annual Business Meeting
Additional registration is required for Workshops.
All speakers, participants and attendees must register. 
How to Register
Register Online (REGISTRATION OPENS 15 JUNE 2021.)
Or by Form: Send along with a check, money order, or credit card information:
By Mail to: ASIS&T 2021 Annual Meeting, 8555 16th St, Suite 850, Silver Spring, MD 20910
By Fax to: +1.301.495.0810
If you wish to pay by wire transfer, please email meetings@asist.org for instructions.
Registration Confirmation & Payments
ASIS&T will email you a confirmation showing that you have registered and paid for the meeting and/or any workshops. This confirmation will also serve as your receipt of payment. Please contact meetings@asist.org if you do not receive this email within 24 hours of registering.
Mailed and Faxed Registration Forms
To register by fax and/or mail please download the registration form from our website. Allow seven (7) – ten (10) business days for mailed or faxed registration forms to be received and processed. To qualify for the current registration period rates, mailed and faxed forms and payment must be received by the rate period's deadline. Faxed forms should be sent to +1.301.495.0810. Paper registration forms can only be accepted via fax and/or mail. To adhere to PCI compliant policies, paper forms will not be accepted via email.
Group Discount
For every group of six (6) full meeting registrations from one institution, one registrant will receive a complimentary registration. All registrations must be submitted with payment at the same time using the same payment on the paper form to ASIS&T, and the complimentary registration will be applied to the lowest priced registration.
Cancellations & Refunds
Cancellation and refund requests must be received in writing by e-mail or mail by Friday, 1 October 2021, and are subject to a cancellation fee equal to 10% of the total amount paid. Refunds will be issued in the same manner in which payment was made and may take up to four (4) weeks after the meeting ends to process. ASIS&T reserves the right to deduct any additional bank fees required to issue a refund by wire transfer. No refunds will be granted after Friday, 15 October 2021 for reasons other than death in the immediate family, hospitalization of the registrant or immediate family member, or failure to obtain a visa. Documentation for these situations is required before a refund will be considered. ASIS&T is not responsible for problems beyond its control such as (but not limited to) travel disruptions due to weather, carrier issues or labor actions, or issues entering the country during travel. No refunds will be granted in these situations.
Important Note for Failed Visa Applications
Individuals requesting a refund due to a failed visa application must submit a written request along with documentation not later than 15 October 2021. Proof that a visa application was submitted no later than 11 September 2021 is required. Refunds will not be granted if the visa application was submitted later than 11 September 2021.
Attendees Needing Assistance
ASIS&T is committed to ensuring that no attendee with a disability or needing any assistance is excluded, denied services, segregated or otherwise treated differently from other attendees. If you are in need of such an aid or service as outlined in the Americans with Disabilities Act, please contact ASIS&T headquarters at +1.301.495.0900 x1500 or meetings@asist.org before 7 October, 2021 so that we may accommodate your request.
Paperless Meeting
The ASIS&T Annual Meeting strives to protect the environment by avoiding unnecessary printing and paper usage. The meeting details will be available on-site in a meeting app and the program will be available for download before the meeting. However, we have a limited number of printed programs available for $7 each. Please indicate on your registration form that you would like a printed program.
Guest Package
Traveling to Salt Lake with family or friends? They are welcome to join our social events. You may purchase a Guest Pass which includes a ticket to the Opening Reception, President's Reception, and Awards Banquet. The cost of a Guest Pass is $200. Children over the age of five (5) must have ticket in order to accompany a paid adult registrant to any events.
Annual Meeting Code of Conduct
The ASIS&T community is diverse and inclusive, and this meeting is intended to be enriching and safe for everyone who participates virtually. We expect all attendees, speakers, sponsors, and volunteers to treat everyone else respectfully, regardless of race, religion, gender, sexual orientation, disability, physical appearance, opinion, or national origin. Harassing behavior, such as offensive verbal comments, deliberate intimidation, sustained disruption of talks, or unkind feedback will not be tolerated. If you believe you are being harassed, notice that someone else is being harassed, or have any other concerns, please notify ASIS&T staff, who will assist you to ensure you feel safe and that the issue is resolved. ASIS&T reserves the right to take any action deemed necessary to enforce this code of conduct. It is our collective responsibility to foster a safe and inclusive environment for all.
Authorization for Use of Image, Name, and Other Likeness
By registering for the 2021 ASIS&T Annual Meeting you agree that ASIS&T and/or third parties authorized by ASIS&T may record your likeness, image, name, voice, and/or words, and may publish, display, reproduce, copy, and distribute your likeness, image, name, voice, and/or words for promotional, educational, or membership activities worldwide in all forms of media now known or later developed, including but not limited to advertising, training, websites, presentations, and marketing materials. You further acknowledge that ASIS&T and/or third parties authorized by ASIS&T shall have the right, but not the obligation, to identify you in connection with such media by name and/or affiliation.
Did You Know? #ASIST21 Annual Meeting registration rates are even lower for members!
Join or renew your membership at ASIS&T to maximize your savings!
Current members who register at the non-member rate will be automatically renewed for their next membership year.
To take advantage of this, current members should register without logging into the website.