We are looking forward to seeing you at the 2023 ASIS&T Annual Meeting in London, UK, 29-31 October. We are excited by the increased interest in the meeting, starting with a record-breaking number of submissions and now we also have record-breaking attendance!
Are you ready? Have you:
Previewed the Meeting Agenda?
Downloaded the Mobile App?
Received your hotel confirmation email?
Posted about the meeting using #ASIST23?

Download the 2023 ASIS&T Annual Meeting App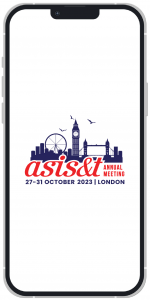 Get the most up-to-date, real-time information to help you navigate and plan your participation with your own personalized schedule, speaker and session information, attendee directory, notifications, and more...all at your fingertips!
1.  Go to the App Store or Google Play Store depending on your device's operating system.
2. Search for the app using the keyword ASIST23.
3. Tap on the "Install" button and download it
4. Once the app has finished downloading, tap on the app icon on your home screen to open it.
5. Click on the download arrow next to "ASIS&T 2023 Annual Meeting." 
6. Once downloaded, you can access the app and its content. 
7. To access the attendee list, create your own agenda, take surveys, etc. you will be prompted to login.
Please login using your first name, last name, email address, then enter the verification code you receive via email. Once done, you will be able to access the all the features of the app.
Hotel and Conference Venue
All sessions will be held at the Novotel West London, 1 Shortlands, Hammersmith W6 8DR LONDON, United Kingdom.
Hotel has a state-of-the-art fitness center
Hotel has a restaurant and lounge onsite.
There are many restaurant options and shopping within walking distance of the hotel. Kensington Palace and Hyde Park are a short tube ride from the hotel.
Take a short, 5-minute walk to many restaurants along the Thames.
The hotel is a short, 3-minute walk from the Hammersmith Underground Station.
October Weather: Get used to carrying both an umbrella and sunglasses to be prepared for all eventualities! Autumn temperatures are around 11 to 15C (52 to 59F). Check the London forecast before you travel. 
To and From London Heathrow Airport
From Heathrow International Airport there are many transportation options.  The Tube is the most economical and often the fastest way to go. Just go to the Tube Station at the airport and take the Piccadilly Line to Hammersmith (31 minutes). Then it's a 3 minute walk from the Hammersmith station to the hotel. The Heathrow Express will deliver you to Paddington Station in less than 15 minutes, then take the Tube or a cab from there. London Black Cabs, Taxis, and Uber are also available to help deliver you to and from the airport. Uber fare is about £50 to the hotel.
Exchanging Money at a Bank: Most banks in London and throughout the UK do not offer currency exchange services to non-account holders. You can find money exchange bureaus at major rail stations, popular tourist areas and at London airports but their fees are generally higher, which is why money exchange bureaus are generally not recommended. 
Currency: The national currency of London is the British Pound (£).  One Pound is divided into 100 pence and there are four notes in circulation; they come in denominations of £5, £10, £20 and £50. The eight coins in circulation are in denominations of £1 and £2, then one, two, five, 10, 20 and 50 pence. To find the current exchange rate for the euro, visit www.xe.comrrency without a fee. 
Credit Cards: Visa and Mastercard are widely accepted at retail establishments and restaurants. American Express cards are accepted to a lesser extent, while Discover cards are usually not accepted. Call your bank ahead of your trip to let them know that you would like to use it abroad and make sure to get a breakdown of the fees they charge and find out if your card will work overseas. Depending on your bank, you may need to activate your card before it works abroad. Verify that your card is valid for the length of your trip. 
ATMs: ATMs (called cash points or cash machines) are located all throughout London and enable you to withdraw cash in in British Pounds 24 hours a day using a Visa or Mastercard. As a general rule, it is more cost effective to use a debit card as opposed to a credit card in a foreign ATM as fees tend to be lower. 
Tipping:  It is customary to leave 10 to 15% of the bill as tip when eating out, though some restaurants add on a service charge instead. In London hotels, people often tip porters. It is polite to round up your taxi fare to the nearest pound for black cabs and licensed minicabs.
Registration for the 2023 meeting is set to exceed any Annual Meeting in the last 10 years. As a result, sessions will be full and may be standing room only. We suggest you arrive early for all sessions to ensure that you get a seat. Common areas will be crowded, particularly during the breaks. Please be patient as the hotel works to accommodate larger than planned crowds. 
Thank You to Our Partners
We couldn't make this important meeting happen without the support of our sponsors and exhibitors. When you see our sponsors and exhibitors onsite, please give them your support.