Member Spotlight, September 2014
Professor Nancy K. Roderer
MLS, AHIP, ACMI, FMLA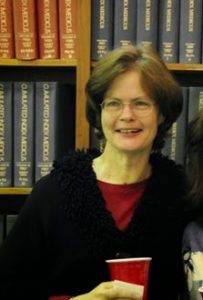 Nancy Roderer is a Professor Emerita of Medicine at Johns Hopkins University, having retired in 2013 from the positions of Director of the Welch Medical Library and the Director of the academic Division of Health Sciences Informatics (DHSI). She has pursued her interests in understanding and facilitating information use and in integrated information management through both operational and research activities at Columbia, Yale and Johns Hopkins Universities. She teaches in the areas of library and information science and health sciences informatics, and is was a co-founder of John's Hopkins' post-doctoral training program in informatics. Her recent research efforts have addressed issues related to providing human support to users interacting with digital libraries, and her most recent publication can be found at http://www.ncbi.nlm.nih.gov/pubmed/25031562. Nancy has been an active member of ASIS&T since 1972, when she was appointed secretary of SIG/FIS (Foundations of Information Science).
Nancy is a graduate of the University of Dayton (Mathematics and Computer Science) and the University of Maryland (Library and Information Services and Computer Science). She is a Distinguished Member of the Academy of Health Information Professionals and a fellow of the American College of Medical Informatics and of the Medical Library Association. Since her semi-retirement, she has intensified her study of information habits in exotic locales. most recently Cambodia and Thailand.
Deborah E. Swain, PhD
Dr. Deborah E. Swain is a tenured Associate Professor in the School of Library and Information Sciences at North Carolina Central University in Durham, North Carolina. She has over 20 years experience in information development, knowledge engineering, organizational design, and business and technical training. Her most recent research has been about knowledge management in e-businesses and about clinicians applying health informatics tools. Dr. Swain has managed information projects for corporations such as IBM, AT&T, and Lucent Technologies/Bell Labs. Her professional career includes working on human-computer interactions, interface design, and human factors/ergonomic issues as a systems engineer, program analyst, and project manager.
She has published articles and contributed chapters to books based on research in knowledge management, social network analysis, collaboration, health disparities, and clinical/health informatics. In addition to her faculty position at NCCU, Dr. Swain has also taught at Wake Tech Community College, UNC-Chapel Hill, NC State University, and Campbell University. She completed her doctorate in Information Science at the University of North Carolina at Chapel Hill. She has a master's degree from UNC-Chapel Hill and a bachelor's of arts degree from Duke University.
Dr. Swain has presented papers and workshops at conferences for the ASIS&T, ICKM, STC, and IEEE on knowledge management, healthcare, use cases, database design, computer interfaces, information retrieval/indexing, online help design, expert systems, quality and process auditing, business communications, and software engineering. She recently completed research on social network analysis (SNA) mapping of healthcare and emergency management for faith-based and community organizations, businesses and educational facilities. She attends NCHICA meetings and is a member of ASIS&T, SLA, NCALA, and ALA.