Haruna to Receive Proquest Doctoral Dissertation Award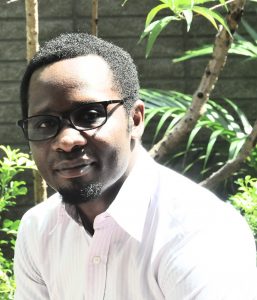 The Association for Information Science & Technology (ASIS&T) is delighted to announce that Dr. Hussein Haruna of the University of Hong Kong is the 2020 recipient of the ProQuest Doctoral Dissertation Award from ASIS&T for his dissertation titled "Improving Sexual Health Education for Adolescent Students Using Game-Based Learning and Gamification." The award's purpose is to recognize outstanding recent doctoral candidates whose research contributes significantly to an understanding of some aspect of information science. The award is intended to encourage participation of new PhDs in the activities of a professional association by providing a forum for the presentation of their research and assisting them with some travel support.
Haruna was selected as the winner from among a pool of outstanding candidates who were judged based on these criteria: Importance of the topic to theory development and/or practical applications in information science; soundness of methodology; organization and clarity of the presentation; and quality of data (when applicable).
Hussein Haruna received his PhD from Division of Information and Technology Studies (currently known as Human Communication, Development, and Information Sciences), Faculty of Education, the University of Hong Kong (HKU). Through the lens of multi-disciplinary, multi-faceted, rich theoretical frameworks, and rigorous research method involving iterative design of game-based learning and gamification, his dissertation compares three conditions for teaching sexual health education in Dar es Salaam, Tanzania – 1) game-based learning, - 2) gamification, and  - 3) traditional pedagogical practices of sexual health information literacy.
In reviewing the nomination, one juror wrote, "Haruna considers a design approach to understanding whether game-based-learning and gamification have improved the adolescent students' sexual health education in SSA countries. Haruna's participatory design approach skillfully integrates rigorous research methodology with the iterative design of game-based-learning and gamification, which provides practical implications and research avenues for those seeking to further investigate the interventions of digital health-based games or health technologies." Another wrote, "This is an impressive overall project. In some sense it is a prototypical example of the interdisciplinarity that information science has long claimed to be a calling card for the discipline. The project is multi-faceted, multi-method, and draws on a range of theoretical concepts. The quantitative results speak for themselves as to the value of the serious game and gamification approaches in the teaching of sexual health knowledge to adolescents. The Motivation, Attitudes, Knowledge, and Engagement (MAKE) framework used for assessment has potential to become the default evaluation approach for serious games and gamification interventions within educational settings."
In her letter of endorsement, Dr. Xiao Hu, wrote about the many strong aspects of the research this way: "First, the proposed game-based learning and gamification approaches were guided by the activity theory, a socio-cultural learning theory that emphasizes the interplay of actors, instruments, activities, and the social contexts. Second, to better fit the unique sociocultural environment in sub-Saharan Africa, the game-based and gamified pedagogies examined in the dissertation were designed through a participatory approach involving a group of local secondary students in Tanzania. Third, the dissertation proposed a holistic evaluation framework, named MAKE, that integrated criteria in Motivation, Attitude, Knowledge and Engagement. Fourth, the intervention and quasi-experiments were carried out in three iterative cycles of design-based research method, targeting three schools with students in different social economic status(SES)."
Upon learning of his selection as the 2020 ProQuest Doctoral Dissertation Award winner, Haruna said, "Upon receipt of the email informing me that my dissertation won ProQuest Doctoral Dissertation Award, I was super excited, and I immediately inform my supervisors. They were delighted that they could not express in words their excitement. In the Jury's email, the committee mentioned that "The fact that you are selected among a pool of highly qualified candidates makes it more exciting and reason to celebrate."  One of my supervisors also wrote this "Please continue your passion, diligence, and quality of work. You will achieve more in the future." Their words made me proud and pleased of this achievement, but with a thoughtfulness that I have something to do more in my future carrier. Previously, I have received many awards, but being awarded the ProQuest Doctoral Dissertation Award made me feel like my research is making an impact and I am imagining the further input it will make to the scientific community. Being acknowledged by the prominent association in the world as the best dissertation winner is indeed motivating and I can't express the joy it brings me. To be recognized by reputable association once a year is a memorable lifetime event. I promise to continue to be an active member of ASIS&T and serve actively in several activities of the association throughout my career."
Haruna will receive his award at the 2020 meeting of the Association for Information Science & Technology (ASIS&T) which will be held in virtually, October 25-29, 2020.