Ilhan to Receive James M. Cretsos Leadership Award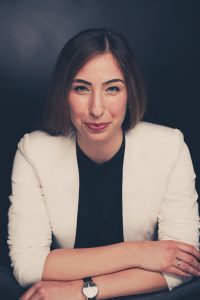 The Association for Information Science & Technology (ASIS&T) is delighted to announce that Aylin Ilhan, a doctoral student in the Department of Information Science at Heinrich Heine University Düsseldorf is a 2020 recipient of the ASIS&T Cretsos Leadership Award. The award's purpose is to recognize a new ASIS&T member who has demonstrated outstanding leadership qualities in professional ASIS&T activities.
The award is named in honor of James M. Cretsos, long-time member and leader in ASIS&T. Cretsos served as President of ASIS&T in 1997 and was also an active leader and contributor to the Southern Ohio Chapter, SIG-CON, SIG-MED, and the Awards & Honors Committee. He is perhaps best remembered for the role he played in mentoring emerging leaders in the field of information science. Candidates are assessed based on the following four criteria: participation in ASIS&T annual meeting as organizer, moderator, speaker, discussant, etc.; participation in programs and activities of SIGs, chapters and/or student chapters; services on ASIS&T committees; and recruitment of new ASIS&T members and/or retention of existing members.
In awarding the James M. Cretsos Leadership Award to Ilhan, the jury provided the following citation:
"The Cretsos award jury is pleased to award the 2020 Cretsos award to Aylin Ilhan of Heinrich Heine University. Aylin Ilhan has been highly involved in ASIS&T activities since she joined the association in 2015. She has been involved in the European Student Chapter, which she chaired for one year, and she is now chair of the European Chapter. She participated in the leadership programs offered by ASIS&T (her mentor was Emad Khazraee, Former Chair, ASIS&T SIG-SI), served as a reviewer for the annual meetings, and as a jury member for the Watson David Award for Service. She also co-founded the very successful, active, and engaging SIG Social Media, which received both the SIG of the year and SIG publication of the year awards in 2019. Aylin is a young leader who has had a tremendous impact in her community for the last five years. We hope that she will continue to bring such a positive experience to ASIS&T members for many years to come.
In his nomination of Ilhan, Dr. Philippe Mongeon wrote, "I cannot imagine someone more deserving than Aylin of the James M. Cretsos Leadership Award, and I hope that the jury members, were they not already well aware of the extent of her contribution, will be convinced by the evidence presented in this testimony, and the letters of support... Aylin is indeed a true leader who has had a tremendous impact in her community for the last five years, and who will undoubtedly continue to attract new members at ASIS&T and make a difference in our professional lives for many more years to come."
In support of Ilhan's nomination, Emil Levine wrote, "In my many years with ASIS&T I have met few young members who have the intellect and drive as Ms. Ilhan. I feel confident that she will be a lifelong leader in ASIS&T and within the LIS worldwide community."
Emad Khazraee wrote, "My personal experience working with Aylin confirmed by many other members of ASIS&T who interacted with her. She always maintains a positive and energetic attitude. She demonstrates a strong sense of leadership through her initiative and efficient communications. Finally, she executes on plans very successfully. Aylin is definitely the type of leader that ASIS&T needs to continue to succeed and expand into new areas. I believe Aylin is an exemplary member of the community who has demonstrated leadership quality, which has already started to change ASIS&T for better."Upon learning of her selection as a 2020 Cretsos Award winner, Ilhan said, "Since my time at ASIS&T, I got so many opportunities to give many ideas and visions a shot together with great colleagues, scholars, mentors, and leaders. Without having a strong and heartwarming community at my side and overall support from mentors and leaders, who encourage me to realize those ideas and visions, it wouldn't be possible. My heartfelt thanks to these wonderful people! I'm excited about the future and looking forward to more exciting times."
Ilhan will receive her award at the 2020 meeting of the Association for Information Science & Technology (ASIS&T) which will be held virtually, October 22-29, 2020.