In Memoriam, Former President and Long-Time Member of ASIS&T Charles H. Davis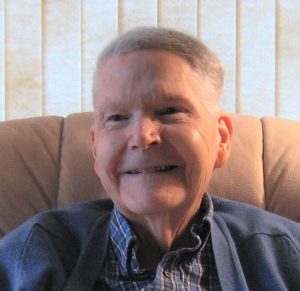 Charles H. Davis, 82
Charles Hargis Davis ("Charlie," "Chuck," "Dave") died peacefully at home in Bloomington on September 24, 2020. Born in Tell City, Indiana, and raised in Indianapolis, he was the son of Charles Alban Davis and Ruth Hargis Davis. Charles was a graduate of Shortridge High School in Indianapolis, where he was Captain of the Band under James B. Calvert.
Charles earned a Bachelor of Science degree in chemistry at Indiana University with a combined minor in math and physics. He prized his experience as an undergrad working in Professor Marvin Carmack's lab.
Charles subsequently won a fellowship to study a year of postgraduate chemistry at the University of Munich, developing his knowledge and appreciation of the German language – an affection he shared with German Table/Stammtisch discussions in Bloomington years later. Returning to the U.S. at about the time the Berlin Wall was constructed (not, he said, to keep him out), he served for three years with the American Chemical Society as an index editor for Chemical Abstracts. He became a specialist in the nomenclature of organic compounds and lived through the transition from manual to computerized production of CA.
Charles returned to graduate school at Indiana University, receiving a graduate minor in toxicology. He worked in Robert Forney's lab and enjoyed telling the next generation of his work on the analysis of Tetrahydrocannabinol. He earned an M.A. majoring in library science en route to a Ph.D. in information science, specializing in computer programs dealing with chemical information retrieval.
The Drexel University Graduate School of Library Science in Philadelphia hired Charles as an assistant professor in 1969. Three years later the University of Michigan School of Library Science at Ann Arbor sought to strengthen their information science program and hired him as an associate professor with tenure. He then moved to the University of Alberta in Edmonton, Canada, as Professor and Dean of the Faculty of Library Science. In 1979 he was recruited as Dean of the Graduate School of Library and Information Science at University of Illinois at Urbana-Champaign, where he was one of the few administrators to be among the professors highly ranked by U of I students.
After retiring as Professor Emeritus from the University of Illinois in 1993, Charles had the good sense to become a Senior Fellow and Adjunct Professor at Indiana University's School of Library and Information Science (subsequently the School of Informatics, Computing, and Engineering) and a full member of the IU Graduate Faculty. He and then-graduate student Geoff McKim implemented the "Systematic WEighting and Ranking (SWEAR)" algorithm for weighted term retrieval, a long-time focus for Charles' interest in improving information retrieval.
Charles was an active member of the American Society for Information Science and was elected national president of that organization, serving from 1982-1983. His two books with James E. Rush, Information Retrieval and Documentation in Chemistry, and Guide to Information Science, were foundational for the study of information science. He and Debora Shaw co-edited the collaboratively-written Introduction to Information Science and Technology, published for the American Society for Information Science and Technology.
Charles enjoyed playing tennis and was an accomplished amateur clarinetist who performed professionally in his younger years. He played both clarinet and baritone saxophone with the Barton Rogers Dance Band in Indianapolis and was a charter member of the Indianapolis Symphonic Band. He also played with the Indianapolis Philharmonic Orchestra, the Bloomington Symphony Orchestra, and the Community Chamber Music Association of Bloomington. Most recently he enjoyed being Concertmaster and solo clarinetist with the Bloomington Community Band and its Heritage Hall Ramblers Dixieland band and Hungry Five German band.
Charles Davis is survived by his wife, Debora (Ralf) Shaw, and their pre-(and post-)possessing cat, Kit. A committed scientist, Charles has generously donated his body to the Anatomical Education Program at the Indiana University School of Medicine. There will be no services. Memorial contributions may be made to any of the musical organizations mentioned; to the Charles A. and Charles H. Davis Fellowship in Scientific Information 0370008438 at the Luddy School of Informatics, Computing, and Engineering, c/o IU Foundation, P.O. Box 6460, Indianapolis, IN 462020-6460; or a charity of one's choice.