ASIS&T Announces Colin Rhinesmith as Winner of 2021 Outstanding Information Science Teacher Award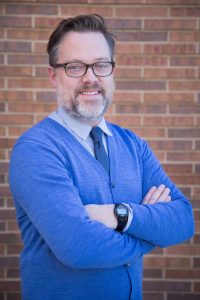 The Association for Information Science & Technology (ASIS&T) is very pleased to announce that Colin Rhinesmith, associate professor at Simmons University School of Library and Information Science is the 2021 recipient of the ASIS&T Outstanding Information Science Teacher Award. The award's purpose is to recognize the unique teaching contribution of an individual as a teacher of information science. 
Rhinesmith was selected as the winner from among a pool of outstanding candidates who were judged based on these criteria: evidence of sustained and unique contributions to teaching information science; impact on students, colleagues, and institutions; innovative and imaginative teaching materials and methods; professional association activities related to teaching excellence; research activities related to teaching excellence; and previous teaching awards. 
Rhinesmith is currently an Associate Professor and Director of the Community Informatics Lab in the School of Library and Information Science at Simmons University. He is also the Editor-In-Chief of the Journal of Community Informatics. Rhinesmith's research and teaching interests are focused on the social, community, and policy aspects of information and communication technology, particularly in areas related to digital equity and community technology. He is the Principal Investigator on a research project funded by the U.S. Institute of Museum and Library Services to investigate how advanced broadband measurement capabilities can support the infrastructure and services needed to respond to the digital demands of public library users across the U.S. Furthermore, he is affiliated with the UCLA Center for Critical Internet Inquiry as a member of its Scholars Council. Previously, Rhinesmith was a Google Policy Fellow and an Adjunct Research Fellow with New America's Open Technology Institute. He was also a Faculty Research Fellow with the Benton Foundation and a Faculty Associate with the Berkman Klein Center for Internet & Society at Harvard University. 
In nominating Rhinesmith for this award, Dr. Sanda Erdelez, professor and director at Simmons University School of Library and Information Science wrote, "Professor Rhinesmith establishes a classroom environment that is intellectually stimulating, a direct result of the passion he holds for his research, and the respect he shows his students. Incorporating his own research and personal experiences into lectures and discussions, he offers his expertise in the subject area along with an openness to classroom dialogue, making even the most challenging of topics approachable. In this way, he exposes students to the nuanced ways that information technology can cause extraordinarily isolating conditions for marginalized communities. His rigorous focus on the tensions among digital equity, technology, and society transforms his courses from finite lecture experiences into an innovative, intersectional thought framework that students can continue to call upon in their professional lives. Professor Rhinesmith's effectiveness as a teacher and commitment to conveying critical social issues of library and information science to the next generation of library professionals makes him a perfect candidate for the Outstanding Information Science Teacher Award." 
Simmons student Alessandra Seiter wrote in support of Rhinesmith's nomination, "I cannot stress enough the impact Professor Rhinesmith has had on me, during my time as a MLIS student at Simmons University and in my professional life. It is without hyperbole that I can identify him as the single most influential individual in my career." 
Former student Lena Gluck wrote, "Professor Rhinesmith did not only demonstrate a thoughtfulness around challenging power and inequity in the content of his courses, but also in the structure of his class and his relationships to us as students. In each course, he would incorporate just as much facilitated discussion as lecture so that students' own knowledge, perspectives, and experiences could supplement and contribute to our collective knowledge on topics, rather than assuming that his own knowledge, perspective, and experience should be the only authoritative and teachable information on a particular topic." 
Former student and current Research Services Assistant at the Schlesinger Library on the History of Women in America Teddy Schneider described Rhinesmith as, "a friendly, generous person, someone who utilizes his community connections to the benefit of everyone involved, and a professor whose unique and accepting approach to teaching has a profound impact on his students, his university, and the field." 
Upon learning of his selection as the 2021 ASIS&T Outstanding Information Science Teacher Award winner, Rhinesmith said, ""I am incredibly honored to receive this year's award, particularly during such an enormously challenging year. I am grateful to my students and colleagues at Simmons University for nominating me for this award and to the awards Committee for selecting me. Thank you also to ASIS&T for this wonderful recognition." 
Rhinesmith will receive his award at the 2021 ASIS&T Annual Meeting, October 29 – November 2, 2021 in Salt Lake City, Utah.