Dr. Abebe Rorissa to Receive the 2021 Watson Davis Award for Service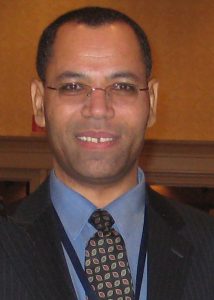 The Association for Information Science & Technology (ASIS&T) is delighted to announce that Dr. Abebe Rorissa of the University of Tennessee Knoxville is the 2021 recipient of the Watson Davis Award for Service. The award's purpose is to recognize an individual member of the Association who has shown continuous dedicated leadership in and service to ASIS&T and made substantial and lasting contributions to ASIS&T governance, chapters, SIGs, committees, and publications. Candidates are assessed based on 3 criteria: dedicated service to ASIS&T as evidenced by the amount and length of participation in, leadership of, and support to ASIS&T programs, chapters, SIGs, committees, publications, etc.; sustained, active involvement in ASIS&T; and engagement in activities that create a meaningful impact on ASIS&T communities, such as in high attendance numbers for events, attracting significant news coverage of a publication or event, attraction of new members, and/or positive financial impact for the Association, SIG or Chapter. The award is named after Watson Davis, President and founder of the American Documentation Institute (ADI), a precursor to ASIS&T. 
Dr. Abebe Rorissa is Professor and Director of the iSchool (School of Information Sciences) at the University of Tennessee, Knoxville (as of July 1, 2021). Prior to joining the University of Tennessee, Knoxville, he was Associate Professor and Associate Dean for Faculty Development in the College of Emergency Preparedness, Homeland Security, and Cybersecurity, University at Albany, SUNY.  Between 1988 and 2005, he worked in four countries as a lecturer and practitioner. He has also consulted for academic institutions, national governments, and international organizations on various topics. His research interests include multimedia information organization and retrieval, scaling of information needs, use/acceptance/adoption and impact of ICTs, and data analytics. He is published extensively in leading international journals such as the Journal of the Association for Information Science and Technology, Information Processing & Management, and Government Information Quarterly and served on program committees of international conferences. He is (or was) on the editorial boards of six (6) scholarly journals/publications. 
In his nomination of Dr. Rorissa for the Award, Dr. Daniel Alemneh of the University of North Texas said, "When Dr. Abebe Rorissa volunteers for a service activity, he takes it to a higher level in terms of impact. A prime example of this includes the establishment of the ASIS&T Africa Chapter this past year, reaching out to such unreachable populations around the globe, increasing the diversity and number of ASIS&T members and making ASIS&T stronger." 
In support of his nomination, Nadia Caidi, Professor, Faculty of Information, University of Toronto said, "I cannot think of anyone more deserving of the Watson Davis Award than Dr. Abebe Rorissa. His service and contributions to ASIS&T are of the highest caliber. Even more significant than that, Abebe's work helps to build a fairer, more inclusive ASIS&T for our students and colleagues domestically and internationally. This alone is difficult to overestimate." 
Additionally, Toni Carbo, Professor Emerita at the University of Pittsburgh said of Dr. Rorissa, "I could write volumes about his many contributions to our Association and our field. His dedicated service and sustained, active involvement have had a very meaningful impact on our community, including on increased membership and higher attendance numbers at many conferences over the years." 
Diane H. Sonnenwald, Emerita Professor, University College Dublin and 2020 ASIS&T Award of Merit recipient, echoed her colleagues' sentiments.  "Abebe has continuously served ASIS&T for over 17 years in a variety of important leadership roles. He has created a meaningful impact on ASIS&T communities, including the recruitment of new members and increased participation in the Annual Meeting." 
Upon learning of his selection as the 2021 ASIS&T Watson Davis Award for Service, Dr. Rorissa said, "I am grateful and honored to be among the illustrious recipients of the ASIS&T Watson Davis Award for Service. ASIS&T is the premier professional association in our field, and it has been my primary professional home for over 20 years. I promise to continue my contributions and involvement for another 20 years! I will use this Award as a motivation to work even more to make ASIS&T a more welcoming, inclusive, and thriving association." 
Dr. Rorissa will receive his award at the 2021 meeting of the Association for Information Science & Technology (ASIS&T) which will be held October 29-November 2 in Salt Lake City, Utah.