Association for Information Science and Technology (ASIS&T) Announces Founding Editor-in-Chief of Information Matters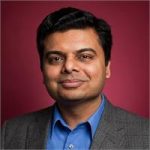 The Association for Information Science and Technology (ASIS&T) has selected Chirag Shah, Ph.D. as the founding Editor-in-Chief of the new ASIS&T publication, Information Matters. The purpose of this new publication is to regularly communicate the latest trends and happenings in the information field to the public. 
 According to ASIS&T President, Dr. Brian Detlor, "ASIS&T is excited to work with Chirag to shape this new publication into a go-to resource for all information science researchers and practitioners. Dr. Shah has been an integral part of the Association over the years. He shares the Association's vision for Information Matters."  
 Dr. Shah is an associate professor at University of Washington in Seattle. His research and teaching have focused on data science, machine learning, search and recommendation, and responsible AI. Shah has also most recently worked as a visiting researcher with industrial research labs, most recently with Spotify, Amazon, and Microsoft Research AI. He has been an active member of ASIS&T since 2009. 
 "Information Matters is tasked with an important mission of leveraging our collective knowledge and skills in the field of information science and technology for the betterment of the society and the planet," said Dr. Shah.  He continued, "I am humbled by the ASIS&T Board's decision and support for me to lead this visionary new platform. I look forward to working with the ASIS&T community and beyond to achieve the lofty mission for Information Matters." 
 Information Matters is ASIS&T's new digital-only communication translational forum for information science, featuring relevant and current research evidence and industry developments, news, and opinion. This publication will serve to inform the public, industry professionals, educational practitioners, and policymakers on information science issues of critical importance to society and civil life.