Immediate Past-President's Column, November 2021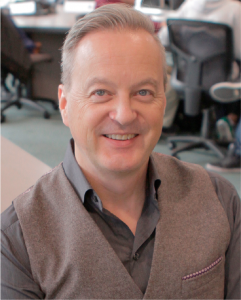 Hello ASIS&T members.
It's hard to believe that my term as President has ended and that I am now writing the membership in my role as Immediate Past President. The past year flew by fast! I am happy to report that despite the challenges of COVID-19, the Annual Meeting in Salt Lake City was a success! We had over 600 registered attendees, and approximately 20% of those were physically present in Salt Lake City. We learned a lot during this Annual Meeting, especially in regards to hosting a hybrid meeting. We will take these lessons learned forward when planning out future meetings.
Though I gave details on my reflections of the past year at the Annual Business Meeting, I will summarize things here. Most importantly, we had a very successful past year. Our financial position is strong. Our membership numbers are up significantly from approximately 1,500 members last year to just over 2,000 members this year. Though this was in large part in offering reduced membership fees to certain countries, it represents a large increase and interest in our Association. Over the last year, we began operationalizing many of the goals, objectives and tactics from the strategic plan that were established in 2020. These included hiring a Marketing person to launch marketing campaigns, the hiring of an Editor-in-Chief to set-up Information Matters as a new digital venue to communicate information research to practitioner communities; the hiring of an Editor-in-Chief for ARIST; exploring the roll-out of a new publication for ASIS&T to complement JASIST; strengthening collaborative opportunities with other information associations; establishing an ASIS&T distinguished members program; and exploring a new way to engage industry partners through a potential ASIS&T consulting service.
These accomplishments were able to happen because the Board believed that we needed to make investments in the Association and take proactive steps. I agree with this approach and am so happy the Board was supportive and in agreement with these ideas.
In conclusion, I thank everyone very much for the honor and pleasure to serve as President this past year. I hope I have made a positive contribution in steering the Association forward. However, any movement forward must be acknowledged as a collective contribution. I had a strong and supportive Board. The committees were great in that they rose to the challenge of addressing the "charges" established to them from the strategic plan and delivered successfully. Special thanks and consideration goes to the work of the Publications Committee in meeting these charges (e.g., setting up Information Matters; setting up ARIST; exploring a new journal publication for ASIS&T to complement JASIS&T), as well as to past Boards who laid the foundation of identifying "big ideas" which fed into the strategic plan which we operationalized over the past year.
Best regards,
Brian Detlor, Immediate Past President
Brian Detlor's 2021 Annual Business Meeting Remarks