Jelina Haines to Receive 2022 ASIS&T ProQuest Doctoral Dissertation Award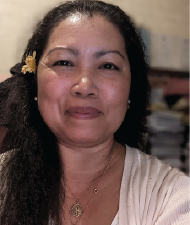 The Association for Information Science & Technology (ASIS&T) is delighted to announce that Jelina Haines is the 2022 recipient of the ASIS&T ProQuest Doctoral Dissertation Award for her dissertation proposal titled, "Researching the knowledge journey practices of Indigenous Elders relevant to the younger generation: A community-based participatory study." 
The award's purpose is to recognize outstanding recent doctoral candidates whose research contributes significantly to an understanding of some aspect of information science. The award is intended to encourage participation of new PhDs in the activities of a professional association by providing a forum for the presentation of their research and assisting them with some travel support. 
Haines was selected as the winner from among a pool of outstanding candidates who were judged based on these criteria: Importance of the topic to theory development and/or practical applications in information science; soundness of methodology; organization and clarity of the presentation; and quality of data (when applicable). 
Haines completed her PhD studies in Information Science at the School of UniSA-STEM, University of South Australia. Her research interest lies in interdisciplinary studies related to human information behaviour, ethical information recovery of specific knowledge held by traditional Storytellers, and the social impact of digital technologies in marginalized communities, particularly Indigenous people. Dr. Haines is passionate about the importance of preserving traditional stories and enhancing their value and preservation, assisted by technology for everyday learning practices. An award-winning visual art designer, her collaborative work has been commissioned by major large institutions, including LeHarve Museum, France, the National Gallery of Australia and major museums in South Australia, private companies, and private individuals in 16 countries. Besides, she uses her knowledge as a video ethnographer, Indigenous advocate, and researcher to promote cultural harmony by working together, regardless of cultural identity, race and tradition. Dr. Haine's doctoral thesis redefined traditional learning by merging art and technology with ethical visualization of living culture, tradition and history, integrating Storytellers' voices, experiences, adaptability, tolerance, and resilience shared in their unique social and cultural contexts. 
Jia Tina Du, director of the Information and Innovation Laboratory and Haines' PhD principal supervisor, said of Haines' work, "Jelina's research epitomizes, inspires, and contributes immensely to multiple research disciplines including information science, sociology/anthropology, archival preservation, cultural informatics, communication, and information behaviour. She successfully articulated the significance of her thesis by weaving her comprehensive understanding of the Ngarrindjeri Elders/Storytellers' history, culture, and way of life with existing scientific literature from multiple areas, and exploring the information landscape of Ngarrindjeri Storytellers' knowledge (Chapter 5)." 
Upon learning of her selection as the 2022 ASIS&T ProQuest Doctoral Dissertation Award, Haines said, ""I was overjoyed that my doctoral thesis had been chosen for the 2022 ASIS&T ProQuest Doctoral Dissertation Award. The tenet of my research is understanding how the Storytellers interact through cultural stories and communal activities, and knowing the complexity of oral wisdom is paramount, highlighting the importance of cultural ethics and protocols. To have my efforts recognized by ASIS&T is thrilling and inspiring, and I am genuinely thankful to the jury for their time and acknowledgement of my thesis." 
Haines will receive her award at the 2022 meeting of the Association for Information Science & Technology (ASIS&T) which will be held October 29-November 1 in Pittsburgh, Pa.