Jesse Ludington Receives 2022 Pratt Severn Best Student Research Paper Award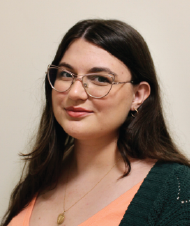 The Association for Information Science & Technology (ASIS&T) is delighted to announce that Jesse Ludington has been selected as the 2022 recipient of the Pratt Severn Best Student Research Paper Award. The purpose of the award is to encourage student research and writing in the field of information science.   
Ludington's paper entitled, "Social Media as Archival Practice and Paradigm Shifter in United States Death Care" was selected from among a pool of outstanding candidates who were judged based on criteria including: technical competence in information science; significance of information science findings; originality; clarity of expression; compliance with JASIST instructions; style; and organization. 
In her submission of the paper for the award, Ludington stated, "While the topic of death and mourning on social media has been the focus of previously published work, to my knowledge published scholarship on the nexus of United States death care culture, social media, and archival practice, does not yet exist. In merging the fields of information science and death studies in such a unique way, I believe my paper provides a vital contribution to information science and fills an often-overlooked gap." 
Upon learning of her selection as the winner of the 2022 Pratt Severn Best Student Research Paper Award, Ludington said, "It's an honor and a wonderful opportunity to receive this award! I am truly grateful to the members of the jury for their consideration, my Foundations of Information professor Chris Alen Sula for his guidance as I developed this paper, and my peers for their valuable feedback throughout the revision process. I look forward to sharing my work at the ASIS&T annual meeting and further pursuing this topic in my research.' 
Ludington is a current student in the MS Museums and Digital Culture program at Pratt Institute School of Information. Ludington recently graduated with a BA in Literary Studies from Eugene Lang College of Liberal Arts at The New School, concentrating in nonfiction and poetry writing and minoring in museum and curatorial studies. She lives in Queens, NY and is originally from East Haven, CT. 
Ludington will receive her award at the 2022 ASIS&T Annual Meeting, October 29 – November 1, 2022 in Pittsburgh, Pa.