Kate McDowell Receives 2022 Outstanding Information Science Teacher Award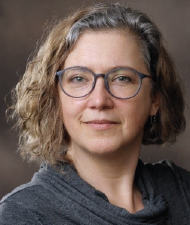 The Association for Information Science & Technology (ASIS&T) is very pleased to announce that Kathleen (Kate) McDowell, Associate Professor, School of Information Sciences, University of Illinois Urbana-Champaign is the 2022 recipient of the ASIS&T Outstanding Information Science Teacher Award.  
The award's purpose is to recognize the unique teaching contribution of an individual as a teacher of information science. 
McDowell's storytelling research has involved training collaborations with advancement with both the University of Illinois at Urbana Champaign and the University of Illinois system (Chicago, Springfield), storytelling consulting work for multiple nonprofits including the 50th anniversary of the statewide Prairie Rivers Network that protects Illinois water, and storytelling workshops for the Consortium of Academic and Research Libraries in Illinois (CARLI). She formerly served as Interim Associate Dean for Academic Affairs and Assistant Dean for Student Affairs and has led multiple transformative projects for the School. She also researches and publishes in the areas of storytelling as information research, social justice storytelling, and what library storytelling can teach the information sciences about data storytelling. 
The 2022 ASIS&T Outstanding Information Science Teacher Award Jury stated in their selection of McDowell, "Dr. Kate McDowell has maintained and sustained a record of teaching excellence that we would all do well to strive for. She has made unique contributions to information science education that reside at the intersection of storytelling and data science. Through her teaching and research in storytelling, Dr. McDowell's scholarship contributions serve as a bridge that connects information, people and technology." 
Upon learning of her selection as the 2022 ASIS&T Outstanding Information Science Teacher Award winner, McDowell said, "It has been a great honor to continually redevelop courses in storytelling, data storytelling, and more in collaboration with students and faculty at Illinois. I'm so fortunate to work for a school that has supported my taking risks in teaching innovation, especially in taking teaching and research beyond the classroom. Consulting and nonprofit work has enriched what I could offer to our students, and vice versa, and such opportunities to encounter fresh views and voices have been critical to sustaining momentum during these challenging times." 
McDowell was selected as the winner from among a pool of outstanding candidates who were judged based on these criteria: evidence of sustained and unique contributions to teaching information science; impact on students, colleagues, and institutions; innovative and imaginative teaching materials and methods; professional association activities related to teaching excellence; research activities related to teaching excellence; and previous teaching awards. 
McDowell will receive her award at the 2022 ASIS&T Annual Meeting, October 29 – November 1, 2022 in Pittsburgh, Pa.