Nilavra Bhattacharya to Receive ASIS&T Doctoral Dissertation Proposal Scholarship Award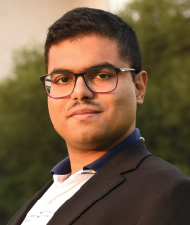 The Association for Information Science & Technology (ASIS&T) is delighted to announce that Nilavra Bhattacharya is the 2022 recipient of the ASIS&T Doctoral Dissertation Proposal Scholarship Award for his dissertation proposal titled, "A Longitudinal Study to Understand University Students' Searching as a Learning Process."  
Bhattacharya is a PhD candidate at the School of Information, University of Texas at Austin. He holds a Bachelor of Engineering degree in Computer Science & Technology, from the Indian Institute of Engineering Science and Technology, Shibpur, India. His research investigates how university students' information search behavior and information-use for writing a research paper develop over time, as students gain new knowledge about their course's topic material. 
In his nomination of Bhattacharya for the award, Jacek Gwizdka, PhD, Associate Professor and IX lab co-director at the School of Information, University of Texas at Austin, and Bhattacharya's doctoral supervisor, remarked, "This kind of research is very much needed, as it will help us understand the long-term process of interaction with online information, its use, and creation of knowledge. Findings from his dissertation research will inform re-design of information retrieval systems to better support learning processes, knowledge gain and their use in education." 
Upon learning of his selection as the 2022 ASIS&T Doctoral Dissertation Proposal Scholarship winner, Bhattacharya said, "I feel deeply grateful, honoured, and humbled to receive this prestigious award, and convey my sincere thanks to everyone involved to make this happen. Longitudinal studies are very rare in the field of Interactive Information Retrieval. The primary reasons are increased time commitments, careful planning required, and the increased uncertainty associated with these studies. This prestigious recognition gives me great motivation and encouragement, after spending nearly two years (2020-21) in putting together the various building blocks of my dissertation study. Special thanks to my doctoral committee members, Professors: Jacek Gwizdka (chair), Soo Young Rieh, Matt Lease, and Robert Capra; and my mentors at the ACM CHIIR 2021 Doctoral Consortium, Professors: Pertti Vakkari, Ian Ruthven, and Gerd Berget, for guiding and mentoring me throughout this period. The Internet and digital educational technologies offer great opportunities to transform searching, learning, and the education experience. I strongly believe that my line of research will open great opportunities for many-sided contributions to our knowledge, on the relations between search processes and learning outcomes." 
The Doctoral Dissertation Proposal Scholarship was established in 1981 and fosters research in information science by recognizing the year's most outstanding doctoral dissertation proposal while encouraging and assisting doctoral students in the field with their dissertation research. Candidates are evaluated on the following criteria: Potential significance of research to the field of information science; Validity of methodology and proposed methods of analysis; originality and creativity; clarity and completeness of the proposal; presentation of a convincing plan for completion in a reasonable amount of time; and evidence of a continuing interest in scholarship, such as, a previous publication record. 
Bhattacharya will receive his award at the 2022 meeting of the Association for Information Science & Technology (ASIS&T) which will be held October 29-November 1 in Pittsburgh, Pa.