Bhakti Gala to Receive the Association for Information Science and Technology (ASIS&T)  2022 James M. Cretsos Leadership Award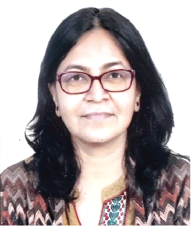 The Association for Information Science & Technology (ASIS&T) is delighted to announce that Bhakti Gala, PhD, Assistant Professor, School of Library and Information Science, Central University of Gujarat, is the 2022 recipient of the ASIS&T James M. Cretsos Leadership Award.  
The award recognizes a new ASIS&T member who has demonstrated outstanding leadership qualities in professional ASIS&T activities.  
Candidates are assessed based on the following four criteria: participation in ASIS&T annual meeting as organizer, moderator, speaker, discussant, etc.; participation in programs and activities of Special Interest Groups (SIGs), chapters and/or student chapters; services on ASIS&T committees; and recruitment of new ASIS&T members and/or retention of existing members. 
Gala is an Assistant Professor at the School of Library and Information Science, Central University of Gujarat, India. She is the past chair of the South Asia Chapter and presently the Chair-elect for ASIS&T SIG-III. Dr. Gala has led the ASIS&T Special Chapter Project with members from the South Asia and Asia Pacific Chapters for the duration of June 2021 to May 2022. 
The award is named in honor of James M. Cretsos, long-time member and leader in ASIS&T. Cretsos served as President of ASIS&T in 1997 and was also an active leader and contributor to the Southern Ohio Chapter, SIG-CON, SIG-MED, and the Awards & Honors Committee. He is perhaps best remembered for the role he played in mentoring emerging leaders in the field of information science. 
In his nomination of Gala, Dr. Md. Anwarul Islam, Associate Professor Department of Information Science and Library Management University of Dhaka wrote, "Bhakti has been actively engaged with SIGs, Chapters and other ASIS&T committees and continuously serving as a true leader for the ASIS&T community. I have noticed her patience and passion for ASIS&T and she always extends her shoulder to take extra loads in the project where I am working. She has a long history of collaboration with the developed country researchers, and she wants to apply the mentorship opportunities for the young LIS researchers in this region."  
Upon learning of her selection as a 2022 Cretsos Award winner, Gala said, "I am greatly honored to receive the James M Cretsos award from ASIS&T whose membership has given me many opportunities to enrich my professional career. Ever since I joined ASIS&T in 2015, this membership has brought me in touch with experts who have guided me in my academic journey. ASIS&T has also given me a chance to make friends from across the globe. I thank all who welcomed me warmly to this association and I remain committed to contributing to the best of my abilities to further the Association's goals." 
Gala will receive her award at the 2022 ASIS&T Annual Meeting to be held October 29 through November 1, 2021, in Pittsburgh, Pa.