Soo Young Rieh to Receive 2022 Watson Davis Award for Service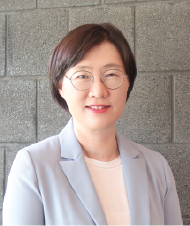 The Association for Information Science & Technology (ASIS&T) is delighted to announce that Soo Young Rieh of the University of Texas at Austin is the 2022 recipient of the Watson Davis Award for Service. The award's purpose is to recognize an individual member of the Association who has shown continuous dedicated leadership in and service to ASIS&T and made substantial and lasting contributions to ASIS&T governance, chapters, SIGs, committees, and publications.  
Rieh is Associate Dean for Education and Professor in the School of Information at the University of Texas at Austin. Before joining UT Austin, she was on the faculty of School of Information at the University of Michigan. Her research areas include search as learning, human information behavior, web searching behavior, credibility assessment in information seeking process, and information literacy. Her research has been funded by the Institute of Museum and Library Services (IMLS), MacArthur Foundation, and Brainly, Inc. Rieh has been active for ASIS&T serving as a Director-at-large, co-chair of Award and Honors Committee, chair of Special Interest Group in Information Needs, Seeking, and Use (SIG-USE). She is an Associate Editor of Information and Learning Sciences and serves on the editorial boards of JASIST and Library and Information Science Research. Rieh is the recipient of the 2019 ASIS&T SIG USE Outstanding Contributions to Information Behavior Research Award and has received ten best paper awards including the Best JASIST Paper Award and the ASIS&T Best Conference Paper Award.  
In their nomination of Rieh, Devon Grayson, Assistant Professor at the School of Population and Public Health at The University of British Columbia, said, "Dr. Rieh's sustained, active involvement in the association is evident from her 17 consecutive years (2002-2019) on the conference program committee, through to her recent (2017-2020) term on the Board of Directors and Executive Committee and continued involvement with ASIS&T SIG AI initiatives. Her work has contributed to the successes of the association's annual meeting/conference, awards, SIGs, governance, membership, publications, and research engagement." 
Candidates for the award are assessed based on 3 criteria: dedicated service to ASIS&T as evidenced by the amount and length of participation in, leadership of, and support to ASIS&T programs, chapters, SIGs, committees, publications, etc.; sustained, active involvement in ASIS&T; and engagement in activities that create a meaningful impact on ASIS&T communities, such as in high attendance numbers for events, attracting significant news coverage of a publication or event, attraction of new members, and/or positive financial impact for the Association, SIG or Chapter. The award is named after Watson Davis, President and founder of the American Documentation Institute (ADI), a precursor to ASIS&T. 
Upon learning of her selection as winner of the 2022 ASIS&T Watson Davis Award for Service, Rieh responded, "I am extremely honored and grateful to receive the Watson Davis Award for Service.  Earning this recognition means a lot because ASIS&T has provided so many opportunities for me to learn and grow as an academic. I have had the fortune to work with brilliant, passionate, and dedicated people in the ASIS&T community for more than 20 years. I hope this award will help me inspire and mentor young scholars in the field of information science."   
Rieh will receive her award at the 2022 meeting of the Association for Information Science & Technology (ASIS&T) which will be held October 29-November 1 in Pittsburgh, PA.