Africa Chapter
The Africa chapter celebrated its second anniversary on June 17, 2022, during its third general meeting of this year. In two years, the chapter was able to grow from 2 members to more than 200. During the anniversary, the current projects were presented as well as the promotional video realized by the chapter's members. Finally, many officers celebrated the anniversary with real cakes and the happy birthday song. The main objective of this kind of event is to strengthen the links between members of the community and attract them to better participate and benefit from the activities of the chapter. Currently, the chapter is planning elections to renew the officer's board and will open very soon in full transparency the call for nominations.
Asia Pacific Chapter
Global Scholars from Multi-organizations Join the Webinar on Information Equality, Presented by Professor from Nankai University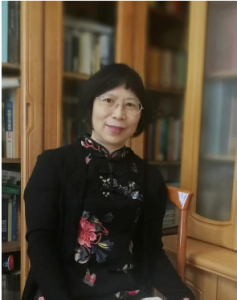 On May 13, a webinar sponsored jointly by The Asia Pacific Chapter of the Association for Information Science and Technology (ASIS&T-AP) and The Information Behavior Chapter of the Chinese Society for Scientific and Technical Information was hosted by the Department of Information Resources Management in the Business School at Nankai University. Around 300 participants from different countries participated in the webinar. The presenter, Dr. Liangzhi Yu, is professor of the Department of Information Resources Management in Business School at Nankai University. She presented her research series "An argument for informational comparability of individuals and an attempt to capture and explain their differences" at the event. Her talk has engaged representatives from leading universities and academic organizations and global research units to explore the disparity between society's information rich and poor, which is one of the central issues in information society. Rooted in the field of Library and Information Science, Dr. Yu argued positive answers for two key challenges faced by Library and Information Science in an unequal information society: Is it possible to compare and define people in relatively stable informational terms? Can Library and Information Science offer concepts and theories by which individuals' existence in the information sphere of the world is described and understood? Dr. Yu and her research team have conducted a series of studies on these issues in the past 20 years and generated interesting research findings to advance the development of the field.
During the presentation, Dr. Yu introduced an innovative concept to comparatively define individuals informationally and a theoretical framework featuring practice-experience-mind interactions to explain information access disparity between people. Dr. Yu's research series deliver valuable recommendations on potential application of the Library and Information Science theories in future studies and in other relevant fields, with an emphasis on portraying larger pictures of the information subject. The event was concluded by an in-depth discussion between Dr. Yu and the participants on reducing the information inequality.
Middle East Chapter
The Middle East Chapter has awarded 17 new memberships at various levels to individuals across the Middle East. Congratulations and welcome to the newest members:
Professional Membership Awardees
Ferkan Kaplanseren, Dokuz Eylul University, Turkey
Volkan Hancı, Dokuz Eylul University, Turkey
Amir Reza Asnafi, Shahid Beheshti University, Iran
Azam Sanatjoo, Ferdowsi University Of Mashhad, Iran
Leila Nemati Anaraki, Iran University, Iran
Tuncay Kume, Dokuz Eylul University, Turkey
Maliheh Dorkhosh, University of Tehran, Iran
Early Career Awardees
Pegah Tajer, Azad University, Iran
Wafi Bedewi, King Abdulaziz University, Saudi Arabia
Student Awardees
Ahmet Ayaz, Karadeniz Technical University, Turkey
Eda Cevik, Dokuz Eylul University, Turkey
Hande Bilgehan, Ege University, Turkey
Mohammad Reza Niazmand,  University of Tehran , Iran
Roya Moradi, Shiraz University, Iran
Serkan Alıcı, Dokuz Eylul University, Turkey
Yasin Sesen, Ankara University, Turkey
Zeinab Safavi, General Department of Resources of the Public Libraries of Iran, Iran
South Asia Chapter
A health literacy video project was conducted with the Special Project Fund received from the ASIS&T Headquarters by the South Asia (SA) Chapter. The SA Chapter collaborated with the Asia Pacific Chapter and European Chapter to bring their experiences in dealing with similar viruses in the past. Altogether there are 46 videos. The Chapter set up a YouTube channel (https://www.youtube.com/ASISTSouthAsiaChapter) to host multilingual videos for disseminating awareness on a variety of topics on COVID-19 in the South Asia region. Through these videos, the project team proposed to help in fighting misinformation and disinformation regarding COVID-19 information. Videos are available in four South Asian languages: Bengali, Hindi, Urdu, and Sinhala, in addition to English.
The project team was led by Bhakti Gala, Past-Chair, ASIS&T South Asia (Central University of Gujarat, India) with a team of ASIS&T members including Sam Chu (The University of Hong Kong, Hong Kong), Md. Anwarul Islam (University of Dhaka, Bangladesh), Syeda Hina Batool (University of the Punjab, Pakistan), Helen Chan (The University of Hong Kong), Raj Kumar Bhardwaj (Central University of Punjab, India), Manika Lamba (University of Delhi, India) and Prasadi Kanchana Jayasekara (University of Ruhuna, Sri Lanka).
As an extension of the above project, the Digital Story Writing Competition for School Children was collaboratively organized with the Hong Kong University and the Academic 22 Education for All Foundation was held on 16th April 2022.
The theme of the competition was "AI and Health" & "COVID-19: Imagine, Create & Share". Ten International awards and regional awards for South Asia, Africa, Greater China etc, were awarded. Over 1000 submissions were received from the region. There were 20 Judges from South Asia member countries. Winners will be awarded a certificate and an Amazon gift coupon for purchasing eBooks. Through this project and writing competition, the team members collaborated with 15+ organizations and NGOs. Over 20 workshops were conducted for Children for enhancing digital literacy among them.
The focus of activities of the SA Chapter for this year was the above competition and the health literacy project. Thus, the SA Chapter conducted a series of workshops on health literacy in India, Pakistan, Bangladesh, Nepal and Sri Lanka. It helped in advertising ASIS&T activities and in increasing footprints.
SA Chapter in collaboration with the School Library Association, India arranged the workshop The workshop on 'Fostering the Next Generation Authors & Helping people safe from COVID-19′ on 11th December 2021 in online mode. The objective of the workshop was to introduce the International Digital Story Writing Competition organized by ASIS&T South Asia Chapter, the University of Hong Kong, and Academy 22 Education for All Foundation.
This was a free event for all school librarians to motivate their students to participate in this exciting international competition. Other collaborators were the Advance Information Network of Libraries in Gujarat (ADINET), Special Interest Group on School Libraries, Gujarat, India, Bangladesh Shishu Academy, and the School Library Association, Pakistan.
Presenters were Dr. Sam Chu, Associate Professor at the Faculty of Education, The University of Hong Kong (HKU) and Ms. Helen Chan, Vice Chair, Academy 22 Education for All Foundation. It was supported by Dr. Bhakti Gala, Past Chair of the SA Chapter.
An international webinar with the title "Acceleration of health information literacy: preparing multi-lingual covid-19 contents for South Asia region" was held on 18th December 2021, collaboratively with the Department of Information Science and Library Management, University of Dhaka, Bangladesh. Dr. Md. Anwarul Islam coordinated the event.
Professor Dr. Md. Akhtaruzzaman, Honorable Vice Chancellor, University of Dhaka graced the occasion as Chief Guest. Professor Dr. Md. Nasiruddin Munshi, Department of Information Science and Library Management & Librarian (In Charge) of Dhaka University Library was present as Special Guest.
US Midwest Chapter
The ASIS&T Midwest Chapter invites nominations for the open position of CHAIR-ELECT.
The Chair-Elect will serve on the Midwest Chapter Board from November 2022-Nov. 2023, and then will take over as Chapter Chair for 2023-2024. This will be an excellent opportunity to help shape the new Chapter, to get to know colleagues throughout the Midwestern region, and to log some satisfying and worthwhile professional service. Candidates at any stage in their career, and in their time with ASIS&T are welcome, as long as you are a Member in good standing. Self-nominations also are welcome! Please respond directly to the current Chair - tdickey1@kent.edu - with nominations or self-nominations.
US Northeast Chapter (NEASIST)
NEASIS&T Announces 2022 Conference Support Award Recipients
NEASIS&T is pleased to announce that Heather F. Ball, Lubov McKone, and Sara Rottger have been selected as this year's Conference Support Award Recipients.
Heather is currently an Information Science doctoral student at the University at Buffalo, SUNY, and the Critical Pedagogy Librarian for Student Success at St. John's University, as well as an Assistant Professor. She holds an MLS/dual certificate in Preservation and Archives from Queens College and an MLitt (University of Glasgow) and Bachelor's (NYU) in Medieval Studies.
Lubov is an aspiring data librarian currently pursuing her MLIS at Pratt Institute. Her prior career as a data analyst in local government grounds her critical approach to data management and use, which challenges the power dynamic between the researcher and the researched in processes of data curation, transformation, and preservation.
Sara is the Assistant Librarian for Teen Services at the Wilmington Memorial Library, MA, and a graduate of Mount Holyoke College.  As a member of NEASIS&T, she hopes to connect with professionals in the field beyond the realm of public libraries and attend panels focusing on the intersections of youth studies and information science.
More information on the award and this year's recipients is available on the NEASIS&T website at:  https://www.asist.org/chapters/neasist/awards/.
Non-Library MLIS Careers Event
On July 14, NEASIS&T held a well-attended Non-Library MLIS Careers webinar. Our presenters, Amanda Bloom and Lauren Wojcik, who currently work in non-library positions, gave us a fascinating look at library/information work beyond traditional library settings. They talked about why they pursued an MLIS, how they got to their current position, how their degree helped them, the skills leveraged along the way, and what skills we'd need to brush up to pursue such careers.
The recording is already available to active ASIS&T members for viewing anytime: https://community.asist.org/viewdocument/non-library-mlis-careers-neasist?CommunityKey=127f72b2-9794-4b03-8c91-27d70987f611