ASIS&T is pleased to announce the launch of the Member Match Program!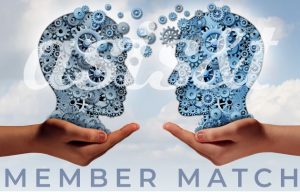 This program is designed to pair more senior, experienced ASIS&T members with newer, less experienced members for mentorship in the following areas:
Research Advancement
Research Collaboration
Professional Networking
Career Advancement
Leadership Skills Development
Greater Engagement with ASIS&T
Networking at Annual Meeting
Member Match mentorship relationships can be as formal or informal as the participants wish. We will strive to match members based on areas of interest as well as ability to commit time to the relationship. Mentors and Mentees would be expected to commit for at least a year.
While the Mentor Match Program is available to all ASIS&T members, the Research Engagement Committee is specifically inviting junior faculty members, postdoctoral fellows, and contract academic staff who have recently completed their doctoral studies and are working in information science to participate in the Early Career Mentorship Program (ECMP) offered through ASIS&T (a subset of the Mentor Match Program).
The ECMP offers one-on-one mentoring with a senior scholar in the field where you can talk about topics such as research, preparing grant applications, preparing publications, as well as advice on career planning. Together with your mentor, you can determine the type of mentorship arrangement that works best for you.
The program is approximately one year, beginning the month before the ASIS&T Annual Meeting and ending at the ASIS&T Annual Meeting the following year. Participants in the ECMP who are in Pittsburgh will have an opportunity to meet on Monday, October 31 from 10:30-11:00 am during coffee break.
While all mentees and mentors are encouraged to attend the Annual Meeting, it is not required. The mentoring can take place fully virtually or a mix of virtual and in person.
If you are interested in participating in ECMP as a mentee or the broader Mentor Match Program as a mentor or mentee, please complete the short questionnaire linked below. The questionnaire will help us to match mentees with a suitable mentor. Please note that we will try to match everyone we can but will be limited by the number of mentors and mentees who apply.
In order to be matched before the Annual Meeting, please apply before September 16. Matches will be emailed no later than October 21.
Members who have previously submitted their information to the Research Engagement Committee need not resubmit.