ASIS&T 2022 Annual Meeting Recap
For the first time since 2019, more than 350 ASIS&T members from 29 countries came together to engage in learning, research sharing, meeting new people, and reconnecting with friends and colleagues. Everyone that attended seemed to be very happy to be back at a face-to-face meeting after three years of online meetings and gatherings.
There were several virtual offerings at the 2022 Annual Meeting, including 5 workshops and a virtual poster session. However, the bulk of the meeting was in person in Pittsburgh, PA, USA.
The Annual Meeting was preceded by the inaugural in-person/virtual Information Science Summit entitled, Innovation and Trends in Information Science - Practice, Research, and LIS Education which took place on Friday October 28, and was attended by over 100 people in person and virtually. The meeting was hosted by the iFederation (ASIS&T, ALISE and the iSchools) and was sponsored by a number of academic and practitioner/industry organizations.
The theme for this year's conference was "Crisis, Transition, Resilience: Re-Imagining an Information-Resilient Society." The strength of the technical presentations at this year's meeting is a testament to the ASIS&T mission to advance the information sciences and related applications of information technology by providing focus, opportunity, and support to information professionals and organizations. We hope you all agree that this Annual Meeting no different.
We thank each of our over 232 presenters giving 178 presentations, recognizing that the meeting would not exist without their excellent presentations. Attendees enjoyed 10 pre-conference workshops, 82 posters, 63 papers, and 20 panels which were selected through a rigorous peer review process, conducted by over 350 reviewers.
---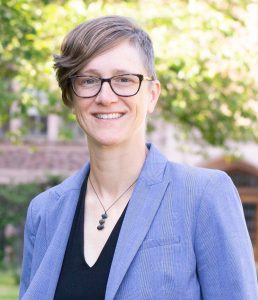 Attendees enjoyed the opening plenary which was live streamed and featured Kate Starbird from the University of Washington as the keynote speaker. Her presentation was entitled, "Participatory Disinformation: How Witting Agents and Unwitting Crowds Collaborate in the Spread of Disinformation Online". You can watch the full presentation at the link below.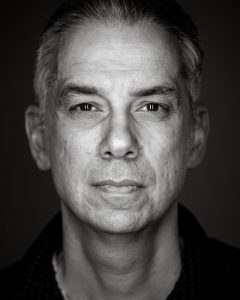 The closing plenary featured keynote speaker Lee McIntyre from Boston University. His presentation was entitled, "The Real Enemy of Truth These Days Isn't Misinformation, It's Disinformation. Dr. McIntyre's presentation is also linked below.
---
The Annual Business Meeting provided members with an overview of the past year's activities as well as a glimpse into the agenda for the coming year. The full Business Meeting video is linked below.
---
This year's Annual Meeting Award winners were:
Best Long Papers: 1st: Kyle Siler and Vincent Larivière: Journal Impact Factor Inflation Across Different Academic Publishers and Journals; 2nd: Rachel Salzano, David Brazier, Hazel Hall, and Gemma Webster: What are Public Libraries for? Culture as a Determinant of Conceptualizations of Public Library Services for Forced Migrants; 3rd: Huiwen Zhang, George Buchanan, Ryan Kelly, Michael Twidale, Shanton Chang, Dana McKay; It's Still Rock and Roll to Me: A Model of Online Browsing Behavior
Best Short Papers: 1st: Maayan Zhitomirsky-Geffet: Turning Filter Bubbles into Bubblesphere with Multi-Viewpoint KOS and Diverse Similarity; 2nd: Ruohua Han, Yubao Gao, Sherry Xie: Information Resilient Society in an AI World – Is XAI Sufficient?; 3rd: Britt Paris, Gina Marcello, Rebecca Reynolds: Cultivating Ecological Literacy: A Critical Framework for Understanding and Addressing Mis- and Disinformation; and Kawanna Bright, Sunha Kim, Monica Colón-Aguirre, and Amy VanScoy: Professional Development Opportunity, Digital Skills, and BIPOC Professionals' Decision to Leave: A Serial Multiple-Mediator SEM Model
Best Student Long paper: Jane Behre: Young Adults' Online Sexual Health Information Seeking and Evaluating Skills: Implications for Everyday Life Information Literacy Instruction
Best student Short Paper: Judith Van Alstyne: Personal Information Management Literacy in the Discourse of Youth
Best Paper Reviewers: 1st: Rebekah Willson; 2nd : Kei Kurakawa; 3rd : Lai Marcello
Best Panel Reviewers: 1st: Lisa Börjesson; 2nd: Sharon Stoerger; 3rd: Aaron Bowen-Ziecheck
Best Poster Reviewers: 1st: Pei-Ying Chen; 2nd: Sara Lafia; 3rd: Judith Van Alstyne
---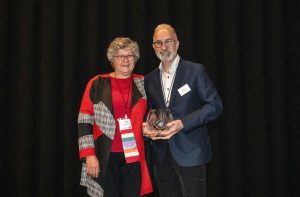 Global Awards
Many ASIS&T members were recognized during the Awards Luncheon held on October 31st, among them Harry Bruce who received the Award of Merit. Pictures of the award winners can be found in the meeting photo album and a complete list of award winners is available HERE.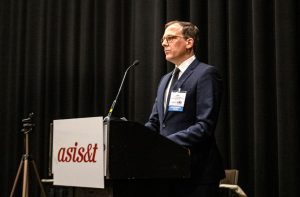 ---
Thank you to our Program Committee, Volunteers & Sponsors
We can't give enough thanks to the members of the AM2022 Organizing Committee. First and foremost, we would like to thank Conference Program Chair, Dirk Lewandowski of the Hamburg University of Applied Sciences in Germany for his hard work and contributions which resulted in an outstanding meeting. He was instrumental in keeping our focus on both the conference theme and mission. The success of ASIST22 is a result of the tireless work and dedication of the Program Committee:
Paper Co-Chairs: Jutta Haider, University of Borås, Sweden and Noora  Hirvonen, University of Oulu, Finland; Panel Co-Chairs: Aylin Imeri, Heinrich Heine University, Düsseldorf, Germany and Souvick Ghosh, San Jose State University, USA; Poster Co-Chairs: June Abbas, University of Oklahoma, USA and Bhakti Gala, Central University of Gujarat, India; Doctoral Colloquium Co-Chairs: Pnina Fichman, Indiana University Bloomington, USA and Howard Rosenbaum, Indiana University Bloomington, USA
Thank you to all who attended this year's conference! We also want to say thank you for the generous contributions from our many sponsors and exhibitors. Your continued support of the ASIS&T allows us to deliver on new and existing initiatives at the core of our mission.
The meeting evaluation was sent to all registrants with a deadline of November 29. We will include a summary of the evaluation in the next edition of Inside ASIS&T.