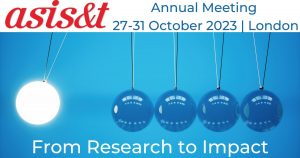 Join us for the 2023 Annual Meeting. Novotel West Hotel, London, UK, 27- 31 October, 2023.
Call for Proposals
Communicate your research and the impact it has made! The call for proposals submission site is open, and we encourage you to consider submitting a proposal for a session. Complete instructions and the template for each submission type is on the Annual Meeting website.
Paper, panel, alternative event, and workshop submissions are due April 18.
Posters are due June 5.
The Doctoral Colloquium submissions deadline is June 15.
Mark your Calendar to Attend!
A schedule-at-a-glance is now available for an overview of the meeting, so you can start making your plans.
The full 2023 Annual Meeting website contains complete details on the meeting, housing, submissions, registration and much more! Check the website often for regular updates.
Great content to come on Translating Information Research into Practice, Policy and Action – you won't want to miss this! Not to leave out there is so much to see in London – Buckingham Palace, to Big Ben, to Westminster Abby, and more. Plan time before or after the meeting to see all that London has to offer.
Registration opens June 5. Be sure to register early to save.