President's Column, May 2023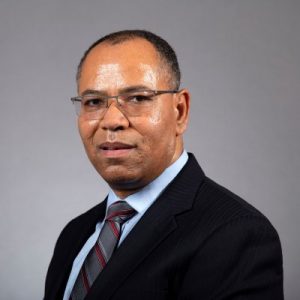 When I wrote my last column, some of us in North America were getting ready for Spring Break. Two months flew by quickly, and before long, the summer recess will be upon us where we (the ones who can at least) get to travel, attend conferences, and enjoy very much needed and deserved downtime while doing scholarly and other creative activities.
Speaking of conferences, thanks to the excellent work of Hemalata Iyer, Imane Hilal, Cathy Nash, Lydia Middleton, Kim Granados, Garrett Doherty, and the Program Committee, the ASIS&T Mid-Year Conference concluded successfully. The manuscript reviewers, conference attendees, and all presenters made it a success and deserve our gratitude. It had been a genuine team effort, although some team members had to survive on a few hours of sleep. During the Conference, we had four days of rich, robust, and interactive presentations and discussions around wide-ranging and current topics and issues relevant to the communities we serve. We also had excellent keynote and invited talks by leading scholars in the field. Professor Abrizah Abdullah started the Mid-Year keynote talks on the first day with a fascinating look at scholarly publishing and how to make it work for all while moving from visibility to inclusivity, followed by Professor Nadia Caidi's engaging talk on knowledge translation and relevance. On the last day, we had a chance to hear from Professor Noora Hirvonen on a topic that is on everyone's mind these days, artificial intelligence in everyday information practices. In between the keynote talks, we had 78 presenters making 50 presentations. It was great to see 133 individuals registered for the meeting, representing 32 countries. While organizing the Mid-Year Conference was in response to requests from ASIS&T members who, for various reasons, couldn't attend in-person annual meetings, the attendance was not what we had hoped for, although countless hours and efforts by the Program Committee and ASIS&T staff went into organizing it.
The great news is that the next major ASIS&T event is around the corner, and work on the 2023 ASIS&T Annual Meeting in London has begun in earnest. I would be remiss if I didn't thank Cathy Nash, other ASIS&T staff members, the Annual Meeting Program Committee members, and the Chair and Vice-Chair - Ian Ruthven and Heather O'Brien very much! For the Annual Meeting, we received record submissions - almost double last year's total. While the competition for accepted proposals will be fierce, it bodes well for increased attendance and a quality conference program. The next submission deadlines are in a few days (Posters are due on June 1, while Doctoral Colloquia are due on June 15). When registration opens on June 5, we encourage everyone to register for the Annual Meeting and begin making hotel reservations and travel arrangements.
The summer will be another busy time for the ASIS&T Board and staff. The firm hired to conduct a feasibility study to see if a consulting service is in the best strategic, financial, and other interests of ASIS&T is busy conducting critical interviews with a select group of scholars and industry leaders in information science and technology. The Board, at its mini retreat in Boston, will discuss topics and initiatives critical to the future of the association and significant benefit to you, ASIS&T members. We thank Professor Sanda Erdelez and our colleagues at Simmons University for their generous support of the Board during the retreat.
I have to commend and thank the various ASIS&T members, SIGs, Chapters, and other groups for their excellent work and contributions to the Association's success and that of its members! I immensely enjoyed interacting with ASIS&T members through various events, groups, and activities. I look forward to continuing those interactions and engagements because your ideas, suggestions, constructive feedback, and issues you raise are what I, the Board, and the ASIS&T staff need and will serve as food for thought. As always, please keep up the great work and contact me, members of the Board, Lydia, and other ASIS&T staff if you have questions or ideas, want to volunteer for an ASIS&T committee or group, and want to share good news or seek assistance. Most of all, I hope you enjoy your summer (or winter if you are from the Southern half of the globe). We can't wait to see you all in person at the 2023 Annual Meeting in London!
Warm regards,
Abebe Rorissa