Aira Huttunen to Receive 2023 ASIS&T Doctoral Dissertation Award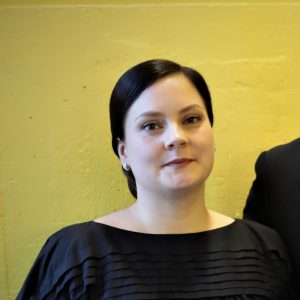 The Association for Information Science & Technology (ASIS&T) is delighted to announce that Aira Huttunen is the 2023 recipient of the ASIS&T Doctoral Dissertation Award for their dissertation proposal titled, "Friction and Bodily Discomfort: Transgender Experiences of Embodied Knowledge and Information Practices."
The award's purpose is to recognize outstanding recent doctoral candidates whose research contributes significantly to an understanding of some aspect of information science. The award is intended to encourage participation of new PhDs in the activities of a professional association by providing a forum for the presentation of their research and assisting them with some travel support.
Huttunen was selected as the winner from among a pool of outstanding candidates who were judged based on these criteria: Importance of the topic to theory development and/or practical applications in information science; soundness of methodology; organization and clarity of the presentation; and quality of data (when applicable).
Aira Huttunen defended their doctoral thesis at University of Oulu, Finland, in November 2022. In their doctoral research, funded by Kone Foundation, Huttunen studied embodied information practices of transgender and non-binary people from Finland. Dr. Huttunen's study combined perspectives from information studies and gender studies, especially transgender studies and queer studies where the focus lies in bodily experiences and gender norms and normativity. Their post-doctoral research will focus on AI-tools as part of everyday information practices of young people.
Noora Hirvonen, professor of Information Studies of the Faculty of Humanities at University of Oulu and Huttunen's PhD secondary supervisor, said of Huttunen's work, "Huttunen's thesis is exceptionally strong, even pioneering work, and most definitely worthy to be considered for the award of the most outstanding doctoral thesis in information science.
Huttunen's doctoral thesis is the first extensive research on the information practices of Finnish transgender people and among the first to examine the topic globally. The findings, based on analysis of interviews of 37 people who identified as transgender, illustrate how personal and interpersonal factors together shape information practices during gender transitions. With its focus on embodied information, the thesis contributes particularly to the understanding of transgender individuals' experiences of the ways senses, affects, body-related self-observations, and observations of other people's bodies are a part of information practices. The research is also important practically as it informs information and healthcare providers and other professionals working with transgender people on the information needs and barriers that transgender people encounter."
Upon learning of her selection as the 2023 ASIS&T Doctoral Dissertation Award, Huttunen said, "I am thrilled that my doctoral thesis was named the ASIS&T 2023 Doctoral Dissertation Award winner. In my doctoral research I was interested on how norms, bodies and affects can shape people's ways to seek and share information in life transitions. I am deeply grateful for the jury of this recognition."
Huttunen will receive their award at the 2023 meeting of the Association for Information Science & Technology (ASIS&T) which will be held 27-31 in London, UK.