Nosheen Fatima Warraich to Receive the Association for Information Science and Technology (ASIS&T)  2023 James M. Cretsos Leadership Award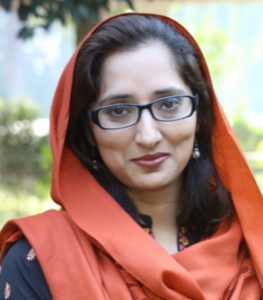 The Association for Information Science & Technology (ASIS&T) is delighted to announce that Prof. Nosheen Fatima Warraich, Director, Institute of Information Management, University of Punjab, Lahore-Pakistan, is the 2023 recipient of the ASIS&T James M. Cretsos Leadership Award.  The award's purpose is to recognize a new ASIS&T member who has demonstrated outstanding leadership qualities in professional ASIS&T activities.
Candidates are assessed based on the following four criteria: participation in the ASIS&T annual meeting as an organizer, moderator, speaker, discussant, etc.; participation in programs and activities of Special Interest Groups (SIGs), chapters, and/or student chapters; services on ASIS&T committees; and recruitment of new ASIS&T members and/or retention of existing members.
Prof. Nosheen Fatima Warraich has been serving as Director Institute of Information Management, University of the Punjab, Lahore since 2021. She is a young academician and has got Fulbright Post-Doc, SUNY at Albany (2015-2016) NY. She has authored more than 85 publications, including scholarly journal articles, conference proceedings, and book chapters. She is the Editor of the Pakistan Journal of Information Management & Libraries. Prof. Warraich is a visionary leader and believes in collaboration and inclusiveness. She served as co-chair SIG-ED in 2017-18, and as recruitment officer SIG-SM for two years 2018 and 2019. In 2022, she was elected as chair SIG-InfoLearn and co-chair-elect of SIG-III. Recently, she is also serving as panel co-chair in ASIS&T 2023 Mid-year conference. She has made commendable efforts in raising the number of ASIS&T memberships in Pakistan. She served in different leadership positions in SIG-III, SIG-ILS, and SIG-SM. She organized an international conference in Pakistan with the collaboration of ASIS&T in November 2022. She also has been working to recruit new students and professional members in Pakistan. She is a very passionate and kind team leader and always motivates and encourages her students and colleagues to participate in ASIST activities. Dr. Nosheen has been actively engaged with SIGs, Chapters, and other ASIS&T committees and also served four years on the IPC jury of SIG-III 2018-22. As the chair of the IPC jury, she always guided young researchers to submit their submissions and help them get published in good journals.
In support of Nosheen's nomination Devendra Potnis, Associate Professor from the University of Tennessee, Knoxville wrote: "I always found Nosheen ambitious in volunteering for different initiatives of SIG-III, including the Research Wing, InfoShare award, and conducting and organizing workshops and webinars, especially during COVID time. Due to her keen interest in ASIS&T, she won ASIS&T New Leader Award 2017-18. Currently, her colleagues and students actively serve in different leadership positions in ASIS&T. She is involved in ASIS&T and SIG-III in two international conferences conducted by her institute in 2018 and 2022 and enhanced the visibility of ASIS&T to the broader audience. She has diverse experience in serving on different SIGs and chapters."
Ashraf Sharif, Co-Chair, of SIG-III (2017 -19) and Systems Librarian at Aga Khan University wrote "Nosheen introduced her research students to ASIS&T through SIG-III IPC, Research Wing, and InfoShare award initiatives. She encourages them to participate in these activities and get complimentary membership of ASIS&T. She is a big supporter of the Tier-2 countries membership initiative of ASIS&T for professionals from developing countries. She promoted it in the professional and academic community and persuades her research students to avail this opportunity to engage with ASIS&T. Consequently, ASIS&T membership in the country increased and she has been successful in recruiting and retaining the members. She did a commendable job as SIG-III IPC jury member and chair for four years (2018-2022). She made efforts to diversify the IPC jury and submissions, providing qualitative feedback to authors and assisting authors in publishing their work. She is also serving as a member of the SIG-USE Symposium committee in 2023."
In his nomination of Prof. Warraich, Dr. Muhammad Tariq wrote, " Nosheen believes in social justice and always supports, encourages, and advocates the information science field and ASIS&T, especially among marginalized and less privileged developing country professionals. She is a dedicated, friendly, committed, and active young leader who has the potential to lead the community in the future. She guides and motivates her students to recruit and contribute to ASIS&T. In her 6 years of membership at ASIS&T, she has contributed to ASIS&T as an author, reviewer, SIG officer, chair-IPC SIG-III, and chair-elect SIG-InfoLearn."
Upon learning of her selection as a 2023 Cretsos Award winner, Nosheen said, "I am incredibly honored and humbled for this recognition to receive the James M Cretsos from ASIS&T. ASIS&T provided me opportunities to network, collaborate, and work with wonderful people. For me, ASIS&T is like a family that supports, motivates, and inspires me in my academic and professional career, giving me a sense of ownership and training me as a leader. Receiving this award has not only filled me with a sense of accomplishment but has also reinforced my commitment to making a positive impact in my field. I am also grateful to my colleagues, mentors, students, and supporters who have played a pivotal role in shaping my professional journey. Their guidance, encouragement, and collaboration have been invaluable, and I share this award with them as well. I am deeply appreciative of the recognition bestowed upon me, and I am motivated to continue my professional endeavors with even greater determination and enthusiasm. Thanks, ASIS&T for its inclusiveness and generosity! Keep growing and shining!"
Warraich will receive the award at the 2023 ASIS&T Annual Meeting to be held 27-31 October, in London, UK.