Nicholas Belkin Named Inaugural Association for Information Science and Technology Fellow Award Recipient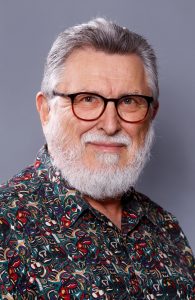 The Association for Information Science & Technology (ASIS&T) is delighted to announce that Nicholas Belkin is the first recipient of the ASIS&T Fellow Award. This award recognizes individuals who have made substantial and sustained contributions to ASIS&T and the broader field of Information Science. ASIS&T Fellows have made a significant contribution to one or more of the following areas of information science: research, products, teaching, and service to the profession, the association, and other entities such as government, industry, etc. Fellows must uphold ethical and professional standards to be appointed and to maintain the honor.
In nominating Belkin for the award, Chirag Shah, Professor, Lab Director InfoSeeking Lab, Co-Founding Director Center for Responsibility in AI Systems & Experiences (RAISE) at University of Washington and Editor-in-Chief Information Matters stated "There are very few scholars in our field with the breadth and depth of scholarly impact that Prof. Nick Belkin has shown over his storied career spanning many decades, multiple continents, and a spectrum of challenging issues, methodologies, and outcomes. I can see no better candidate deserving the prestigious ASIS&T Fellows Award."
Belkin is one of the most distinguished scholars in the field of information science and technology. His groundbreaking work involving "cognitive viewpoint" in information science has been guiding scholars and practitioners working in the areas of information behavior for decades. He is the co-author of one the first books to explicitly investigate and describe the process of interactive information retrieval. In addition, Belkin has authored or co-authored over 200 journal articles, conference proceedings and book chapters, and has been identified variously as the first or second most highly cited scholar in Library and Information Science. Belkin has conducted ethnographic, sociological, behavioral, and experimental research, including twelve years in the TREC Interactive Track.
His most recent projects have focused on personalization of interaction with information personalization of information retrieval based on searchers' current and past behaviors, and on methods for evaluation of whole-session search. His current research interest focuses on implications for LIS of the ubiquity of information in daily life, on which he has given keynote presentations at a variety of venues, including CLEF 2018, FIRE 2019, BIRDS 2020, and LIDA 2021, and the 2022 Stallmann Distinguished Lecture at the University of Texas, Austin. Professor Belkin's research has been supported by many agencies, including NSF, Institute of Museum and Library Services, Google, DARPA, NIST, US Department of Education, the British Library Research and Development Department, and NATO.
Belkin has served as the Chair of the ACM SIGIR, and President of the Association for Information Science and Technology (ASIST). He is the recipient of the ASIST's Outstanding Teacher award, its Research Award, and its Award of Merit, for outstanding contributions to Information Science, and in 2021 was named an ASIS&T Distinguished Member in its inaugural class. In 2015, he received the ACM SIGIR Gerard Salton Award, for significant, sustained, and continuing contributions to research in information retrieval, and in 2020 he was an made an inaugural Member of the ACM SIGIR Academy.
Over his career spanning multiple decades and institutions, Belkin has advised and mentored countless students. These students themselves have done groundbreaking works in the field of information science and technology.
Belkin is Distinguished Professor of Information Science Emeritus, at the Department of Library & Information Science, Rutgers University, and Adjunct Professor at the Dhirubhai Ambani Institute of Information and Communication Technology, India. Prior to these appointments, he was Lecturer and Senior Lecturer in the Department of Information Science, The City University, London. He has held visiting positions at, inter alia, the University of Western Ontario; the Free University, Berlin; GMD-IPSI, Darmstadt; the Institute for Systems Science, National University of Singapore; the Information School, University of Washington, Seattle; and GESIS, Cologne. He was a Fulbright Fellow at the University of Tampere in 1996, and a Fulbright Senior Scholar in Croatia in 2003. He received his Ph.D. in Information Studies from the University of London (University College).