President's Column, September 2023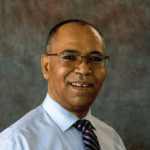 "Summer makes me drowsy. Autumn makes me sing. Winter's pretty lousy, but I hate Spring."  Dorothy Parker
I don't entirely agree with Ms. Parker, but she has a point. I don't know about you, but if you are in the Northern Hemisphere, while the summer sun is a welcome change from the cold Winter and rainy Spring, the beautiful and colorful Fall or Autumn leaves and foliage are a pretty sight. I hope you watch and enjoy the leaves change colors before they fall (pun intended).
I wanted to begin with a shoutout to our volunteers, not because I live in Tennessee, the Volunteer State, but because they care about and make a difference in the experiences and professional development of ASIS&T members. If you are a committee or jury member, SIG or chapter chair or officer, mentor, new leader, SIG or Chapter Assembly Director or member, or you hold other critical volunteer roles, you deserve our gratitude. You put hours of work and effort into leading important initiatives and serving ASIS&T members in more ways than your assigned charges and responsibilities. Some of my favorite stories are from ASIS&T members from all regional chapters enthusiastically articulating how much an ASIS&T membership means to them and how the lion's share of the credit goes to volunteers in SIG and chapter leadership roles. This is one example of why we should greatly appreciate and value their immense contributions.
Regarding the regular ASIS&T business, several important initiatives and programs such as the IDEA Institute, Mentorship Program, New Leaders Program, and others are in their final planning stages or undergoing. We also continue to recognize excellence in research, teaching, and service, and through other awards for best books, JASIS&T papers, student masters papers, leadership, and doctoral dissertations. I want to congratulate, once again, all ASIS&T award winners and thank members of the Awards and Honors Committee! In addition to previously announced winners, we have our first and most well-deserved recipient of the ASIS&T Fellow Award, Dr. Nicholas (Nick) Belkin. Congratulations, Nick!
In about five weeks, we will meet in London for the 86th Annual Meeting of ASIS&T to celebrate all our award winners and colleagues and engage in interactive discussions that move our field forward. In addition to excellent content and engaging sessions, several formal business and informal social events are scheduled during the Annual Meeting. If you are a new attendee or member or need to network with your colleagues more, please take advantage of all the social events and let us know how we can help you connect. Most of all, make friends and start conversations about future collaborations. If you are a procrastinator, there is still time to register for the Annual Meeting.
Once again, please join me in thanking the Chair and Vice-Chair (Ian Ruthven and Heather O'Brien) as well as members of the conference program committee, Cathy Nash, Lydia Middleton, other members of the ASIS&T staff, and numerous others who have contributed to the successful planning and execution of the Annual Meeting. Your attendance and active participation will make their excellent efforts worthwhile.
The Annual Meeting is not the only major event in October. We are excited and trying something new for the iFederation session at the 2023 ASIS&T Annual Meeting (to be held virtually on Monday, October 23, 2023, at 4 pm EDT). Chirag Shah, Suzie Allard, and I will organize a debate-style discussion on AI and the Information Professions, with four panelists and Chirag as the moderator. Speaking of other iFederation sessions, please register for and attend another great session at the 2023 ALISE Conference (Monday, September 25 @ 10 am EDT: Register here.
Finally, the ASIS&T Board will hold two meetings at the Annual Meeting in London to discuss various topics and initiatives that will move the Association forward and benefit you - its members. Please contact me or Lydia to offer your excellent ideas, feedback, and any questions you have. Thank you! We can't wait to see you all in London!
Warm regards,
Abebe Rorissa