2023 Annual Meeting Recap
What a Success!
Thank you to all who attended this year's conference! We also want to say thank you for the generous contributions from our many sponsors and exhibitors. Your continued support of ASIS&T allows us to deliver on new and existing initiatives at the core of our mission.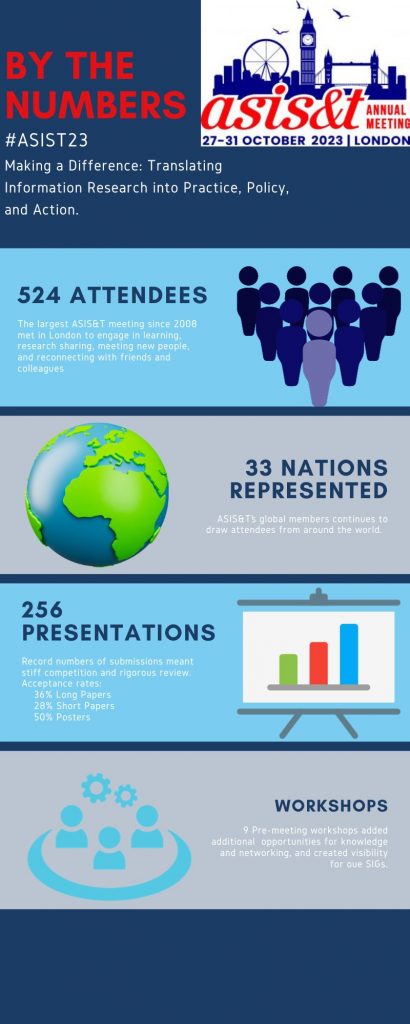 And a big thank you to our Program Committee.
Conference Program Chair, Ian Ruthvan, University of Strathclyde, Scotland,
Vice Chair: Heather O'Brien, University of British Columbia, Canada
Paper Track: Chair: Vivien Petras, Humboldt University Berlin, Germany, and Vice Chair: Rebecca Reynolds, Rutgers, the State University of New Jersey.
Panel Track: Chair: Alison Hicks, University College, London, UK, and Vice Chair: Alex Poole, Drexel University, USA.
Poster Track: Chair: June Abbas, University of Oklahoma, USA, and Vice Chair: Dana McKay, RMIT University, Australia.
Doctoral Colloquium: Co-Chairs: Pnina Fichman, Indiana University Bloomington, USA, and Howard Rosenbaum, Indiana University Bloomington, USA.
Missed the Meeting? View the Opening and Closing Sessions Now
Awards
Many awards were presented to worthy recepients including Andrew Dillon, Award of Merit, Jane Greenberg, Research in Information Science Award, and Jenna Hartel, Outstanding Information Science Teacher Award.
This year's Annual Meeting Award winners were:

Best Long Papers 1st: Alex Poole: "Get Our Feet Wet and Hands Dirty": Black Community-Based Librarianship and the Fight Against Information Poverty, 1940-1975"; 2nd: Vanessa Kitzie, Nick Vera, Valerie Vera, and Travis Wagner: "What is a Wave But 1000 Drops Working Together? The Role of Public Libraries in Addressing Health Information Disparities for LGBTQIA+ Communities"; 3rd: Morgan Wofford and Andrea Thomer: "Curating for Contrarian Communities: Data Practices of Anthropogenic Climate Change Skeptics."
Best Short Papers: 1st: Chern Li Liew and Ailsa Lipscombe: "Transforming Indigenous Knowledges Stewardship Praxis Through an Ethics of Care"; 2nd: Sebastian Modrow and Tyler Youngman: "Theorizing Cultural Heritage Informatics as the Intersection of Heritage, Memory, and Information"; 3rd: Sarah Polkinghorn: "Information Practices, Plural: Exploring Multiplicity and Mutual Constitution of Practices."
Best Posters: 1st: 1st: Min Sook Park, Hyerin Bak, Hyejin Park, Hyejin Kim: "Measuring Citizen's Perceptions of AI Adoption for Instrumental and Value-Added Tasks"; 2nd: Aaron Bowen-Ziecheck and Joan Bartlett: "The COVID-19 Pandemic's Impact on Credibility of Health Sources Among Undergraduate Students"; 3rd: Yu-Wen Huang, Wen-Ning Chen, Yu-Jie Lin, Pao-Pei Huang, Hsin-Yuan Hu, Wei Jeng: "If Cybersecurity Was… Pizza? A Visual and Rhetorical Approach to Exploring the Concept of Cybersecurity."
Best Poster Reviewers: 1st: Ben Wang; 2nd: Yujin Choi; 3rd: Nick Vera
Best Panel Reviewers: 1st: Sarah Polkinghorne; 2nd: YiYun Cheng; 3rd: Yin Zhang
Best Paper Reviewers: Jane Bartley, Brittany Brannon, Yvonne Dadson, Jesse Dinneen, Brian Dobreski, Katrina Fenlon, Dion Hoe-Lian Goh, Devon Greyson, Ruohua Han, Pamela Hoyte, Myeong Lee, Dirk Lewandowski, Qiao Li, Ana Ndumu, Anjan Pal, Saguna Shankar, Rea Simons, Sei-Ching Joanna Sin, Luanne Sinnamon, Stephen Slota, Beth St Jean, Nina Wacholder, Xinyue Wang, Becky Willson, Qian Wu, Yukun Yang
Special Recognition to the Paper Meta Reviewers: Noa Aharony, Bradley Bishop, Melanie Feinberg, Ina Fourie, Tim Gorichanaz, Hans-Christoph Hobohm, Haruna Hussein, Isto Huvila, Aylin Imeri, Yong Ju Jung, Vanessa Kitzie, Lai Ma, Shuyuan Metcalfe, Anthony Million, Amy VanScoy, Lin Wang
Business Meeting
ASIS&T conducted its annual membership Business Meeting, which you can now view on YouTube.