Immediate Past President's Column, November 2023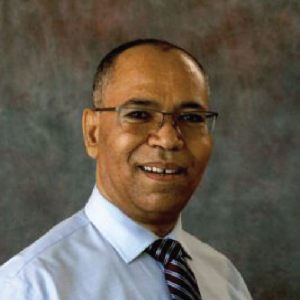 This is my last column for Inside ASIS&T as the immediate Past President of ASIS&T. I have nothing but a whole lot of gratitude and great appreciation for ASIS&T members, ASIS&T group and committee members and leaders, ASIS&T staff, and the ASIS&T Board. You all do amazing things to make the Association the leading professional organization in the field. It isn't easy to put everything about the last 12 months in a short column, but I will try to highlight some of the activities and initiatives.
While the ASIS&T mission is "To advance research and practice in information science and technology," and we do that very well, it is also about the people. To support our members and provide them with opportunities for professional growth. In other words, we put people (ASIS&T members and information users) at the center of our activities, events, initiatives, research, teaching, practice, and service. I began my tenure as President by saying we, ASIS&T members, staff, and leaders, will build on the solid foundation ASIS&T has and focus on advancing ASIS&T membership success, including by leveraging strategic partnerships, through the iFederation, with associations such as ALISE and the iSchools Organization. The theme I chose for the year was "Membership and Collaboration."
Our membership growth is steady. While we started member retention initiatives such as Lifetime Memberships, we still need to do more to retain current members and grow the Association in regions (e.g., Latin America) and groups (e.g., practitioners) where we are not as well represented in terms of membership. It is great to see that almost all the regional chapters, except two (US West and Latin America), have been formed thanks to those who stepped up to lead those efforts. On another note, we could not raise funds to create a membership endowment fund. That is down to me juggling a few roles and not having enough time to dedicate to this initiative.
Collaboration among ASIS&T groups and with our sister associations, ALISE and the iSchools organization, was a significant component of last year's activities. Thanks to Lydia's hard work and the ASIS&T Board's strategic approach, we made some progress in forging a closer partnership with ALISE and the iSchools, but we have a long way to go. I know we will continue our efforts in this respect because our goal is to benefit members of the three associations.
We continued to offer professional and leadership development opportunities and recognize our deserving colleagues through the various awards. Through our leadership (New Leaders Program) and professional development (Member Match mentoring program) initiatives, awards (including newly created ones), and recognitions, we were able to create value for our members. The New Leaders Program and Member Match mentoring program are helping early career and student members grow as researchers and professionals. Some former New Leaders are either serving or have served on the ASIS&T board.
We provided opportunities for intellectual engagement through webinars, the Mid-Year Conference, and the Annual Meeting. We held the 2023 Mid-Year Conference, and while the attendance was not what we expected, the program committee led by Hemalata Iyer and Imane Hilal did an excellent job! All of you who attended will agree that the 2023 Annual Meeting in London was a huge success! We must thank many people, not least Cathy Nash and the conference program committee, its Chair Ian Ruthven, and Vice-Chair Heather O'Brien! You all also made the Annual Meeting a success by contributing your excellent papers, panels, workshops, and posters to the content and program. I was amazed by the quality and rigor of the studies and presentations. Most of the feedback I received about the Annual Meeting is positive. Some of you told me you were among the 200 first-time attendees and had a great experience. I hope you will continue engaging with ASIS&T and attending events like the Annual Meeting. This is why I am optimistic about ASIS&T and its future.
How did we accomplish all this? It helps to have an excellent ASIS&T staff led by Lydia Middleton, SIG and Chapter officers, committee members, chairs, Board members, and the broader membership who care about ASIS&T and work every day to make it serve its members well. Countless others have all contributed to the success of the association and ASIS&T members, and they deserve our gratitude.
As I pass the torch to our President, Crystal Fulton, I look forward to supporting her. Crystal has excellent ideas and the skills to develop and implement them. We couldn't have asked for a better president. With the support of board members, the staff, and the entire membership, she will lead ASIS&T to its next great chapter. Once again, thank you for making ASIS&T a premier global information science and technology association. I proudly call ASIS&T my professional home - as a Lifetime Member! I hope to see you all in Calgary next year and at future ASIS&T events. Happy Holidays!
Warm regards,
Abebe Rorissa