ASIS&T Strategic Plan 2020-2025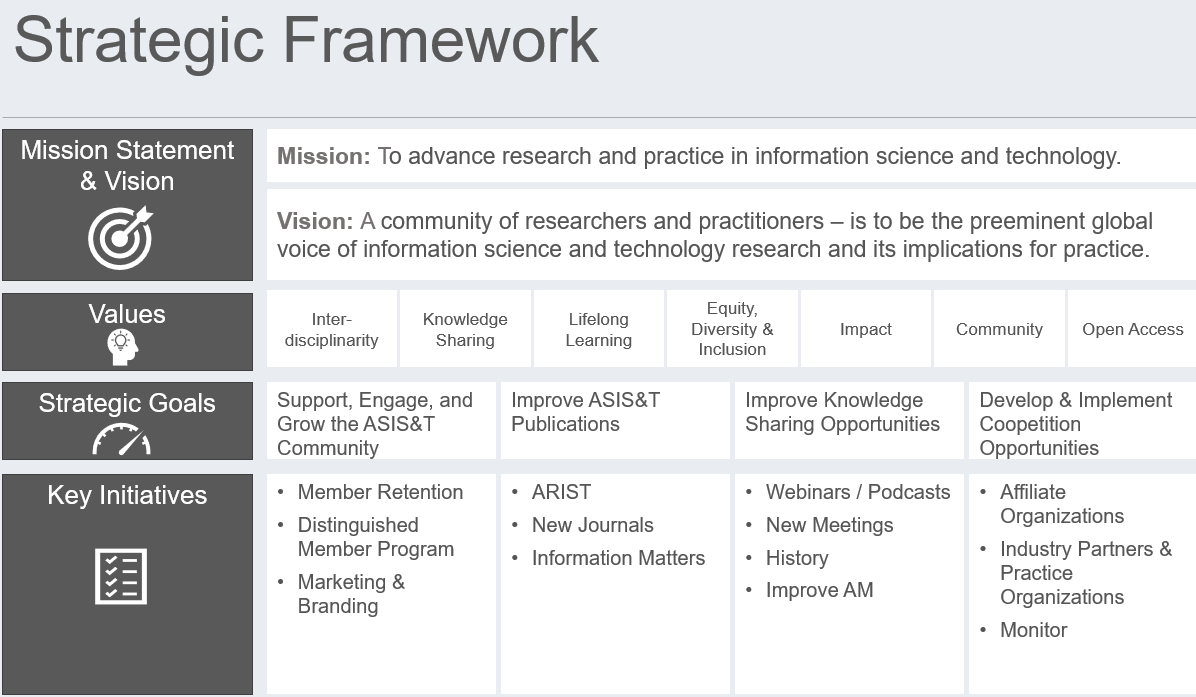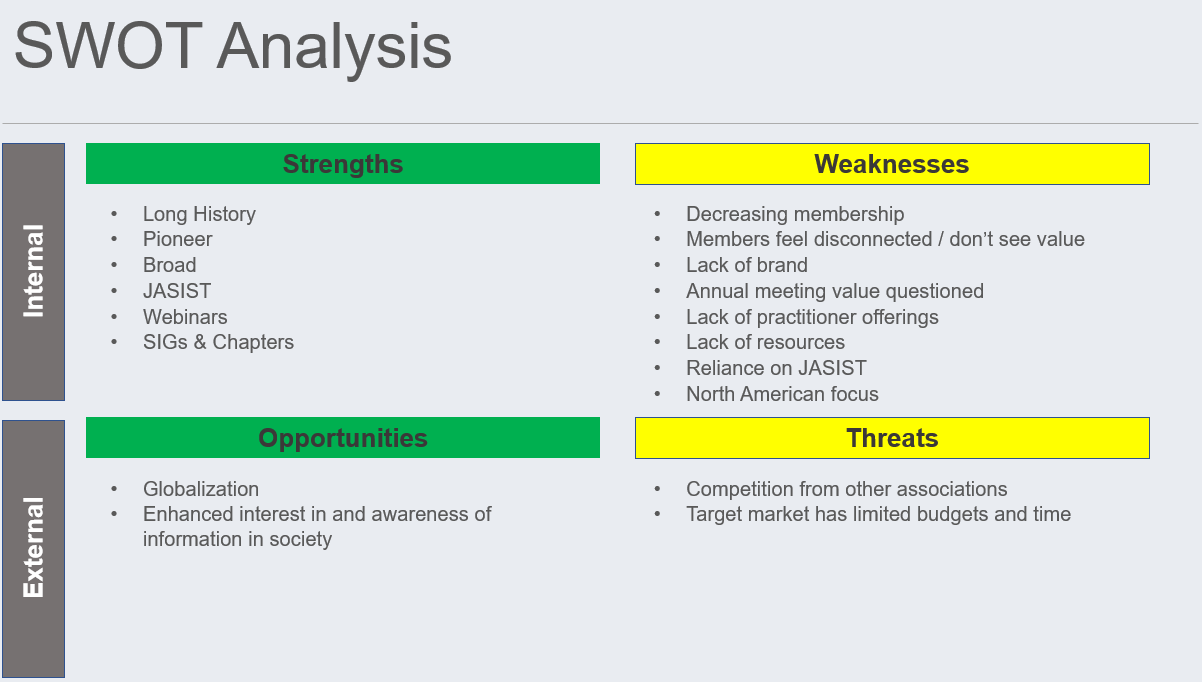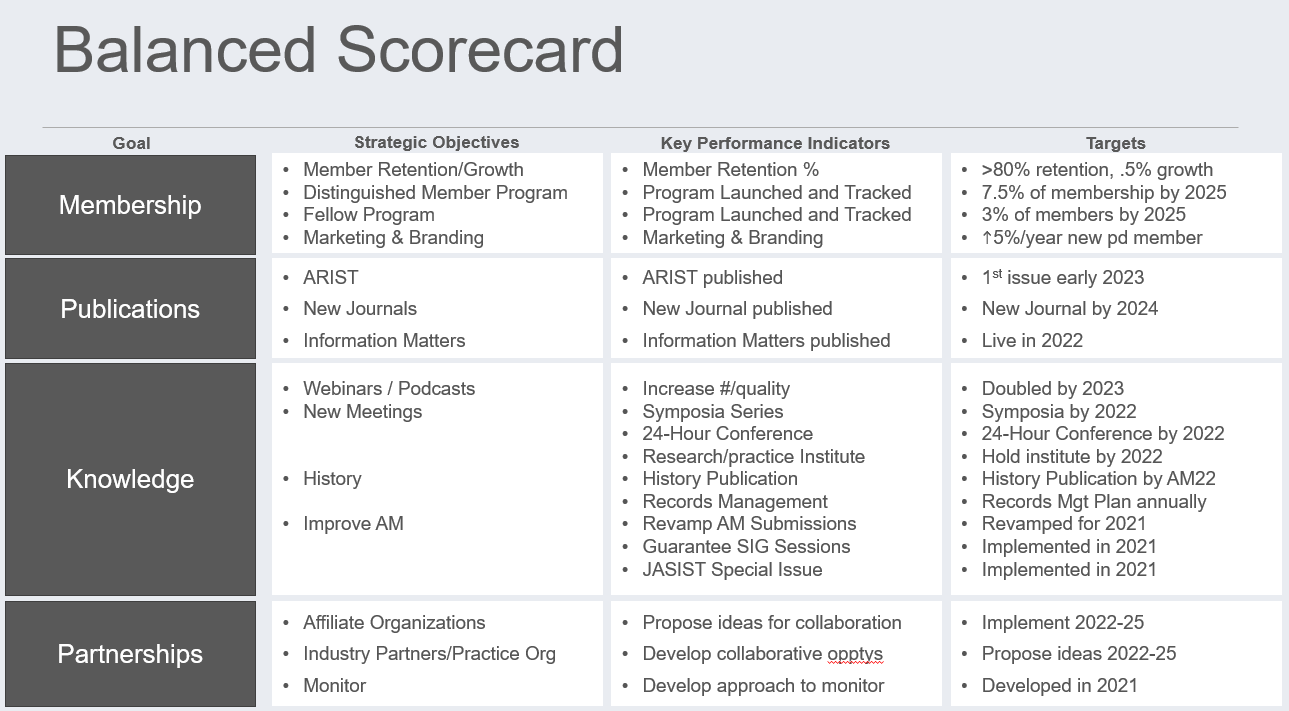 GOAL 1: Support, Engage, and Grow the ASIS&T Community
OBJECTIVE 1.1: Implement a membership retention plan that includes recommendations on member communication regarding pending payments and lapsed memberships, reconsiders membership categories along with differentiated fees, and promotes increases in membership.

TACTIC 1.1.1: Implement and track the success of the membership retention plan developed in 2020, making necessary adjustments along the way, to secure 80% of pending payments and lapsed memberships, and increasing the membership by 0.5% annually starting January 2021. (Work Initiated)
TACTIC 1.1.2: Offer complimentary membership to any interested undergraduate or master's degree student studying information science or related subjects (e.g., data science, computer science) throughout the world by January 2021. Secure 500 complimentary student memberships by January 2022. (Action Pending)
TACTIC 1.1.3: Develop, implement and track a membership strategy to increase participation from under-represented groups across equity, diversity and inclusion lines, taking into consideration recommendations made by the Diversity and Inclusion Task Force, starting 2021. (Work Initiated)
TACTIC 1.1.4: Develop, implement and track a local mentor program to pair new Chapter members with a seasoned member in order to facilitate member orientation and engagement. Have each Chapter required to email Chapter members whose membership is due to expire or has expired to encourage renewal of membership. (Work Initiated)
TACTIC 1.1.5: Develop, implement and track a SIG mentor program to pair each new member who has joined a SIG with a seasoned SIG mentor to facilitate member orientation and SIG engagement. Have each SIG tasked with emailing SIG members whose membership is due to expire or whose membership has expired to encourage renewal of membership.(Work Initiated)
TACTIC 1.1.6: Implement and track the success of the new Regional and Chapter structure program approved in 2020, making necessary adjustments along the way, so that there is an 15% increase in Regional and Chapter activity by 2025. (Work Initiated)
TACTIC 1.1.7: Conduct a survey of ASIS&T members to identify areas where existing standards are inadequate, problematic, or not yet developed and take the necessary steps to initiate development of such needed standards. (Action Pending)
OBJECTIVE 1.2: Review and make recommendations on ASIS&T Distinguished Member, ASIS&T Fellow, and New Leader programs.

TACTIC 1.2.1: Implement and track the success of the Distinguished Member program approved in 2020 making necessary adjustments along the way, so that 7.5% of members achieve Distinguished Member status by 2025. (Work Initiated)
TACTIC 1.2.2: Develop a proposal for a Fellow program by January 2022. (Action Pending)
TACTIC 1.2.3: Implement and track the success of this Fellow program no later than June 2022, making necessary adjustments along the way, so that 3% of members achieve Fellow status by 2025. (Action Pending)
TACTIC 1.2.4: Review the New Leader program and implement suggestions for its success or closure by January 2021. If deemed worthy of continuing, make improvements to its implementation and track the success of this program, reporting annually to the Board of Directors. (Work Initiated)
OBJECTIVE 1.3: Increase ASIS&T marketing and branding opportunities.

TACTIC 1.3.1: Launch a marketing campaign to secure 100 new regular members each year starting in 2021. (Action Pending)
TACTIC 1.3.2: Ensure ASIS&T Headquarters has staffing dedicated to marketing and communications by 2021. This could be facilitated by hiring consultants on a short-term basis to run specific marketing campaigns and/or delegating specific marketing and communication duties to ASIS&T staff  (Completed)
GOAL 2: Improve ASIS&T Publications
OBJECTIVE 2.1: Bring back the Annual Review of Information Science and Technology (ARIST).

TACTIC 2.1.1: Develop a proposal by January 2021 to bring back ARIST that includes consideration of an appropriate publishing platform. (Completed)
TACTIC 2.1.2: Implement ARIST by early 2023. (Work Initiated)
OBJECTIVE 2.2: Develop and implement one or more new journals.

TACTIC 2.2.1: Develop a proposal by October 2021 to develop one or more new journals. (Work Initiated)
TACTIC 2.2.2: Implement at least one new journal by early 2024. (Work Initiated)
OBJECTIVE 2.3: Develop and implement an online communications vehicle (e.g., Information Matters; a blog) that regularly communicates latest trends and happenings in the information field to the public.

TACTIC 2.3.1: Develop a proposal by October 2021 to develop this new online communications vehicle. (Completed)
TACTIC 2.3.2: Implement this new online communications vehicle no later than 2022  where news about this online communications vehicle is regularly disseminated to the membership and key outside influencers. (Work Initiated)
GOAL 3: Improve Knowledge Sharing Opportunities
OBJECTIVE 3.1: Increase the quality and number of webinars/podcasts offered at times that allow participation by members around the world.

TACTIC 3.1.1: Develop a proposal by January 2021 to increase the impact (i.e., quality, number) and availability of webinars/podcasts to members around the world. (Completed)
TACTIC 3.1.2: Implement this proposal in 2021 doubling the number of webinars/podcasts by 2023. (Completed)
TACTIC 3.1.3: Monitor and revise (based on member feedback) the process developed by the Professional Development Committee in 2019/2020 for webinar/podcast evaluation and acceptance over the next five years. (Work Initiated)
OBJECTIVE 3.2: Develop and implement a plan for delivering a symposia series consisting of face-to-face or virtual meetings.

TACTIC 3.2.1: Develop a proposal by January 2021 to deliver a symposia series. (Work Initiated)
TACTIC 3.2.2: Implement this proposal no later than 2022 with annual performance metrics reporting and corrections taking place to 2025.
OBJECTIVE 3.3: Develop and implement a plan for delivering a 24-hour global conference.

TACTIC 3.3.1: Develop a proposal by January 2021 to deliver a 24-hour global series. (Completed)
TACTIC 3.3.2: Implement this proposal no later than 2022 with annual performance metrics reporting and corrections taking place to 2025.
(Work Initiated)
OBJECTIVE 3.4: Develop and implement a plan for a research/practice institute that can operate at a break even or profit.

TACTIC 3.4.1: Develop a proposal by January 2021 to develop and implement a research/practice institute. Consider using the previous IA Summit mode as a guide. (Completed)
TACTIC 3.4.2: Implement this proposal no later than 2022 with annual performance metrics reporting and corrections taking place to 2025. (Work Initiated)
TACTIC 3.4.3: Develop a business plan for an externally-focused training program utilizing ASIS&T member experts to train private and/or public-sector leaders in information management and data governance by January 2022. Pilot test training program by January 2023.  (Action Pending)
OBJECTIVE 3.5: Document and share the history of ASIS&T.

TACTIC 3.5.1: Develop a publication for debut at the 85th Annual Meeting in 2022. (Work Initiated)
TACTIC 3.5.2: Monitor, promote and further develop/share the history of ASIS&T up to 2025. This would include the examination and possible implementation of digital platforms (such as Omeka or Archon) to support existing digital collections and initiatives to generate displays of a timeline for the 85th anniversary, as well as a report from the Curator at Annual Meetings. (Work Initiated)
TACTIC 3.5.3: Establish a task force, composed of individuals with experience in archives and records management, to create records management and archival policies for the Association by 2021. Have this task force annually report its progress on implementing a records management strategy for the Association. (Completed)
OBJECTIVE 3.6: Make improvements to the Annual Meeting.

TACTIC 3.6.1: Re-vamp the current paper, panel and poster submission process to the Annual Meeting to facilitate high-quality submissions that disseminate ground-breaking, timely developments in the field starting in 2021 and throughout to 2025. This includes the possibility of giving authors the option of submitting a full paper without it having to appear in the conference proceedings. (Completed)
TACTIC 3.6.2: Ensure all SIGs have a guaranteed time-slot to host a panel at the Annual Meeting starting in 2021. (Completed)
TACTIC 3.6.3: Ensure all SIGs have a guaranteed time-slot to meet at the Annual Meeting starting in 2021. (Completed)
TACTIC 3.6.4: Ensure that JASIS&T will allocate a special issue (or some other conduit) each year for high-quality papers submitted to the Annual Meeting starting in 2021. (Action Pending)
GOAL 4: Develop and Implement Co-opetition Opportunities with Affiliate Information Associations, Global Organizations, Industry Partners, and Practitioner Organizations
OBJECTIVE 4.1: Explore collaborative opportunities with affiliate information associations and global organizations.

TACTIC 4.1.1: Reach out and begin discussions with affiliate information associations and global organizations in 2021 and bring back ideas for collaboration to the Board that advance mutual interests and address society's grand challenges for possible implementation throughout 2022 to 2025. (Work Initiated)
OBJECTIVE 4.2: Reach out, develop and implement collaborative opportunities to work with industry partners and practitioner organizations.

TACTIC 4.2.1: Reach out and begin discussions with industry partners and practitioner organizations in 2021 and bring back ideas for collaboration to the Board for possible implementation throughout 2022 to 2025. (Action Pending)
OBJECTIVE 4.3: Monitor affiliate information organizations on a regular basis to better understand how best to position the Association.

TACTIC 4.3.1: Develop an approach for monitoring affiliate information societies in 2021 and implement that approach throughout 2022 to 2025. (Action Pending)