Meet the Author: The Political Lives of Information: Information and the Production of Development in India
We live in a world that sees information as empowering and democratising. But how does information work in practice and who does it work for? This talk -- and the book it is based on -- examine the history of the idea of "information," its evolution and political implications for poverty alleviation. It examines three cases in India—the circulation of price information on mobile phones in a fish market in Kerala, government information in computer kiosks operated by a non-profit in Puducherry, and a political campaign demanding a right to information in Rajasthan—to explore their divergent uses of information to support goals of social change. 
Drawing on archival and ethnographic research on the cases between 2009 and 2016, the book asks why casting information as a tool of development appealed to actors across the political spectrum. It leverages its cases to challenge claims that treat information as objective and factual, or as naturally empowering for everyone. The more faith we place in what information can do, the book cautions, the less attention we pay to its political lives and to the role of specific social structures, individual agency, and material form in the defining, production, and use of that information. The book attempts to correct this by using the concept of an "information order"  to refocus attention on how caste, class, and gender shaped who got to define information and benefit from it in the cases it examines.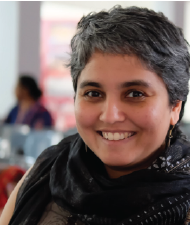 Janaki Srinivasan is Associate Professor, International Institute of Information Technology Bangalore (IIITB), and the convenor of the Institute's Centre for Information Technology and Public Policy (CITAPP). Her research examines the politics of information technology-based development. Her work has shown how gender, class and caste shape Indian digital inclusion initiatives focussed on community computer centres, mobile phones, identity systems and open information systems. Currently, she is exploring privacy, algorithmic control and fairness in platform work. Janaki earned her PhD in Information Management and Systems from the University of California Berkeley. The Political Lives of Information is her first book.   
 
Can't join a webinar at its scheduled time? Don't worry!  
All webinar registrants will receive a link to the webinar recording after the event. All ASIS&T webinar recordings are also available for on-demand viewing from the Past Webinar Library on iConnect, the online community for ASIS&T members. If you need help accessing iConnect, contact Pamela Yonker at pyonker@asist.org.