Meet the Authors: There Are No Facts: Attentive Algorithms, Extractive Data Practices, and the Quantification of Everyday Life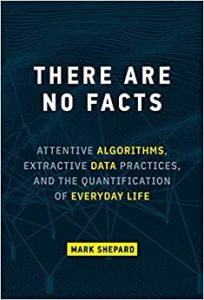 There Are No Facts (MIT Press, 2022) examines the uncommon ground we share in a post-truth world. It unpacks how attentive algorithms and extractive data practices are shaping space, influencing behavior, and colonizing everyday life. Articulating post-truth territory as an architectural and infrastructural condition, it shows how these spatial architectures of attention and data mining are in turn situated within broader histories of empiricism, objectivity, science, colonialism, and perception. The book probes how these sociotechnical systems we create bracket what we know about the world, how they construe our agency to act within it, and how they shape these spaces that, in turn, shape us.
In this talk, Shepard examines these conditions through examples at scales ranging from the trans-locality of the home to the planetary extent of the COVID–19 pandemic, with stops at the corner urban minimarket, a neighborhood for the proverbial 1%, a waterfront district in Toronto, and a national election.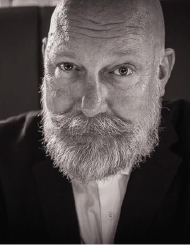 Mark Shepard [www.andinc.org] is an artist, architect, and researcher whose work addresses contemporary entanglements of people and data, code and space, knowledge and power. He is the author of There Are No Facts: Attentive Algorithms, Extractive Data Practices, and the Quantification of Everyday Life (MIT Press, 2022). He is an editor of the Situated Technologies Pamphlets Series (The Architectural League of New York, 2007-2012) and the editor of Sentient City: Ubiquitous Computing, Architecture, and the Future of Urban Space (MIT Press, 2011). His work has been exhibited at museums, galleries, and festivals internationally, including the Venice International Architecture Biennial; the Prix Ars Electronica, Linz, Austria; Transmediale, Berlin, Germany; and the International Architecture Biennial Rotterdam, the Netherlands, among others. Mark is an Associate Professor of Architecture and Media Study at the University at Buffalo, The State University of New York, where he directs the Media Arts and Architecture Program (MAAP) and the Center for Architecture and Situated Technologies (CAST).
Can't join a webinar at its scheduled time? Don't worry!  
All webinar registrants will receive a link to the webinar recording after the event. All ASIS&T webinar recordings are also available for on-demand viewing from the Past Webinar Library on iConnect, the online community for ASIS&T members. If you need help accessing iConnect, contact Pamela Yonker at pyonker@asist.org.