Foundations, Techniques, and Applications of Information Visualization (SIG-III and South Asia Chapter)
The development and application of information visualization are exciting in science, business, and technology. Visually and interactive presenting data in compelling graphs and charts can help us gain a deeper understanding of stories in massive datasets. Although there are many available techniques and tools of visualization, it is still important to execute effective design and best practices to create clear and accurate visualizations. This Webinar will introduce the basic framework and workflow of information visualization first. With the framework, we will discuss how to effectively use various visual elements (channels and marks) to encode different types of datasets and interaction designs. There is a growing number of techniques and tools of visualization that we can choose from to implement our design. This Webinar will also introduce the latest development in visualization and discuss the most appropriate technical solution for a particular purpose.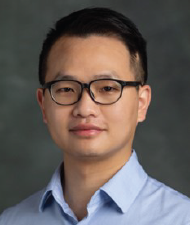 Dr. Jiangen He is an Assistant Professor of Information Sciences in the School of Information Sciences at the University of Tennessee, Knoxville. Dr. He's research is in Science of Science, Information Visualization, and Human-AI Interaction. His work focuses on visual analytics, data-driven predictions, and metrics in science of science and studies of how socialness in artificial intelligence affects our information behavior. His research has been published in journals such as Journal of the Association for Information Science and Technology and Information Processing and Management. His research in computational studies of science has been funded by National Science Foundation. He is an Associate Editor of Frontiers in Research Metrics and Analytics and reviewers for various journals and conferences. He received a B.S. in Business Management and a B.S. in Computer Science (Nanjing Tech University, China), an M.S. in Information Science (Wuhan University, China), and a Ph.D. in Information Science (Drexel University, USA). 
Can't join a webinar at its scheduled time? Don't worry!  
All webinar registrants will receive a link to the webinar recording after the event. All ASIS&T webinar recordings are also available for on-demand viewing from the Past Webinar Library on iConnect, the online community for ASIS&T members. If you need help accessing iConnect, contact Pamela Yonker at pyonker@asist.org.