Meet the Author Series: Architects of Memory
In this talk, Nathan R. Johnson discusses how post-World World War II memory technologies and techniques transformed the disciplines of librarianship and information science. He describes both familiar and esoteric memory technologies—from the card catalog to the book cart to Zatocoding and keyword indexing—as he argues that rhetorical theory provides a critical corrective for the collection, classification, storage, retrieval, distribution, and preservation of information.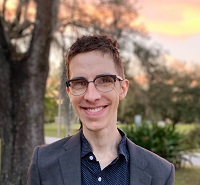 Nathan R. Johnson is Associate Professor of Rhetoric at the University of South Florida. His research focuses on the history of information infrastructures, public rhetorics, and rhetorical theory. He is a recipient of the Rhetoric Society of America's Fellows' Early Career Award, the 2018 Alice G. Smith Lecturer, and a winner of the National Communication Association's Distinguished Book Chapter Award for Philosophy of Communication. He has been honored as one of USF's Outstanding Undergraduate Teachers and recognized by the American Society for Engineering Education for his co-authored scholarship on diversity and inclusion. Johnson's 2020 book, Architects of Memory, was published by the University of Alabama Press and recognized by ARSTM as an honorable mention for the 2021 Book of the Year. He has published in Rhetoric Society Quarterly, enculturation: a Journal of Rhetoric, Writing, and Culture, the Journal of the Association for Information Science and Technology, among other venues.