Open Practices in Science and Education Think Pragmatically, Less Idealistically
Research has been discussing openness ever since, but currently more rigorously. Open science discussions are about open access and open data, transparency, reproducibility, inclusiveness etc. Open educational practices and open educational resources are discussed more broadly within learning and teaching. The ideas of openness are very similar for both research and education. Many people work in both environments, for example researchers at a university, who have teaching responsibilities as well. Interestingly, studies show some interesting effects that influence open practices, like one's personality or community. Even if one has a positive attitude towards open practices, one can get easily overwhelmed with all the ideas and concepts of being 'open'. In my interviews I did with researchers, many of them liked those ideas, but faced the challenges to translate them into their everyday practice. Many ideas are too ambiguous and too idealistic to apply in real case scenarios or on every part of one's work. Having tried to be open in my own work and while talking to colleagues testing open practices, my advice is to take it step by step.
Applying open practices is not a task that comes over night, but a learning process, where not only oneself is part of, but colleagues, peers and one's community as well. In the webinar, I will talk about current ideas of openness in research and education, and discussions on pro's and con's – and introduce some ideas to pragmatically make one's research and teaching more open.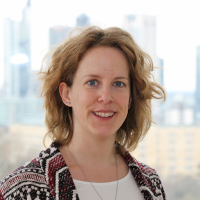 Tamara Heck
Tamara Heck Information Center for Education, DIPF | Leibniz Institute for Research and Information in Education, Frankfurt a. M., Germany Tamara Heck is Postdoc at the Information Center for Education at DIPF | Leibniz Institute for Research and Information in Education. She is responsible for research concerned with information management and infrastructures within the educational field.
Her current research focuses on research behavior and the adaptation of open science practices, with the goal to disclose the development of scientific work and norms. These aspects include questions on the influence of open science on higher education and the development of open processes in learning and teaching, like applying open educational resources, open pedagogy and open infrastructures. Further research is concerned with information literacy and its implications on the adaptation of new information behaviour and practices.