To Skimp or to Step in: Does Timely Service Recovery via Twitter Win Customers' Hearts (SIG-Social Media)
Due to the public nature of the interactions and the ability to foster quicker responses than traditional media, social media has become a powerful channel for both travelers to post their trip-related questions and issues, and airlines to build their brand images. Based on the Signaling theory and Expectations-Confirmation theory, we investigate how service recovery via social media impacts airline profitability. After analyzing 6,602,008 customer complaint tweets and 6,884,117 airline replies on Twitter between Jan 2013 and June 2019 for 11 major US airlines, we find that airline service recovery via Twitter does influence profitability, and such influence is stronger for network airlines. The more observers of airline service recovery, the greater the boost of profitability, which suggests a positive microphone effect. Also, airline response is more likely to influence profitability for network airlines than focused airlines.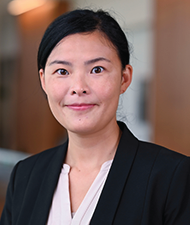 Pei Xu is George Phillips Privett Associate Professor of Business Analytics at Auburn University. Her research focus is on understanding the economic and social impact of emerging information technology, in areas including online user-generated content, crowdsourcing, social media for e-commerce and healthcare, and FinTech. In her research, a variety of quantitative approaches (e.g., econometrics & causal inference, statistics, machine learning, text mining, data scraping) are leveraged to discover insights from corporate datasets. She has presented her work at numerous conferences and published in high-quality peer-reviewed journals, including several Financial Times' Top 50 Business Journals. 
Can't join a webinar at its scheduled time? Don't worry!  
All webinar registrants will receive a link to the webinar recording after the event. All ASIS&T webinar recordings are also available for on-demand viewing from the Past Webinar Library on iConnect, the online community for ASIS&T members. If you need help accessing iConnect, contact Pamela Yonker at pyonker@asist.org.