Asia-Pacific Chapter
The South Asia Chapter of ASIS&T partly sponsored a seminar on "Libraries, Archives and Museums: Hubs of Cultural Heritage Preservation" on 13th December 2019 at the State Library, Kohima, Nagaland, a north eastern mountain state in India.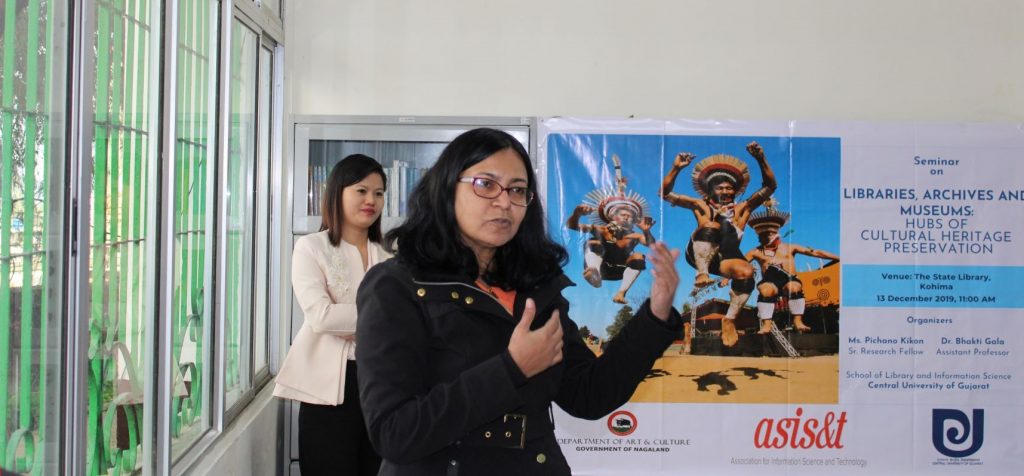 The seminar was organized and conducted in collaboration with the Department of Art & Culture, Government of Nagaland, Central University of Gujarat and ASIS&T South Asia Chapter.
Dr. Bhakti Gala, Chair-Elect (ASIS&T SA) and Assistant Professor at the School of Library and Information Science, Central University of Gujarat, India and Ms. Pichano Kikon, Senior Research Fellow at the Central University of Gujarat. Speakers representing the State Museum Mr. Rongsen Pongener, Deputy Director, In-charge of State Museum, Mrs. Khwenu Vitsu, Librarian, State Library, Ms. Temjenjungla, Assistant Archivist, State Archive and Ms. Pichano Kikon and Dr. Bhakti Gala discussed various possibilities of convergence of the three memory institutions preserving the rich cultural heritage of the State of Nagaland.
Dr. Bhakti Gala also made a presentation on ASIS&T and its activities. Brochures of ASIS&T were distributed to all participants. The seminar witnessed active involvement from all the 27 participants. The seminar was covered by the local newspaper 'Nagaland Post' on 14th December.
---
NEASIST Chapter
On January 17, NEASIST, working with student chapter, Simmons ASIST, held its annual winter event at Simmons University in Boston, MA.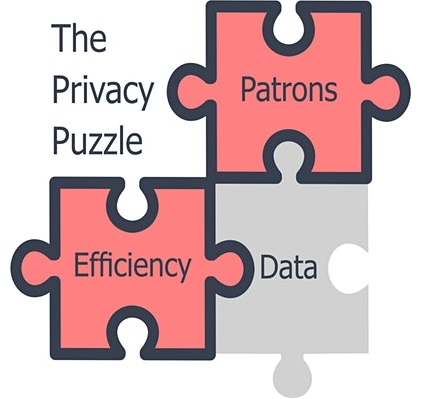 The winter event always revolves around a hot topic of interest among the library/information communities in the region and includes invaluable hands-on, participatory components that appeal to our audience of mostly practitioners.
This theme this year was The Privacy Puzzle: Piecing Together Patron Privacy, Data Efficiency, and the Modern Web. It was a jam-packed day of keynotes, panels, round-tables, workshops, and conversation. The event was well-attended and, given the event location this year, included many LIS students/future colleagues.
Wish you could have gone? While we can't send out all the awesome swag from that day (webcam covers for privacy and ASIS&T hand sanitizers!), the slides for the presentations and various sessions are available to you. They have been uploaded HERE.
You can also check out the event's related tweets under #neasist2020. NEASIS&T offers a travel award every year to help with the cost of attending the Annual Meeting in the Fall. Details will be available late March, so keep an eye out!
---
San Jose Student Chapter
The Human Side of DAM: A Four Part Series
The San Jose State School of Information's ASIS&T Student Chapter is excited to announce a complimentary, four part webinar series hosted by three Digital Asset Management professionals & thought leaders Jill Talvensaari, Robin Parisse, and Kathleen Cameron.
Reinventing DAM with Emerging Tech: AI/ML, Blockchain, 3D, IoT, and 5G
Let's explore the impact of emerging technologies on the content supply chain which is constantly being reimagined to increase ROI. In this session, we will explore how DAM solutions have adopted features and functionality of AI/ML, blockchain, 3D, IoT and 5G. Look at the impact and value of these emerging technologies to DAM users. Gain a solid understanding of what each of these technologies offers and how it impacts the future of DAM.
Welcome to the Real World: DAM, Your Brand, and Career
Looking ahead for a new job or professional advancement now that you have your new certification or degree? Learn how to manage your personal brand online and in real life with best practices for online job sites, social media and how to make your resume stand out. Consider DAM industry verticals for growth opportunities. Practice tools for getting past the recruiter to the hiring manager, nailing tough interviews, abolishing imposter syndrome, collaborating with diverse teams, and how to use interest-based negotiation strategies to get what you want.
---