Dr. Javed Mostafa Stepping Down as Editor-in-Chief of JASIST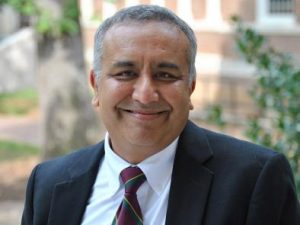 The ASIS&T Board announces that Dr. Javed Mostafa, Professor at the University of North Carolina at Chapel Hill, will complete his 5-year term on January 2021 as Editor-in-Chief of the Journal of the Association for Information Science and Technology (JASIST), and is stepping down to dedicate full-time to his commitments at the School of Information and Library Science (SILS), the Biomedical Research Imaging Center, and as Director of the Carolina Health Informatics Program and of the Laboratory of Applied Informatics. Mostafa brought to the position extensive editorial and publishing experience. He served as an editorial board member of JASIST (2012-15), was associate editor for eight years of ACM Transactions on Information Systems (ACM TOIS), served as associate editor for ACM Transactions on Internet Technology (ACM TOIT), and edited or co-edited several special issues of journals, including IEEE Intelligent Systems, Journal of Digital Libraries, and JASIST.
During Mostafa's tenure, JASIST has maintained its excellence as the premiere journal in information science and technology. As he noted, "JASIST has been a light of my life," which he refined by incorporating community-centered research. Given the expansive and complex nature of the field, he restructured the editorial board and expanded it to ensure coverage of expertise.  Mostafa is recognized for his outreach efforts to develop junior authors and his coverage of new intellectual areas through special themes. His editorial team was complemented by Managing Editor, Julia Khanova, whom he recruited when she was a student at the University of North Carolina.
The ASIS&T Board thanks Dr. Mostafa for his editorial leadership. It has appointed the following Search Committee and will soon be announcing the call for applications for a new Editor-in-Chief.
Maria Bonn (Search Committee Chair), Associate Professor and MS/LIS Program Director, School of Information Sciences, University of Illinois at Urbana-Champaign [ASIS&T Publications Committee Chair]
Wai Lam, Department of Systems Engineering, Chinese University of Hong Kong [JASIST Senior Associate Editor]
Soo Young Rieh, Associate Dean for Education & Professor, School of Information, The University of Texas at Austin [ASIS&T Executive Committee Member, Board Liaison and JASIST Editor]
<><><>
The Journal of the Association for Information Science and Technology (JASIST) is a leading international forum for peer-reviewed research in information science. For more than half a century, JASIST has provided intellectual leadership by publishing original research that focuses on the production, discovery, recording, storage, representation, retrieval, presentation, manipulation, dissemination, use, and evaluation of information and on the tools and techniques associated with these processes.