ASIS&T 2020 Conference News From Travel Award Winner, Rong Tang
ASIS&T 2020 Annual Meeting: Global Connections & Virtual Synergy
By Rong Tang


Overview
The ASIS&T 2020 Annual Meeting was unprecedented in the history of ASIS&T in holding its annual meeting virtually using a platform called bigmarker. The platform was quite effective which supported participants in different roles (attendees, moderators, speakers/presenters) quite well. The sessions were recorded and during the conference, participants were able to visit the platform and view the session recordings.
Thanks to the NEASIST conference award, I was able to participate in multiple sessions including ASIS&T Business Meeting and SIG USE Business Meeting, moderating two paper presentation sessions, producing & presenting a iPoster, and attending two workshops (SIG USE symposium and grant workshop). It was a very productive conference for me.
I truly enjoyed the keynote by Houman Haddad on "Depoliticizing Information Through Blockchain." A good number of participants asked great questions after the presentation, below in the screenshot was the question I posted to the speaker.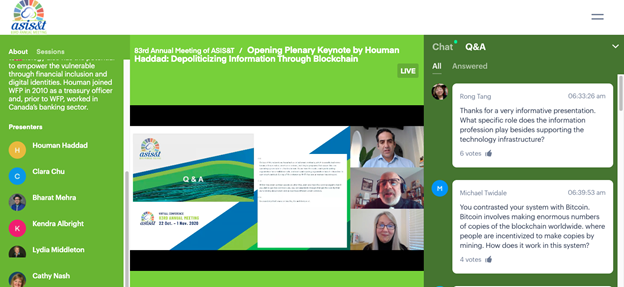 In the year 2020, ASIS&T was very successful in increasing its membership base and maintaining a healthy financial balance. Here is the screenshot of the ASIS&T Annual Business Meeting on 10/29/2020.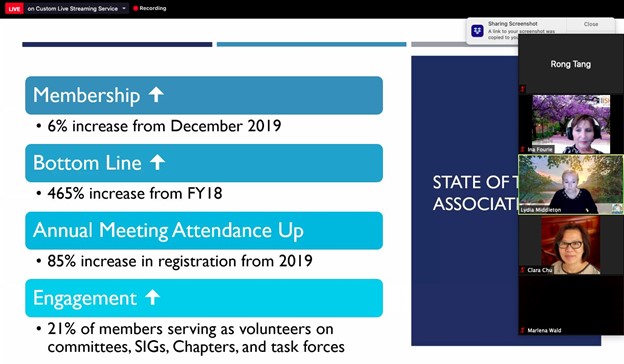 Paper Session Moderated
I served as a moderator for two paper sessions. One on October 25, 2020 with the topic as "COVID-19." One on October 26, 2020 on the topic of "Data Management." Below are screenshots of the two sessions I moderated.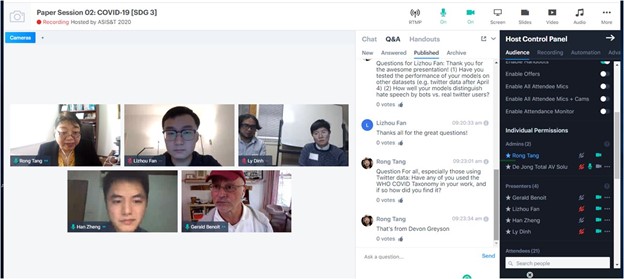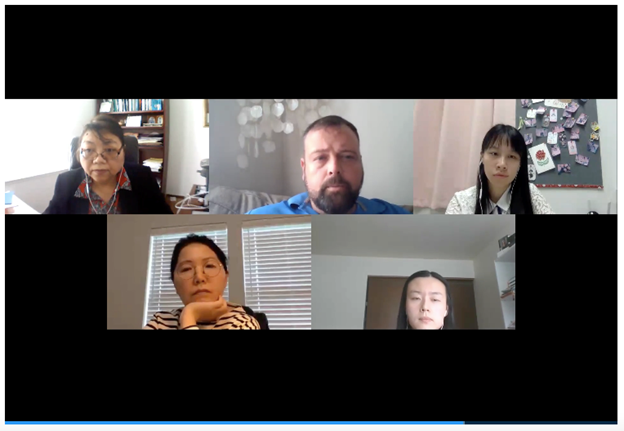 Highlights of Conference Sessions
On 10/25/2020, I attended the ""President's Opening Program and Welcome Reception: Information, Immunization, and Infodemic During the COVID-19 Pandemic" session. It was a very interesting and thought provoking session which discussed infodemic and information vaccine.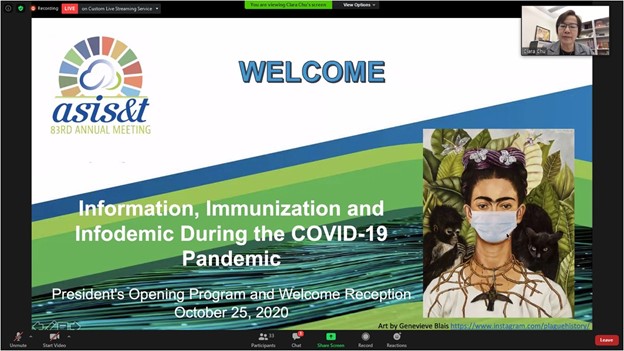 On 10/27/2020, I attended the "Supporting Open Research Data Practice Through Data Curation and Discovery: A Global Perspective" session, which was also very interesting and informative on global open data practice.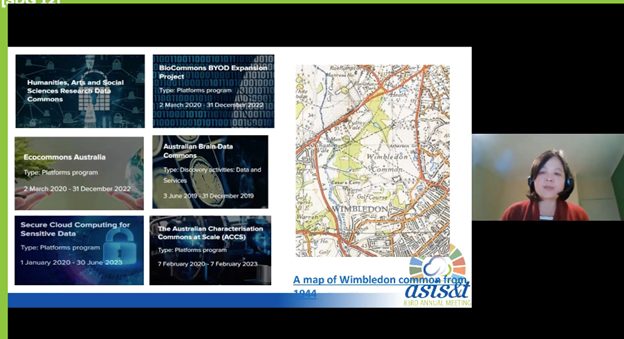 I also attended the Attending the "Opportunities and Challenges of Self-Tracking Technologies: Understanding Information, Technology, and Users" session. One of the teams presented a conceptual model of tracking information, which is very useful.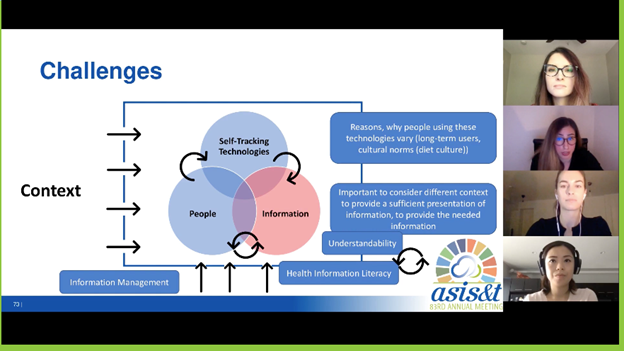 On 10/28/2020, I attended the ""From Cooperation to Collaboration: Developing and Implementing a Research-Based Framework for Information Organizations" session. Presented by Laura Saunders from Simmons University and Lisa Janicke Hinchliffe from UIUC. They presented a collaboration framework based on their empirical data. Very interesting.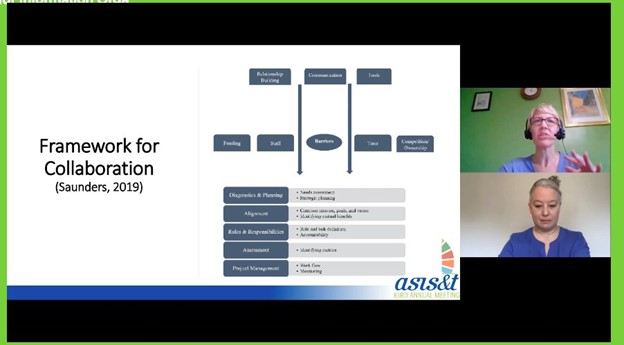 On 10/28/2020, I also attended the "Racism Isn't Just an American Problem: International EDI Issues in Information Science" session. There were very enlightening talks and Q&A session.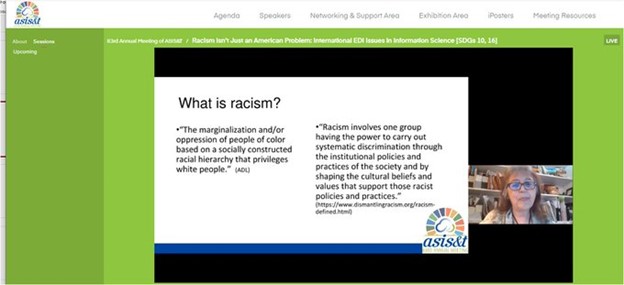 On 10/29/2020, I attended a paper session "Paper Session 22: Affective Domain and Mental Health" session. Very interesting papers. Simmons faculty Naresh Agarwal presented their paper on non-response.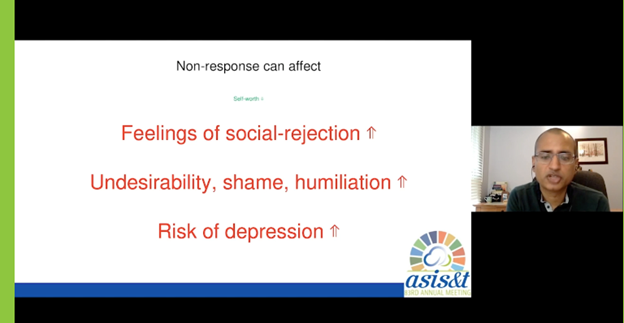 Poster Presentation
On 10/28/2020, I also presented a poster on behalf of my team. The title of the poster was ""The State of Practice of COVID-19 Tracking Systems: An Inventory Study" by me, Sanda Erdelez, Yishan Zhan and Emma May. The last two co-authors are SLIS students.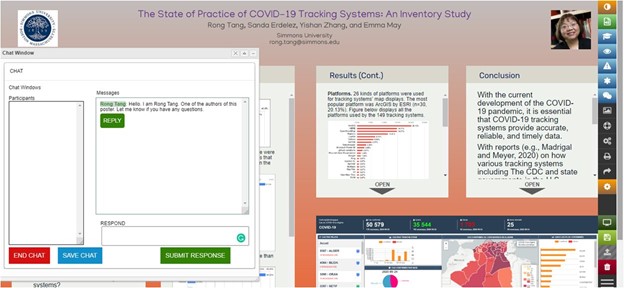 Workshop
On October 30, 2020, I attended an all-day workshop "Best Practices for Grant Proposal Development." A very helpful session.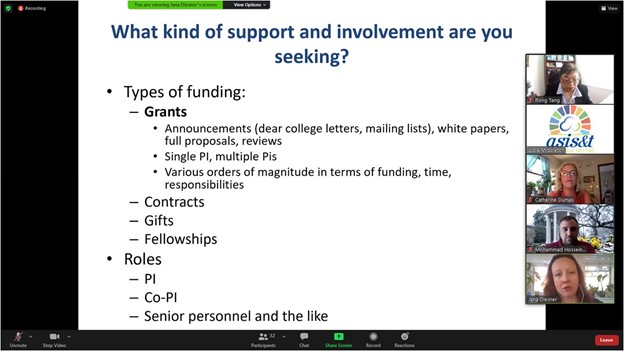 Conclusion
Overall, ASIS&T 2020 Annual Meeting was an extraordinarily productive conference. I appreciated the wonderful opportunity to virtually attend all sorts of sessions and workshops. I am thankful to NEASIS&T support.