January 2022 President's Column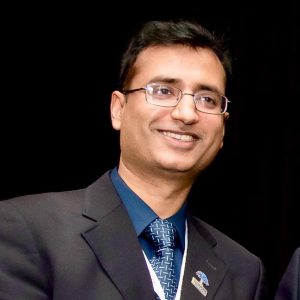 Hi everyone,
Hope you all are doing well and got some well-deserved rest during the year-end holidays. Wish you all a very happy new year and health and happiness always! The Coronavirus situation continues to challenge us with the Omicron variant and its ramifications. With the news of falling cases during the past week, hopefully the worst is behind us. Do continue to stay safe and take care of yourselves and those around as we battle this extended pandemic.
I've been reaching out to each ASIS&T member individually over email in a staggered manner. Many of you have received my email so far and have written back to me. Thank you so much for you responses and engagement. I have also held individual meetings with some of you and taken note of your concerns or ideas for the Association. If you've not yet received my email but would like to talk or meet, please email me at president@asist.org or agarwal@simmons.edu. You can also reach out to any of the Board members. The next Board meeting is scheduled for early February. 
The various bodies of ASIS&T - the SIGs, Chapters, and Committees are working hard to organize various activities and implement parts of the Strategic Plan. I've attended many of the Chapter meetings and am asking each regional chapter to do three things: 1) help translate the About ASIS&T page to languages other than English. We already have a few translations. If you would like to volunteer, do please let me know or you can reach out to your Chapter chair; 2) organize events or webinars in local languages; and 3) help populate a list of information science, LIS, and related associations in your respective regions. Do email me if you would like to volunteer for this task. The first two activities will contribute to making ASIS&T more international. The third will open us towards more collaborative relationships with related associations. 
To preserve the in-person interaction that is a vital part of the ASIS&T community and the reason why many of the members have been a part of the Association for 10,20,30,40 years, the Board voted in Salt Lake City to make the 2022 Annual Meeting fully in-person. Papers and other submissions are due on April 18. However, for people who may not be able to travel to Pittsburgh in October, there is a fully virtual 24-Hour Global Conference being planned for April 26-27. This is a new conference that aims to provide a platform for professional learning for all individuals and organizations around the globe. Like its name, the conference will run over a 24-hour period and will cover all time zones. Representatives from various geographies and time zones are involved in planning 8-hour segments. Please look out for the call for submissions which are due on February 28. Along with the conferences, do participate actively in submitting to JASIST, Information Matters, and the reinvigorated ARIST. 
A new task force has been formed to work towards an ASIS&T-wide mentorship program where every member has a mentor and is a mentor to someone. The task force will begin meeting soon to work toward proposing a viable mentorship model. A DEIA task force will be in place soon as well. 
The Professional Development Committee is working towards initiating podcasts this year. The History Committee has the enormous task of curating and safeguarding ASIS&T's 84-year old history. If any of you would like to help the committee in this huge effort, do please let us know.
As you know, the Board had approved a new consulting arm of ASIS&T, which would allow ASIS&T members to take on contract work and provide additional revenue streams for the association. Please look out for a call for proposals that should be going out soon.
The iFederation consisting of ASIS&T, ALISE, and iSchools is planning a joint panel at the iConference next month. We are also exploring further ways to see how the associations could work together towards greater benefit of our members. 
Our various SIGs continue to engage members in different areas of interest. Our chapters in regions such as South Asia, Africa, Europe, and North America, and various university chapters are working hard to engage and recruit regional and student members. As you know, we have the new Middle East chapter in place. There have been initial conversations towards forming Oceania and Canada chapters. We do need people to come forward towards forming a South America chapter. If you'd like to volunteer, do please let us know. 
That's all for now. Do take care of yourselves and let me know how I, any of the Board Members, or the Headquarters can help you.
Warm regards,
Naresh
P.S. For the month of January, I am participating in a challenge to create an artwork from life every day from the 1st to the 31st of the month. I'm sharing below some of the paintings done using different mediums - oil, watercolor, coffee, pastels, and acrylic. You can see the rest of them on Instagram @nareshag.paintings