March 2022 Annual Meeting News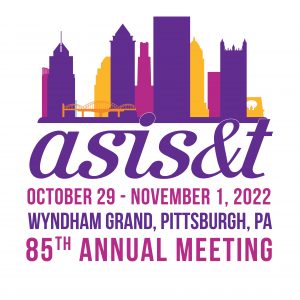 Plans for the 85th ASIS&T Annual Meeting are well underway! The 2022 ASIS&T Annual Meeting will be a fully in-person meeting without virtual attendance or presentation options. There will be satellite events (poster sessions and workshops) that will be held virtually in early October prior to the Annual Meeting. As an alternative for those desiring a virtual experience, please plan to participate in the 24-Hour Global Conference been offered April 26-27. Details are on the ASIS&T website.
The meeting will be held in Pittsburgh, PA, October 29-November 1, 2022 at the Wyndham Grand Hotel. Except for a couple of meeting rooms, most of the meeting, including exhibits, breaks and meals, will be held on the same level in the hotel, making it very easy to navigate.
Prior to the meeting, a new initiative will be offered – the Information Science Summit. It will be held on Thursday afternoon, October 27 and all day on Friday, October 28. Details on this exciting program will be on our website soon.
Premeeting workshops will be held on Saturday, October 29 and possibly on Friday afternoon, October 28. Details will be available in late May when we hope to open registration. The student reception will be held on Saturday evening from 5:15-6:15 p.m. The meeting will then kick off on Sunday morning with continental breakfast at 8:00 a.m. and the Opening Plenary from 9-10:30 a.m., followed by a full-day of educational sessions. We are making a few changes to the schedule, such as, holding an awards luncheon on Monday, rather than on the last night of the meeting. We hope this will increase attendance and visibility for these important awards. The meeting will now end immediately following the closing plenary on Tuesday at 2:15 pm. Please review the schedule-at-a-glance to see an outline of the meeting so you can make your plans now.  Mark your calendars now for these special events! We hope you will like the new structure.
The Wyndham is conveniently located within walking distance to many attractions and museums, historic landmarks, and restaurants. Check out the highlights of this fabulous city. Be sure to allow time in your schedule to take advantage of all this city has to offer.
The submission site is open, and we encourage you to consider submitting a proposal for a session. Complete instructions and the template for each submission type is on the Annual Meeting website. Paper, panel, alternative event, and workshops submissions are due April 18. Posters are due June 8. The deadline for Doctoral Colloquium submissions is June 15.
Please take a minute to review the full Annual Meeting website for complete details on the meeting, submissions, local information and much more!  Check the website often for regular updates. Registration, travel, and housing information are now on the website. Make plans now to attend the IS Summit and stay for the ASIS&T Annual Meeting.
We have several webinars coming up in the next few months. Please visit the website for details. We encourage you to register and attend the webinars which are free to members as one of your many member benefits. We also hope you will also consider submitting a webinar proposal.
We are currently working on finding a location for the 2023 Annual Meeting. Following our rotation schedule, he current plan is for the meeting to be held in Europe