President's Column March 2022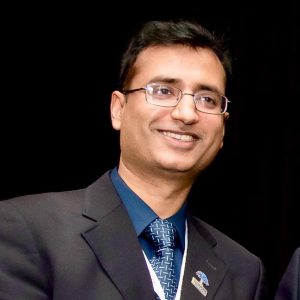 Hi everyone,
It's beginning to get warmer here in Boston. Hope you take the time to enjoy the Spring or Fall (depending on where you are) weather and the outdoors, even as we tackle our many roles and responsibilities. Our world continues to face challenges, including falling and rising COVID cases, as well as the situation in Ukraine. You can read the ASIS&T statement on Ukraine here. 
One of my focus areas this year is to strengthen mentorship and work towards an ASIS&T-wide mentoring program. Creating a mentoring program is part of the Strategic Plan and is tasked to SIGs and Chapters. We already have various forms of mentorship such as the New Leaders Program, Doctoral Colloquium, the mentoring initiative of the Africa chapter, and the early-career mentorship proposal by the Research Engagement Committee. You should have received a short six-question survey on mentorship yesterday. Please help fill out this survey so that we can get your thoughts on this important endeavor.  
As you know, ASIS&T has launched a consulting service where members will be paid for their time and expenses for serving as consultants to contracted projects from the private and public sectors on information challenges. The call went out on March 11. We have already received more than 50 registrations to be available as consultants. If you are interested, please register here. 
The committee for the 24-Hour Global Conference just met to take stock of the programming for this virtual conference. It is amazing to see an idea developed over the years and part of the Strategic Plan transform into reality. The conference will take place on April 26-27 and has segments focused on time-zones and regions of North/South America, Asia/Pacific, and Europe/Africa. The theme of the conference is 'Networking, Sharing, and Learning: Challenges and Opportunities'. The program is looking excellent with keynotes, papers, posters, panels, lightning talks, and networking sessions. Do block the dates on your calendar and register for the conference (the website should be up soon). The conference will be free for presenters. For any questions, please email the organizing committee at globalconference@asist.org
The committee for another important conference, the Information Science Summit is meeting later today. This event will take place on October 28 in Pittsburgh, which is the Friday between the ALISE and ASIS&T annual meetings. Offered in the hybrid format, it will cater to both in-person and virtual attendees. Co-hosted by ASIS&T, ALISE, and iSchools, the theme of the Summit is "Innovation and Trends in Information Science - Practice, Research, and LIS Education." We have sponsorship that will allow us to offer the conference free to all in-person attendees. 
The ASIS&T Annual Meeting, as you know, will be in-person in Pittsburgh from October 29 - November 1. Paper/panel/workshop submission deadline is a month from now on April 18.  Thus, we have three major events planned this year in three formats - the 24-hour Global Conference (virtual), the Annual Meeting (in-person), and the Information Science summit (hybrid). The Northeast Chapter of ASIS&T is also holding its annual conference virtually on March 25. The theme of the conference is "With Great Power: AI and Equity". We hope these events, together, will help meet your needs as researchers and practitioners in different geographies, along with the webinars and workshops routinely offered by SIGs and Chapters. 
We are seeking volunteers to translate the About ASIS&T page to languages other than English. So far, we have received translations in Bengali, Dhivehi, Hawaiian, Hindi, Italian, Kannada, Nepali, Sinhala, and Urdu. To volunteer to translate this page in the languages you speak, please email me at agarwal@simmons.edu You will make an important contribution towards deepening the international character of ASIS&T. 
I was saddened to learn of the passing of ASIS&T Distinguished Member and Professor Emeritus at Kent State University, Thomas Froehlich earlier this month. We had been in touch since April 2020. He was interested in my work on disinformation and fake news and had pointed out to me the dangers of false equivalences i.e., thinking that both sides of an argument or narrative had equal weight. We were both speakers at a symposium on disinformation in June 2021. Professor Froehlich ran workshops for ASIS&T at the 2020 and 2021 annual meetings. In his honor, ASIS&T is making recordings of these workshops freely available using the discount code TFro. See Lydia's email of March 10 for more information.
Do take care, and feel free to email me at president@asist.org or agarwal@simmons.edu, Lydia at lmiddleton@asist.org, or connect any of the Board members or SIG/Chapter/Committee Chairs to let us know how we can help you.  We'll be holding "Conversations with the ASIS&T Board" sessions. Look out for these on March 29th and 30th.
Warm regards,
Naresh
P.S. In February, I was able to visit my hometown of Gangtok, Sikkim, India in the foothills of the Eastern Himalayan mountain range after 2 ½ years. The following are some pictures from the trip.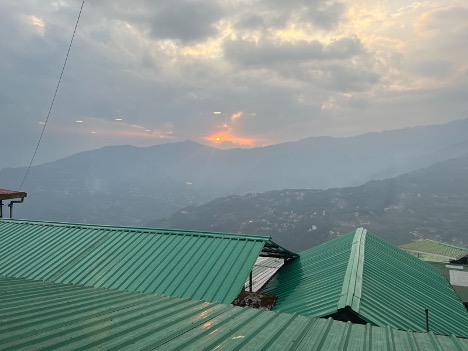 The sun sets behind the hills in my hometown of Gangtok, Sikkim - February 16, 2022. On a clear day, you can see the Kanchenjunga, the third highest mountain in the world above the hills. 

A bridge in North Sikkim - February 18, 2022.

Hills behind my ancestral home in Mangan, North Sikkim - February 18, 2022.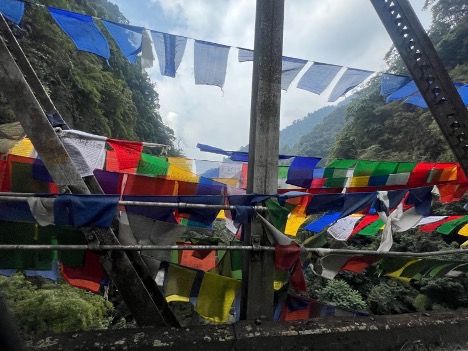 Buddhist prayer flags on a bridge on the way to North Sikkim - February 18, 2022. Today, March 18 is Holi, the festival of colors. Wish you the colors of love, peace, joy, and happiness now and always!
ASIS&T President Naresh Agarwal (left) met up with ASIS&T member Raj Bhardwaj (middle) and Dr. R.K. Sharma, Director General, Delhi Public Library - Ministry of Culture, Government of India (right) in the New Delhi National Capital Region on February 26, 2022.