President's Column, July 2022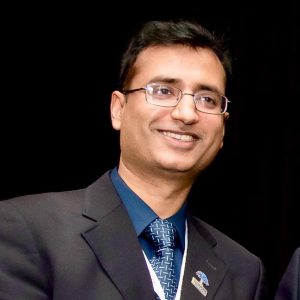 Hi everyone,
It's time for another column and I hope you're well. It's warm summer temperatures here in Boston. Earlier this month, I returned from a 2 and a 1/2-week family trip to India where my two children were able to meet with their grandparents and cousins after almost five years and for the first time since COVID started. I share some images at the bottom of this message. Hopefully, the summer has provided you some respite and time to catch up with activities and people that you otherwise may not have been able to. If you'd like to connect with me, please feel free to email me anytime at agarwal@simmons.edu. I'm also happy to talk on the phone or over Zoom. The Board will also be meeting on August 8.
Thank you for voting for the election of Board Members and on Bylaws Amendments! Congratulations to the newly elected Board Members who will join in October - Cystal Fulton (President-elect 2022-23), Ina Fourie, Lisa Hussey, and Aylin Imeri.
I'm excited to report that the About ASIS&T page has been translated so far to 25 languages other than English. You'll be able to see these links when you visit the page. 
See this page in your own language:  Arabic العربية | Assamese | Bangla বাংলা | Chinese - 中文| Croatian | Dhivehi | French Français | German Deutsch | Gujarati ગુજરાતી | Hawaiian ʻŌlelo Hawaiʻi | Hindi हिन्दी | Italian Italiano | Japanese 日本語 | Kannada ಕನ್ನಡ | Malayalam മലയാളം | Nepali नेपाली | Odia ଓଡ଼ିଆ | Persian فارسی | Sinhala සිංහල | Spanish Español | Swahili | Tagalog | Tamil தமிழ் | Tibetan བོད་སྐད་ | Urdu اردو
Thank you to all those who volunteered to translate. This includes ASIS&T members as well as their friends and family. You have made an important contribution towards making ASIS&T more international. While some more translations are on their way, we are still looking for volunteers for translation to Dzhongkha, Indonesian, Korean, Malay, Pashto, Portuguese, Russian, and Thai, among other languages. To volunteer to translate this page in the languages you speak, please email me at agarwal@simmons.edu You might need 2-4 hours to do the translation. Translators will receive a certificate from ASIS&T. 
The mentorship task force met last week and discussed the mentorship program proposal which will be launched in the coming months before the annual meeting. As you know, mentorship is part of our Strategic Plan. The task force envisions mentorship to be a volunteer-based program that is designed to provide a meaningful experience to the participants. Do look out for a survey that will be sent to all ASIS&T members inviting those interested in serving as a mentor or a mentee to fill it out. The survey results will be analyzed to help with mentor-mentee match and to arrive at a manageable number of mentoring pairs for the first year. The expectation is for the pairs to meet at least six-times during the year (and hopefully at the Annual Meeting in Pittsburgh) in order to help develop and meet the mentee's goals from the program. Mentoring will be recognized as volunteer service by ASIS&T and count towards Distinguished Membership status, with mentees encouraged to serve as mentors after the first year. This current proposal is in addition to the various forms of mentorship we already have such as the New Leaders Program, Doctoral Colloquium, the mentoring initiative of the Africa chapter, and the early-career mentorship proposal by the Professional Development Committee.  
The  Annual Meeting is fast approaching. It will be an in-person meeting in Pittsburgh from October 29 - November 1. The Program Committee has put together a promising program with workshops, papers, panels, posters, and other events. Do check out the conference website and register if you have not already done so. 
When registering, and if your schedule permits, I also encourage you to register for the day-long Information Science Summit on October 28, that is being co-organized by the iFederation, consisting of ASIS&T, ALISE, and iSchools. The Summit will be a hybrid event - offered both in-person and online, and will be free for in-person attendees.
A Diversity, Equity, Inclusion, and Accessibility (DEIA) task force has been formed and should meet in the coming weeks. DEIA is an important goal for ASIS&T and part of our strategic plan. In other reminders, please register for the ASIS&T consulting service if you're interested and haven't already signed up. 
Please feel free to email me at president@asist.org or agarwal@simmons.edu, Lydia at lmiddleton@asist.org, or connect with any of the Board members or SIG/Chapter/Committee Chairs to share any of our thoughts or ideas, or to let us know how we can help you. Do enjoy the rest of the summer and take care. 
Warm regards,
Naresh
P.S. I'm attaching some images from my recent India trip below: