President's Column, September 2022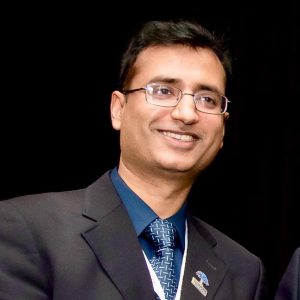 Hi everyone,
Hope you're all doing well. Here in Boston, it's been the start of a new semester. Sometime in late summer, I committed to myself saying, "My purpose in life is to exercise." Since then, I've been doing daily walks of 3-5 miles, evening workouts of at least a few minutes, watching what I eat, and have lost ten pounds in the process. You might have your own routines of self-care and keeping fit, even as we navigate all our work commitments. Please feel free to share those with me or discuss any other topic at agarwal@simmons.edu. I am also available on the phone or Zoom. You can also reach out to any of the Board members, the SIG/Chapter/Committee Chairs, or the ASIS&T staff.
We're slightly more than a month away from the Annual Meeting. I'm looking forward to meeting many of you in person in Pittsburgh. The conference will take place from October 29 - November 1. This year's conference theme is about reimagining an information resilient society and there's an exciting program of papers, panels, posters, and workshops, along with governance meetings, lunches, breaks, and receptions. The program has been carefully put together by Dirk Lewandowski and the program committee, and supported by the amazing ASIS&T staff and volunteers. I hope you will enjoy connecting with old friends, making new ones, and being inspired. You still have time to register if you have not already done so.
If you're unable to travel to Pittsburgh, there are virtual options for poster sessions and workshops. The business meeting will be live streamed, so I look forward to interacting with you there. We also plan to stream the opening and closing sessions. The Information Science Summit on October 28th, a joint iFederation initiative by  ASIS&T, ALISE, and iConference will be practitioner focused and allow for both in-person and remote attendance. Do make use of the free registration for in-person attendees. 
Our strategic initiatives are on track, and the Board, committees, SIGs, and chapters have been working hard. The mentorship program has received a good response. While we have fewer mentor volunteers, a large number of you have volunteered to be mentees in the survey that was sent out. The annual meeting should provide an avenue for many of the mentor-mentee pairs to meet. Once the pair matching is done, you can also set up virtual meetings if either of you is unable to travel to Pittsburgh. 
The Diversity, Equity, Inclusion, and Accessibility (DEIA) task force has met and is holding further sub-group meetings to make recommendations for specific DEIA steps that we can take in the coming year. Also, towards making ASIS&T more international, we are looking for more volunteers to translate the About ASIS&T page to languages that you speak. Translators will receive a certificate from ASIS&T. If you're interested, please drop me an email.
Please take care of yourselves! And see you soon!
Warm regards,
Naresh
P.S. For the month of September, I am participating in a challenge to create an artwork from life every day from the 1st to the 30th. I'm sharing below some of the small daily paintings done - all in watercolor. You can see the rest of them on Instagram @nareshag.paintings