Immediate Past President's Column, November 2022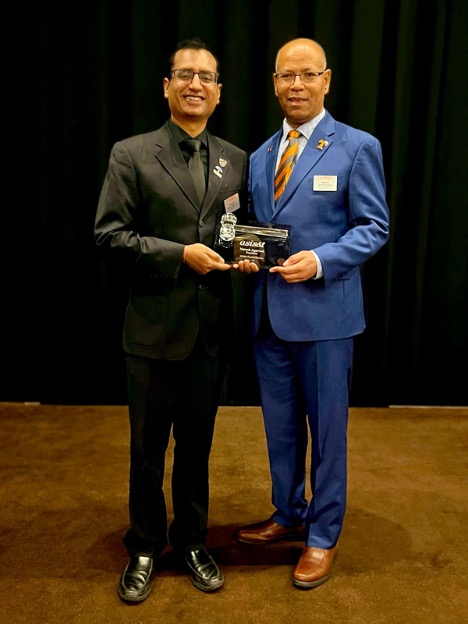 Hi everyone,
It's a wonderful time of the year when Thanksgiving is just around the corner. It is time for me to thank you for all the love and support you provided me during my year as President. I'm hoping that you'll provide the same support to Abebe.
We had a great year! My quest during the year was to talk to you, to be accessible, and to connect - to listen to you and try to ensure that I could be there for you in ways you wanted me to be. You all should have received individual emails from me during the year. I got to interact with many of you individually over email, social media, Zoom, in person, and also in group meetings. In March, we held "Meet the Board" sessions. Many of you joined the October town hall meeting with Lydia and me from across the world in different time zones and provided great feedback on what's not working, what's not working, and things ASIS&T could do to serve you better. I also attended many of the meetings of our different chapters. 
I had promised when I took over in November 2021 that my work would be in sync with the Strategic Plan. This would ensure continuity in our efforts through the years. I am happy to note that we were able to achieve all that we set out to do for the year. All this came with the tremendous hard work of the Board, the staff, the Chapters, the SIGs, the Committees, and all of you. We are an association of smart people, but more than that, we are an association of good people. It is this goodness that shines through in all our efforts and interactions and makes ASIS&T the unique professional family that we are. Our endeavor in the coming years and decades should be to ensure that we keep this goodness intact even as we grow internationally and form collaborations to bring all those people together who are interested in the study of information, and how it can help humans navigate life and find meaning.
A major theme I had in my mind was continuing the work of making ASIS&T more international and allowing current and potential members to find their languages in ASIS&T. Towards that effort, many people came forward to translate the About ASIS&T page in the languages they speak. We now have 28 translations apart from English. You can contribute to this important work by writing to admin@asist.org You will receive a certificate from ASIS&T for your effort.   
Arabic - العربية | Assamese | Bangla - বাংলা | Chinese - 中文 | Croatian | Dhivehi | French - français | German - Deutsch | Gujarati - ગુજરાતી | Hawaiian - ʻŌlelo Hawaiʻi | Hindi - हिन्दी | Italian - italiano | Japanese - 日本語 | Kannada - ಕನ್ನಡ | Malayalam - മലയാളം | Marathi - मराठी | Nepali - नेपाली | Odia - ଓଡ଼ିଆ | Persian - فارسی | Punjabi - ਪੰਜਾਬੀ | Russian - русский | Sinhala - සිංහල | Spanish - español | Swahili | Tagalog | Tamil - தமிழ் | Tibetan - བོད་སྐད་ | Urdu - اردو
Some of our chapters held programming in regional languages. We would like to see this strengthened in the coming years with more events in different languages. Information Matters is publishing articles in Chinese and Spanish as well. So we're beginning to look more and more international, not just in these efforts, but in the very core of a membership. Our membership has grown to about 2500 from about 1400 a few years ago. I'm proud to say that we now have more members outside of North America than we have within the continent. This is a huge milestone to our efforts over the years and a realization of the vision of ASIS&T when it changed its name from the 'American Society for Information Science and Technology' to the 'Association for Information Science and Technology' in 2013.
We got more than 300 responses to our membership survey. A large number of our members have been members for more than 20 years. From this year, ASIS&T will be rolling out an easy way for long-time members to become life members and recognizing 17 of our members over three decades as life members, which Lydia will talk more about in her column. 
ASIS&T is strong because of its culture of formal and informal ways of mentoring. Senior members and luminaries of the field have always been open and willing to engage with and help upcoming leaders, which includes professionals, researchers, and students. We have the New Leaders' Program. The Professional Development Committee worked on an Early Career Mentoring Program. The Africa chapter has a mentoring program. During the past year, we formed a task force to launch an ASIS&T-wide mentorship program, with participation of SIG and Chapter leadership among other members. We also carried out a survey on mentorship where we received strong interest in mentorship. In our pilot launch, which included both the ASIS&T-wide program and the early career research mentoring, we have matched about 100 people to create mentor-mentee pairs. The program will get stronger in the coming years as we make continuous adjustments based on feedback. 
During the year, we made excellent progress in the various tactics of all four areas of our Strategic Plan: 1) Supporting, engaging, and growing the ASIS&T community; 2) Improving ASIS&T publications; 3) Improving knowledge sharing opportunities; and 4) Developing and Implementing Co-opetition Opportunities with Affiliate Information Associations, Global Organizations, Industry Partners, and Practitioner Organizations. Almost everything we did during the year fit within these four larger goals. 
We are in our second year of the Distinguished Member Program, with 71 distinguished members - people who are not only active in the field, but have worked and continue to work to help newer members succeed. They epitomize how we can be there for each other even as we grow. I'm sure I will see many of you reading this as Distinguished Members in the years to come. We formed a Diversity, Equity, Inclusion, and Accessibility task force, which met a few times and will be making recommendations on specific priorities as we move forward in this important effort.  
Information Matters started as a brand new publication to reach out to the information professional community in a more informal manner, and has done exceedingly well in its publication and engagement goals. Thank you, Chirag, for your efforts on that. ARIST is back, with many of you submitting to it. The first issue will be out this year. Apart from JASIST, which is a hallmark for ASIS&T, the publications committee and the Board deliberated on an open access journal and ways to make it financially viable. These conversations will continue. 
Another important decision that we made as a Board was to hold the 2022 Annual Meeting in Pittsburgh fully in-person. Safeguarding avenues for in-person interaction will ensure that the reasons why people have chosen to be a member of ASIS&T across decades continue to hold in the future. To cater to members who are unable to attend in person, the mid-year conference will be held virtually in April 2023. The deadline for submissions is on December 13th. Do please submit to it. This year, we held the 24-hour global conference where there was programming across different time zones and different parts of the world. We also held the inaugural information science summit in a hybrid format which was very successful. You can see a clip of iFederation leaders and Deans, Directors, and Chairs discuss what is information science.  The goal of the summit was to have practitioners as the primary focus, with ASIS&T, ALISE, iSchools, as well as the Special Libraries Association coming together in organizing it.
Working with the new leader assigned to me, Alicia Takaoka, we created a running list of LIS associations in different regions of the world.  This will be helpful in continuing our collaborative efforts throughout the world. As part of iFederation, we held multiple meetings with leaders of iSchools and ALISE and agreed to formalize regular meetings each year. 
Thank you for voting on the ByLaws changes pertaining to elections and the nominations committee. Lydia will be working on a succession and continuity plan for the association as part of her annual goals. 
Last, but not the least, thank you for making the annual meeting in Pittsburgh a huge success. I enjoyed interacting with all of you and learning so much. I look forward to seeing many more of you in London next year.  I enjoyed working closely with Lydia during the year, who as you know, is a tremendous asset to ASIS&T! I thank her and all the amazing ASIS&T staff, the Board members, the SIG, Chapter, and Committee leadership, and all of you who work each day to make the world a better place.
I would like to end with a poem which I read out at the Business meeting in Pittsburgh. I had written it in November 2019.


Video of my speech at the Business Meeting, November 1, 2022, Pittsburgh

A cog in the wheel of time 
Agarwal, N. K. (2019). A cog in the wheel of time. In Various authors. The Book of 500 Best 
Poems: An Anthology (pp. 367-370). Swipe Pages.
I look out into the woods,
And to the beautiful fall leaves.
I wonder about my place in the world,
And the place of the world in me.
I think of a cog,
Rotating along,
With other cogs big and small.
Each one, doing its part 
To help the wheel move along.
And at that moment,
In the thought of that cog,
I see myself mirrored.
For the cog was I,
And I was the cog 
Both just doing our part.
I am just a cog 
In the wheel of time,
And I wonder if I have value.
The more I think I am all powerful,
I see myself constrained - 
By time, space, people, opinion, 
Thought and experience.
I am just a cog
In the wheel of time,
And I wonder if I am chained.
The more I think I am constrained -
By time, space, people, opinion,
Thought and experience,
I more I realize 
The power I have,
Hidden right within me!
I might just be a cog
But I have great value,
And great power,
Innate, within me.
When I move, 
The cogs around me move.
When those cogs move,
The cogs around them move,
And soon the entire wheel moves.
This is how it is with the world.
The way we are,
Just by being there,
Just by being ourselves,
We make a lot of difference 
To the people around us.
The words we say, or don't say,
The actions we do, or don't do,
And the service that we do,
Or care not to do,
Makes a change
To the world around us.
In my classroom, I may not always 
Be the one in the front.
In a team, I may not always
Be the leader of them all.
For a nation, I may not be 
The head of the state.
For the world, 
I may seem insignificant.
But, I am a participant,
Doing my part in the whole. 
In a classroom, seated in a circle,
I complete the circle.
In a team, I am the servant leader
Embracing 'ubuntu' and 
Bringing value through my work.
For the nation and the world, 
I am it's citizen 
Who strives each day 
To be there, to show up,
To contribute, and to excel.
Thus, I may just be a cog,
But, I am a happy cog. 
I complete the other cogs 
And the other cogs complete me.
On our own, we are just cogs
But we sustain, and we 
Complete one another,
And we make the wheel move.
Thus, I am, because you are
And you are, because I am.
I am, because we all are.
That is what they call ubuntu.
If you look out into the woods,
And to the beautiful fall leaves.
You will see that the leaves 
Complete the woods,
And the woods complete the leaf.
If you think you are just a cog,
You're not alone.
You are, therefore,
We all are.
You complete the world.
You bring great value,
You are useful,
You are beautiful,
And, most of all, 
You are loved!