Howard Rosenbaum to Receive 2023 Watson Davis Award for Service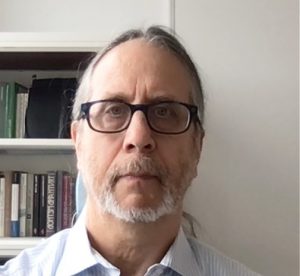 The Association for Information Science & Technology (ASIS&T) is delighted to announce that Howard Rosenbaum of Indiana University is the 2023 recipient of the Watson Davis Award for Service. The award's purpose is to recognize an individual member of the Association who has shown continuous dedicated leadership in and service to ASIS&T and made substantial and lasting contributions to ASIS&T governance, chapters, SIGs, committees, and publications.
Dr. Howard Rosenbaum is a Professor of Information Science in the Department of Information and Library Science in the Luddy School of Informatics and Computing at Indiana University. He is Director of Graduate Programs, Director of the Masters of Information science program, and Co-director of the Graduate Certificate in Information Architecture program. He has been at Indiana University since 1993 and is currently interested in social informatics and critical data studies. He has published in a variety of information science journals and has presented at ASIS&T, iConferences, and elsewhere. He has been involved in social informatics since 1997 and works with collaborators to raise the profile of SI in information science.
Dr. Rosenbaum has been a member of ASIST since 1989, when he joined as a doctoral student at Syracuse University. Since then, he has maintained his continuous membership while providing a range of service activities to the organization while also presenting papers and participating in panels and workshops over the last 34 years.
He has served on several ASIS&T Dissertation Award Committees, chairing the committee for two years, was chair of the first iteration of Research Engagement Committee, was a member of the Information Science Education Committee and a member of the Awards committee. He has been a member of many Annual Conference program committees, was Program Committee and Panels Co-chair in 2014, and co-chair of the Co-Chair of the Information and Society: Economic, Political, Social Issues track in 2010.
A significant service activity that has made and is continuing to make a substantial and lasting contribution to the organization is the Doctoral Colloquium held at the Annual Meeting. Since 2007, Dr. Rosenbaum has co-organized a long running and very successful Doctoral Colloquium at the Annual Conference. A rough estimate is that ~225 doctoral students have attended the colloquium and have been mentored by some of the organizations finest senior scholars. This activity represents Dr. Rosenbaum's long-standing commitment to doctoral education and to training the next generation of information science scholars and ASIST members.
Over the years he has presented 23 papers, participated in 10 panels many of which were focused on preparing recent graduates for the academic job market, and co-organized a long running workshop on social informatics., Dr. Rosenbaum has been involved in SIGs at ASIST, specifically the Special Interest Group on Social Informatics (SIG-SI).
Dr. Rosenbaum has received several honors from ASIST beginning with the 1996 Dissertation of the Year award, followed years later with the 2011 Thomson Reuters Outstanding Information Science Teacher Award and, , the 2014 SIG Publication of the Year, for with his colleague Dr. Pnina Fichman for their book "Social Informatics: Past, Present and Future." Most recently, he was honored to be a 2022 Association for Information Science and Technology Distinguished Member.In her endorsement of Rosenbaum, Sanda Erdelez, Professor and Interim Dean the College of Organizational, Computational and Information Sciences at Simmons University, said, "Howard's accomplishments over the past 30 years in multiple roles in ASIS&T are clear indicators of his continuous dedicated service to our organization. He is a model ASIS&T member and a leader who has created a meaningful impact on many ASIS&T communities, making him highly deserving of the Watson Davis Award."
Upon learning of his selection as winner of the 2023 ASIS&T Watson Davis Award for Service, Rosenbaum responded, "I am honored and humbled to be recognized for the contributions I have made to my primary professional organization. I would like to thank the many people with whom I have worked on ASIS&T activities over years, especially my friend and colleague, Pnina Fichman. Without their help, this would not have been possible.Thanks also to the nominating committee, and those who nominated and wrote letters for me."
Rosenbaum will receive the award at the 2023 meeting of the Association for Information Science & Technology (ASIS&T) which will be held 27-31 October in London, UK.